CNN Sues Trump White House to Reinstate Acosta; Alleges 1st, 5th Amendment Violations (UPDATE)
***UPDATE*** White House press secretary Sarah Huckabee Sanders issued the following statement in response to the lawsuit (with original post following):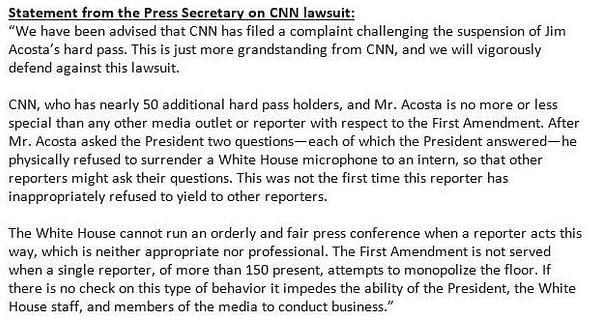 For those waiting for the other shoe to drop in the ongoing media war between CNN and correspondent Jim Acosta and President Donald Trump's White House, your wait's over – in a big way. The news network has filed a lawsuit to have Acosta's "hard pass" press credential access reinstated after they were suspended following a contentious press conference exchange between Acosta and Trump.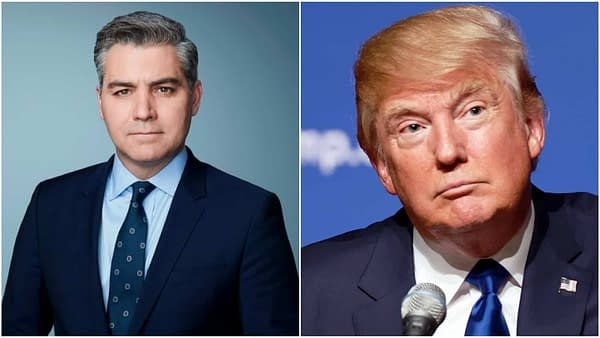 In the lawsuit, CNN alleges that revoking access violates CNN and Acosta's First Amendment rights of freedom of the press, and their Fifth Amendment rights to due process. Defendants named in the lawsuit are Trump, White House press secretary Sarah Huckabee Sanders, former Fox News executive Bill Shine (now running communications), chief of staff General John Kelly, the Secret Service director, and an unidentified Secret Service agent.
During a post-midterm election press conference last Wednesday, Sanders alleged that Acosta place "his hands on a young woman just trying to do her job as a White House intern." On Wednesday night, Sanders attempted to boost The White House's position by tweeting a video The White House claimed proved what transpired – but the video appeared to have been edited and manipulated, and was actually taken by conspiracy theory-of-the-day website InfoWars.
Acosta has gone on record calling The White House's accusations "a lie," with the news network and journalists around the world expressing their support for the White House correspondent. The White House has not yet responded to CNN's lawsuit.
"Revoking access to the White House complex amounted to disproportionate reaction to the events of last Wednesday," the group said in part. "We continue to urge the administration to reverse course and full reinstate CNN's correspondent. The president of the United States should not be in the business of arbitrarily picking the men and women who cover him."

– White House Correspondents' Association (WHCA) statement
You can read the complaint in its entirety here: