Posted in: Netflix, Review, streaming, Trailer, TV, YouTube | Tagged: baking, cable, Carla Hall, competition, cooking, crazy delicious, Heston Blumental, netflix, Niklas Ekstedt, Review, streaming, television, tv
---
Crazy Delicious Review: A Much-Needed Cooking Comp Palate Cleanser
A noteworthy show to check out on Netflix is Crazy Delicious. If you're a fan of out of the box cooking shows and beautiful surroundings, I highly recommend it. Fair warning it shouldn't be binged, but rather watched as a nice sporadic treat. The show is hosted by food enthusiast and comedian Jayde Adams whose is adorable surrounded by hedgehogs and cute bunnies and spends each episode consoling the contestants. She is joined by judges (or gods rather) cookbook author and chef Carla Hall, chef Niklas Ekstedt, and Heston Blumental. The contestants must create Instagram worthy dishes to impress the judges, most importantly they must be surrounded by their paradise of edible everything to re-imagine every day meals such as the hot dog. Truly novel takes on comfort foods. Most of the dishes however are exactly that "Instagram worthy" they translate exceptionally well in a presentation, but not taste. Reminds me of the time my brother had to complete his culinary school final and take photos of the perfect burger – there was absolutely nothing cooked about it, but it looked beautiful in pictures.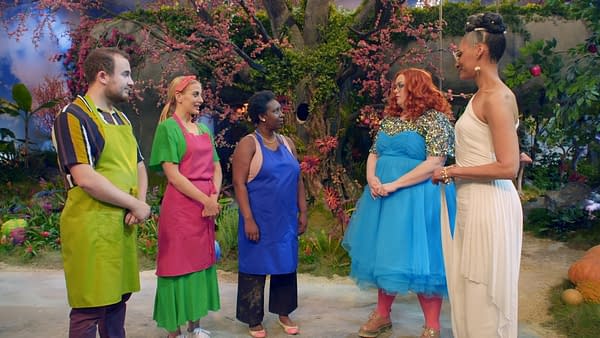 Each episode three contestants must get through three rounds; "The Magic Ingredient, The Reinvention, and The Final Feast. After the first round, a player gets 10 additional minutes going in to round two. Post the second round, one contestant is eliminated, and the third round crowns the winner and receives The Golden Apple. Overall, I was absolutely impressed by the combination of ingredients, cupcakes were savory, burgers were sweet, it was madness. I think given that most of the cooks were hobbyists, they just didn't have enough skill set to dedicate to taste and creativity and the judges were extremely transparent about their disappointment and dislike. In episode two, they went as far as not granting anyone an additional 10 min because all the dishes sucked. All the dishes were aesthetically beautiful and tricked the mind, a cake with what appears to be creamy frosting, but when you dig in ends up being tomatoes and cheese. Crazy Delicious is a psychedelic, trippy experience.
Here's Our "Crazy Delicious" Episodes Highlights Rundown
Episode 1: "Bananas Barbecue"
Making Happy Food, the contestants must highlight the Banana, reinvent a pizza, and recreate some BBQ
The banana sundae was amazing, the plantain nachos had the most insane presentation, and the banana tacos had me drooling with an array of tropical fruit
I would never think of a pizza bundt cake, a fruit pizza, but I was blown away by the dough ball volcano, where every lava rock was its own little pizza pie
It got even crazier when one contestant jerked his watermelon – totally looked like a ham
Episode 2: "Takeout Takeover"
Monkey mud bath anyone? Exactly, this is what I mean by out of the box creativity to an extreme
Contestants had to make mushrooms as their star, re-imagine grilled cheeses, and bless the gods with amazing take out
The monkey mud bath was very childlike, the papas fried chicken was different, and the vegan cream of mushroom looked like a little pastry. Unfortunately, it all tasted terrible
Crispy cheese musubi, essentially spam and tomato soup, there was a pancake stack – to me made no sense, and vegan cheese smoothie bowl. Ummm, yuk and she was sent home
The tropical take out was resembled a Hawaiian spread and had oxtail, really tricks the senses, but it was "Taiwan meets take out" that won The Golden Apple
Episode 3: "Picnic Perfection"
Carrots were the star, so was the burger and a picnic spread
The carrot patch trifle was interesting, the carrot pond soup looked yummy and then there were melting ice cream cones
Rainbow falafel burger was so cute and resembled a forest; the Elvis burger had chocolate and candy bacon, and the billionaire burger was supposed to come with a lettuce shot
The rainbow picnic of hidden treats so so big and stunning, like a harvest of fresh ingredients that were all stuffed with bizarre treats
Episode 4: "Birthday Blowout"
I was expecting lots of cake.
Strawberries were highlighted, hot dogs were glammed up, and how can you not have a birthday party feast
The strawberry chicken wings were really cool
A woodland hot dog with wild boar meat which resembled an éclair, a sweet chili dog, and a kebab dog. There was even a little heater for the judges to warm up their dogs. Very creative
The birthday surf and turf with lobster mac and cheesecake and an ice cream burger was awesome.
There was edible confetti and a savory layered cake with cheese, cucumbers, and guacamole.
Episode 5: "Let there be Brunch"
The apple was to shine, spaghetti bolognese reimagined, and a brunch meal designed to perfection
All of the apple dishes were just so delicate, so magical, they truly appeared to be inspired by the forest, each apple holding a unique surprise for the judges
Creativity ran a mock, in some cases a little too far in round two (a bird's nest?)
The rainbow ravioli was cute, but a smidge amateur
When I hear that lobster was cooked in smoke prune sauce I was shocked, creative and apparently very tasty
Episode 6: "Time for Tea"
Tomatoes were the star ingredient, chicken pot pie deserved a facelift, and afternoon tea (pinkies in the air, everyone!)
There was a delightful Bloody Mary macaroon, the cherry tomato cheesecake was fantastic it actually looked like cheesecake and finally the tomato fairy cake with marshmallows and butterflies
The pie in the sky screamed innovation but poor taste while the genie pie pops would frighten small children
A junk food afternoon tea was brilliant, with quesadillas and other treats in the shapes of cupcakes. Loved it!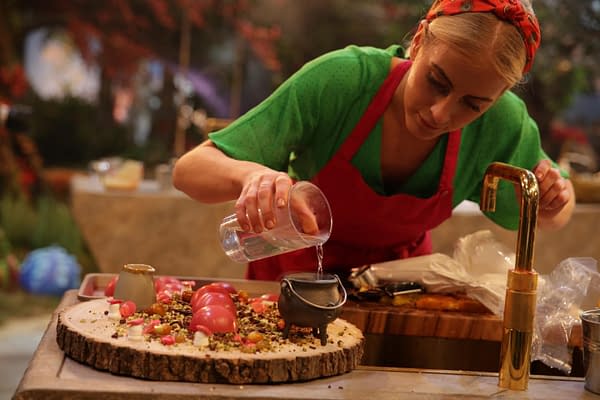 I absolutely love the contestants on Crazy Delicious: there was no freaking out, they were all friendly and sweet and became devastated when something didn't hog well. The environment that gorgeous forest is to die for. Who wouldn't be inspired to use their imagination when you are surrounded by edible grass, animals, and fruits and vegetables bursting off of branches. An utterly beautiful show enjoyable for imagination, gorgeous presentation, and novel takes on the most common food ingredients. I think someone probably had to inform the judges they were not really gods because there were clearly some glimpses of narcissistic personality disorder – I'd like to see them switch places with the contestants for one episode, that would have been fun. A pleasant watch, and definitely worth a repeat periodically when I'm in the mood for food and beauty.
---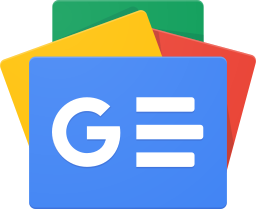 Stay up-to-date and support the site by following Bleeding Cool on Google News today!