Crime Scene Kitchen Season 1 E02 Brings New Mysteries, Culinary Clues
Welcome back to the Crime Scene Kitchen, sweet sleuths! This week we have a second premiere with a whole new group of 6 dessert detective teams ready to bake their way to the bottom of this mystery. In case you missed last week's premiere, host Joel McHale and judges Yolanda Gampp and Curtis Stone guide the bakers through this culinary CSI adventure. This time around, we have two teams of mother/daughter pastry professionals: Rebecca & Jean and Emma & Leslie. We also have two teams of besties and pro-chefs: Shania & Hope and Donte & Cory. Rounding out the last of this season's teams are Lorie & Jason, husband and wife cooks, and Anthony & Natasha, friends and pastry chefs.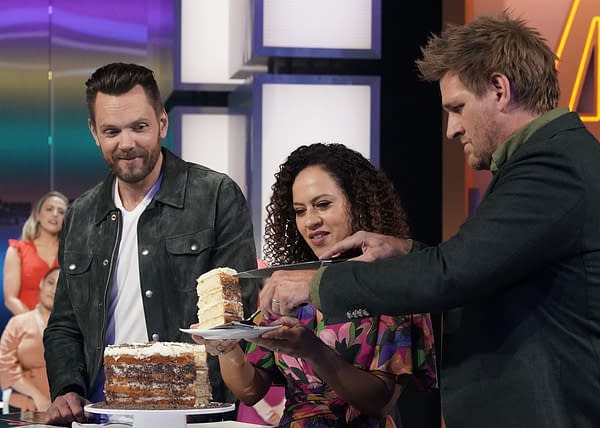 For the first round, everyone went for cannoli…except for Anthony & Natasha, who went with donuts, another popular fried and chocolate-dipped dessert. Unfortunately for them, the mystery dessert was cannolis and though many teams put their own twist on the cannoli flavors, Lorie & Jason had the winning cannolis this round.
"Raw egg could turn into salmonella, but who's ready to play Russian Roulette?" Curtis Stone asked before biting into a cannoli. I ask myself the same question every time I go for the cookie dough, Curtis. Though, in his context, it was because pie shop owners Rebecca & Jean added a whole raw egg to their cannoli filling. Miraculously, they didn't go home this week (and the judges did not get food poisoning), despite the team only really knowing how to make pies. This competition is going to be interesting for them.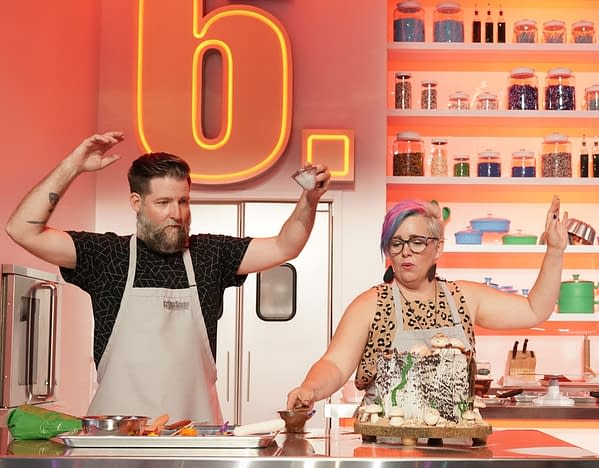 In the showpiece round, bakers were tasked with re-creating the mystery dessert that's a "natural beauty". The clues include cake pans, cute little mushrooms, meringue, kirsch, buttermilk, cocoa powder, and whipped cream. Emma & Leslie and Shania & Hope made black forest cake; Donte & Cory and Lorie & Jason made red velvet cake; pie mavens Rebecca & Jean made their very first cake, albeit an under-baked plain yellow cake with simple buttercream and chocolate shaving adornments. According to Jean, they made a "pandemic cake". Bless their hearts, they did try.
The mystery showpiece is a four-layer black forest cake with chocolate birch bark and meringue mushroom decorations. Emma & Leslie had the judges' favorite black forest cake, and they won the week's challenge. Just like how on an episode of House the patient never has lupus, on Crime Scene Kitchen, the mystery dessert is never a hummingbird cake. Unfortunately for Natasha and Anthony, they guessed hummingbird cake and were eliminated.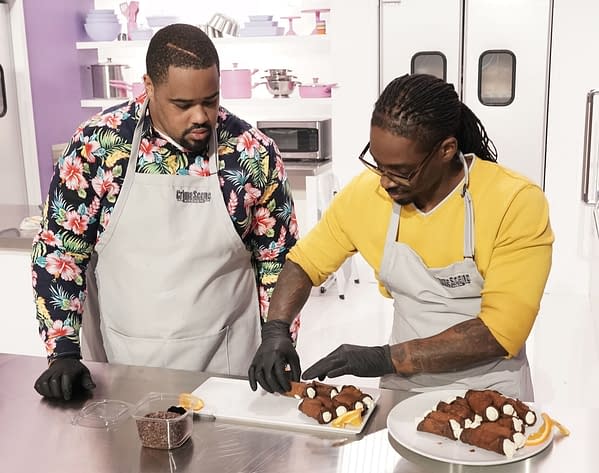 Next episode, we return to our first group of bakers again for a new set of challenges and clues in the mystery kitchen. Crime Scene Kitchen airs Wednesday nights on Fox.

Bleeding Cool TV on Instagram: For all of the stuff too random and bizarre to make the site, make sure to follow us on Instagram (with an official launch on June 19): Bleeding Cool TV (@bleedingcooltv).
BCTV Daily Dispatch: For a look at what's going on across the television and streaming landscape, sign up for Bleeding Cool's daily email round-up of the news you need to know here.