So far, I've watched and reviewed two other episodes of Viceland's pro wrestling documentary series, Dark Side of the Ring. Both of those episodes, focusing respectively on the tragic romance of Macho Man Randy Savage and Miss Elizabeth and the Montreal Screwjob, were an entertaining enough way to kill an hour. But it's the third and most recent episode, The Killing of Bruiser Brody, that finally elevates this series to something approaching its promise as a no holds barred look behind the scenes at some of pro wrestling's darkest moments.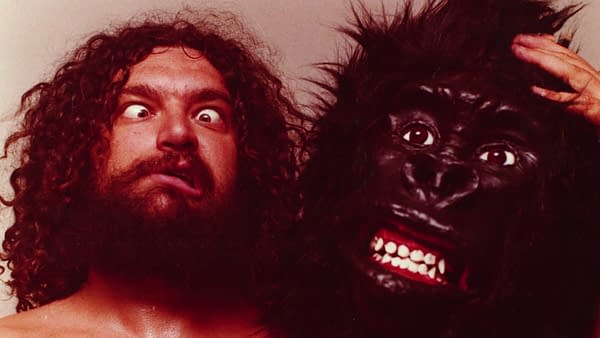 Part of the appeal of this episode is that it isn't a cut and dry story that everyone already knows all the details of. Yes, there has been extensive reporting on the event going all the way back to when it happened from outlets like the Wrestling Observer Newsletter, and the people involved in this documentary have spoken about it before. But one major difference between Brody's case and the previous two stories is that Brody's story lacks any real closure and may never get any. José González, the man alleged to have murdered Brody, pled "self-defense" and was not convicted in a trial where the prosecution witnesses claim to have not gotten their summons to appear until 10 days after the verdict. González continued his career after that, and still takes bookings for appearances today. Carlos Colón, wrestling patriarch and co-founder of the World Wrestling Council territory which is long-rumored to have helped cover up the killing and protect González from prosecution, was inducted into the WWE Hall of Fame in 2014.
I won't get into the details of the incident here, as these kinds of legal issues are the sort of thing that forces a clickbait news website to use terms like "alleged" and "accused" in ways that feel inauthentic. There's a reason the episode is called "The Killing of Bruiser Brody" and not "The Murder of Bruiser Brody," after all. If you want to know what happened that night in Puerto Rico in 1988, there are plenty of accounts online, or you can just watch the episode (highly recommended). But what makes this story so compelling is the fact that there is no satisfying conclusion to it, no sense of justice to make us feel better about this man's untimely death.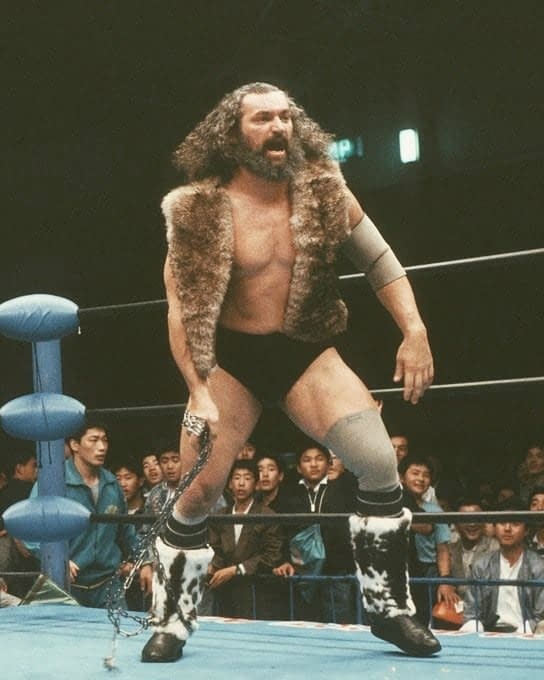 Dark Side of the Ring does an excellent job of describing the human being behind Brody, a family man who, according to fellow wrestler Tony Atlas, died clutching a photo of his son. Brody was well-respected by his wrestling peers, and in the years after his death, many wrestlers refused to visit the territory anymore, though WWC continues to operate today. Perhaps the most moving parts of the episode come from Atlas, the closest witness to the stabbing, who was with Brody before Brody went into the locker room shower with González and came out with two stab wounds, picked him up to place him on the stretcher, and rode with him in the ambulance, singing to Brody to keep his spirits up.
Other talking heads include Dutch Mantell, who was also at the arena that night, Abdullah the Butcher, a well-known rival of Brody's in the ring and a pioneer of the hardcore style of wrestling, and Brody's wife Barbara and son Geoff, who was too young to remember much of his father, though he still yearns for "personal justice" today. With Mantell in the talking head role this time, Mick Foley narrates. The documentary does not feature any response from Colón or González, who refused to be interviewed, aside from a short clip from a 2008 shoot interview with Colón in which he claims there was no cover-up.
If you've been waiting to watch Dark Side of the Ring and weren't enticed by the latest in seemingly endless supply of explorations of Macho Man and Bret Hart's stories, you couldn't go wrong by choosing to start with this episode, which was in fact released on the internet months before the series debuted on TV. Elements such as the shadowy reenactments that felt a little cheesy in past episodes resonate better here. Unsurprisingly, Foley makes a great narrator. And Bruiser Brody's story is one that will appeal not only to wrestling fans, but to fans of the popular true crime genre as well.
You can watch it on TV… or you can watch it right on Viceland's website (video embedded below). I recommend you do.
Enjoyed this article? Share it!