David Hasselhoff Says "The 'Knight Rider' Will Ride Again!"
It makes sense, we guess, that 1980s tv series Knight Rider starring David Hasselhoff would be a property being looked at for a remake considering Magnum P.I., MacGyver, and Hawaii 5-0 have enjoyed moderate success with reboots.
There *WAS* an attempt at a Knight Rider reboot on NBC back in 2008, but it only lasted 1 season, and everyone tends to forget it happened.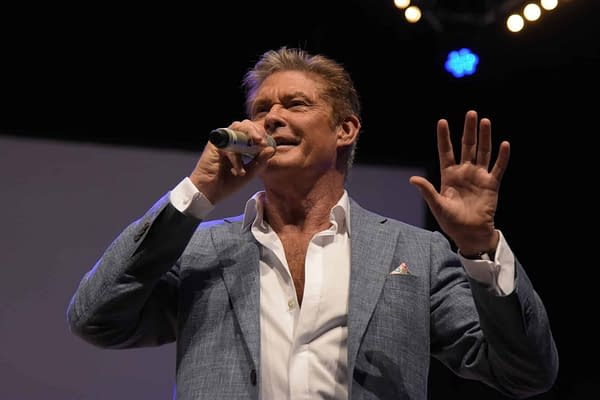 According to Hasselhoff in a recent interview with The Mirror, it's going to happen at some point, with the actor declaring "I'm not supposed to say anything, but stay tuned. The Knight Rider will ride again!"
As to the previous rumors of the series being rebooted, Hasselhoff said:
"We talked about another series about eight to nine years ago, but they wanted to do it without me. I even said I didn't have to be the lead, I didn't even need to be in it that much, I could cameo or something, but they didn't listen."
As to why both Knight Rider and Baywatch remained so popular, The Hoff pointed to a conversation he had on his honeymoon:
"I was on my honeymoon and this guy said to be 'You know why Knight Rider is so popular?' so I said 'Why?' he told me 'You put your morals into Knight Rider and into Baywatch, that's why they are popular.' I thought, yes that's true!

I don't need to be brave and fight like Knight Rider, or swim like in Baywatch, it's not that, it's about why they do it."
Last we heard about the property, The Weinstein Company was looking at a 21 Jump Street-style reboot back in 2017, possibly starring John Cena and Kevin Hart. Man, there is A LOT to take apart there.
In the same year, Hoff was adamant that James Gunn's reported version of a Knight Rider something was going to be a tv series, and not a film.
Obviously, neither of those things came to be, but we'll let you know if we hear anything about this NEW reboot.