There's going to be some spoilers here if you haven't watched this week's Arrowverse shows: Supergirl, Flash, Black Lightning, and Arrow.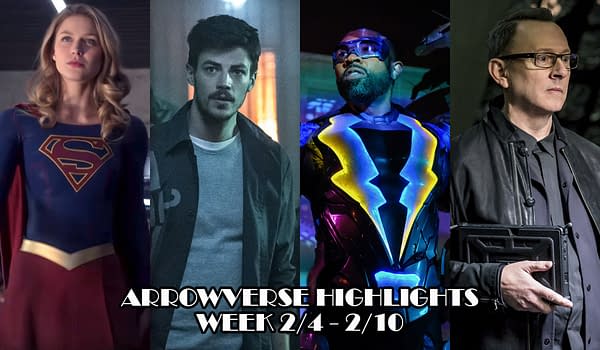 On Supergirl, there were a few cool moments, but the top had to be the final showdown in the subway with Supergirl (Melissa Benoist), Mon-El (Chris Wood), J'onn J'onzz (David Harewood), and Alex Danvers (Chyler Leigh) going up against Purity (Krys Marhsall). Each of them got their moment to shine — and their moment to get beaten. It's always good to see J'onn in full Martian mode and kicking butt. He is too often sidelined in fights for silly reasons. He is one of DC's most powerful heroes, yet he gets taken out of fights all the time. It happens here as well, but at least it's because he's holding up the roof. You can find a full recap of the episode here.
On The Flash, somebody remembered that Barry Allen (Grant Gustin) is kind of smart and knows some science. Because of the power dampeners in the cell block, Barry has to use his wits to escape Iron Heights before Warden Wolfe (Richard Brooks) sells him and the four bus metas to Amunet Black (Katee Sachhoff). Barry backs up his toilet to force the guards to get a plumber, then swipes some batteries from the guys belt to use in creating acid to eat through the locks, free himself and the others, and open the cover to the underground tunnels. It's a MacGyver like moment and something I'd like to see more of: Barry being smart. You can see a full recap of the episode here.
On Black Lightning, there are quite a few cool scenes, but the one that stands out the most to me is when Black Lightning (Cress Williams) goes to visit a drug dealer named 2-Bits (Jason Louder). Jefferson knew him from school and tried to visit him as a friend to warn him off of selling the new drug, Green Light. When that failed, he went back in costume and beat up the bar. When it came to 2-Bit, the dealer suddenly became very rational and was more than willing to give up his supplier in exchange for BL not calling the cops. 2-Bits has two streaks against him already; a third would put him away for 30 years. Where BL thinks he should go to prison, 30 years seems excessive, so he tells the dealer he won't call the cops as long as he stops dealing. 2-Bits agrees and then tries to get a selfie with BL. Asks him to "light up." Black Lightning decks him and leaves, not calling the cops. The three-strikes reference is a controversial issue, and it was interesting to see it brought up here. The selfie thing was hilarious. You can see a full recap of this episode here.
And on Arrow, this was the final showdown between Team Arrow and Cayden James (Michael Emerson) and his crew. While everyone was involved with the climax of the story, the best part to me was just after Black Siren (Katie Cassidy) attacks and knocks everyone for a loop. William (Jack Moore), who shouldn't be there, tries to grab James's detonator, but they both reach for it at the same time. Oliver (Stephen Amell), tells William to back away and then hugs his son. It's a touching moment that affects James, who at this point knows Oliver didn't kill James's son and is watching Oliver with his own boy. James hesitates setting off the bomb and it's enough time for Oliver to throw an arrow and stop James. It was a completely badass move as he does over the top of William. This closes the book on James, but the season is far from done. You can see a full recap of this episode here.
Enjoyed this article? Share it!