Deadly Class Trailer Released at NYCC, Premieres January 16
Deadly Class certainly knows how to turn heads at NYCC, as this afternoon Syfy not only revealed a new trailer, but announced its premiere date. The show based off the Image Comics series by Rick Remender and Wes Craig, will make its grand entrance on January 16. Check out the trailer below:
Set in a dark, heightened world against the backdrop of late 80s counter culture, DEADLY CLASS follows the story of Marcus (Benjamin Wadsworth), a teen living on the streets who is recruited into Kings Dominion, an elite private academy where the world's top crime families send their next generations. Maintaining his moral code while surviving a ruthless curriculum, vicious social cliques and his own adolescent uncertainties soon proves to be vital. Based on the best-selling 2014 Image Comics graphic novel by Rick Remender and Wes Craig, DEADLY CLASS is a coming of age journey full of ancient mystery and teen angst.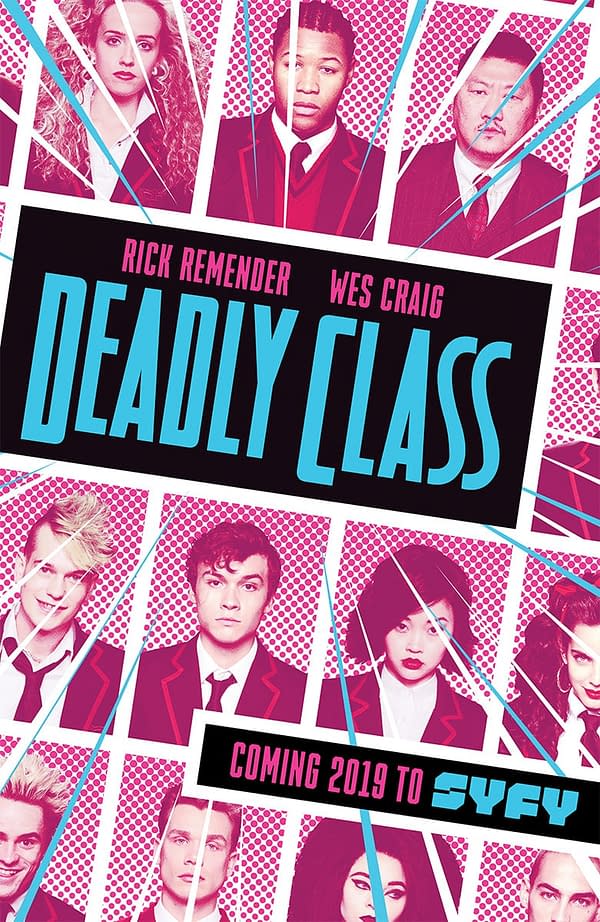 Deadly Class stars Benedict Wong ("Doctor Strange," "Philip K. Dick's Electric Dreams"), Benjamin Wadsworth ("Teen Wolf"), Lana Condor ("'To All The Boys I've Loved Before," "X-Men: Apocalypse"), María Gabriela de Faría ("Yo Soy Franky," "Sitiados"), Luke Tennie ("Shock and Awe"), Liam James ("The Way Way Back," "The Killing"), and Michel Duval ("Señora Acero," QUEEN OF THE SOUTH).
Remender is executive producing the show, along with Miles Orion Feldsott, Anthony and Joe Russo (I think you all know who that is already), Mike Larocca, and Mick Betancourt.
While the comics never really bowled me over, the show has me more than intrigued. It has a frantic energy and hyper-stylized look to it that really will set it apart. Between this and Happy!, Syfy is certainly starting to make people stand up and take notice with their new-found quirkiness.
Deadly Class debuts on Syfy on January 16, and we cannot wait for it.