"Doctor Who": Chris Chibnall Reveals 2-Part Series 12 Finale Titles, Extended Runtime; "Some" Timeless Child Questions Will Be Answered
Once Doctor Who Series 12 brought the Doctor (Jodie Whittaker) and her companions Ryan (Tosin Cole), Yaz (Mandip Gill) and Graham (Bradley Walsh) back to BBC One and BBC America screens to kick off our new year, it wasted no time throwing our heroes into a grand adventure filled with spies, intrigue, world domination, and… The Master (Sacha Dhawan)!
Chris Chibnall knows how to create a season-long, overarching mystery – because that reveal between the two adversaries over the fate of their home planet was just the tip of the iceberg. You would think the return of Captain Jack Harkness (John Barrowman) would be more than enough to elevate the season's status – but why rest there? Not when you can introduce another Doctor in the form of Jo Martin, who appears to pre-date Whittaker's.
As we head into seventh episode "Can You Hear Me?", you'd think that would be more than enough for Chibnall to play with for the remainder of the season – but then he showed he still has some tricks in store for eighth episode "The Haunting of Villa Diodati" as well as with the two-part series/season finale (cybermen, anyone?).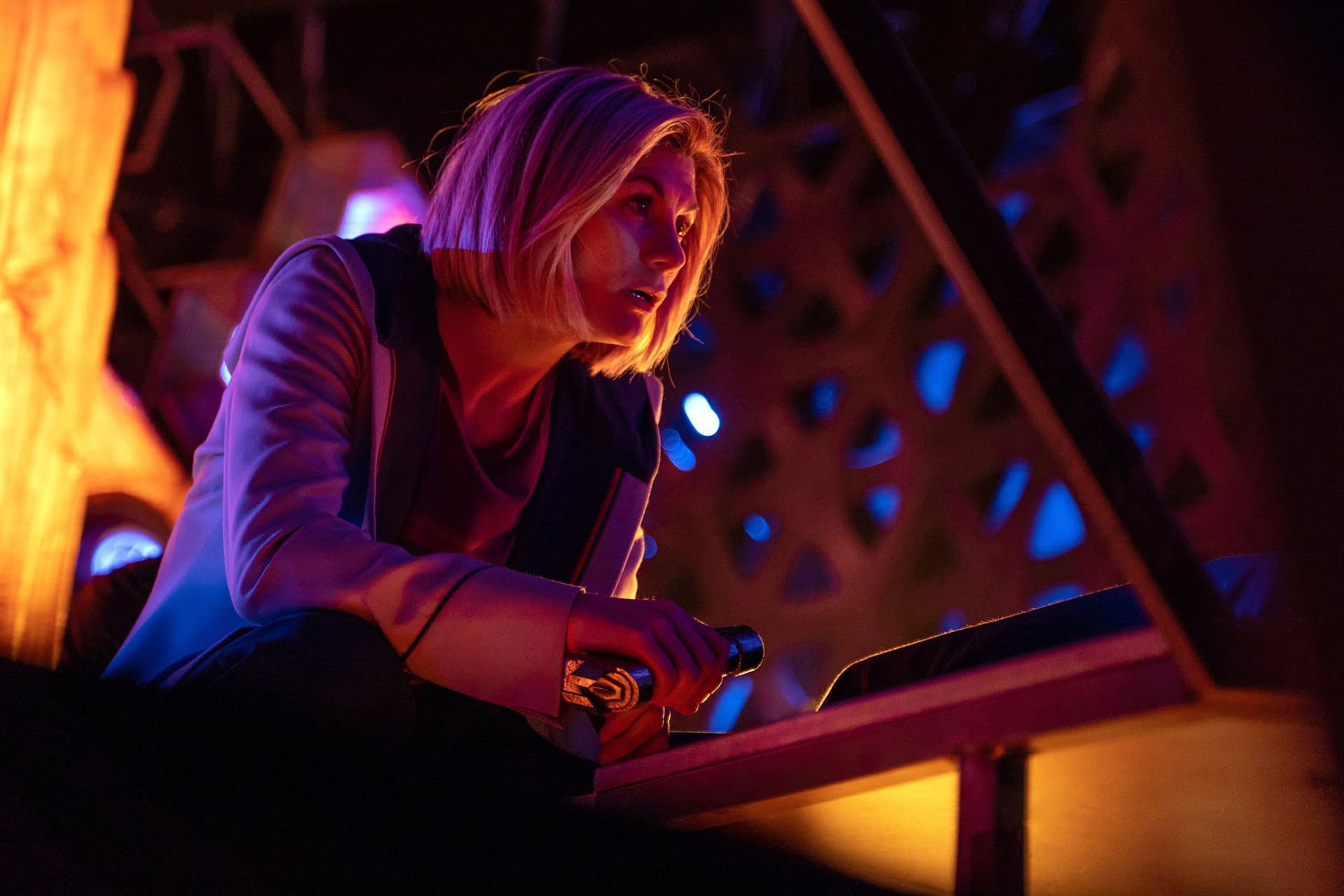 Speaking of the two-part finale… yup, Chibnall and the Radio Times are back once again, this time with the showrunner offering more details on "Ascension of the Cybermen" and the extended 65-minute wrap-up "The Timeless Children" (we have titles!).
While Chibnall is (to no one's surprise) keeping specific details under wraps, he was "kind" enough to offer up a few teases:
● "Ascension of the Cybermen" takes place at the end of the "great cyber war" between the Cybermen and mankind, at a point where things are getting desperate – for both sides. What that means for humanity? A more brutal and relentless form of Cybermen than ever before:
"This is a conflict that's reduced both the Cybermen and humanity to barely anything. It's the last remnants of the Cybermen against the last refugees of humanity in this corner of the universe. These refugees are on the run from the particularly relentless and ruthless Cybermen who are on their trail. They're relentless, single-minded and brutal. That's the essence of their 'monster personality'. The nightmare is how do you escape them? Because they're around every corner and they just won't stop. The humans are desperate and the Cybermen just keep going."
● "Ascension of the Cybermen" will find the Doctor and "Team TARDIS" on the run from a number of different threats – a situation that will flow over into the finale: "We head into the next episode with the jeopardy of whether they're ever going to meet up again…"
● As for "The Timeless Children"? Yeah, we're getting even less intel beyond what reads like a prepared statement/mantra to keep the spoilers at bay:
"I can't tell you anything about this episode. The Timeless Child is mentioned as far back as 'The Ghost Monument' [2018], and the final episode of this series is where some of those questions get answered. It's a huge, emotional finale with lots of Cybermen."
● While the finale will be of epic proportions, it also has the possibility of having an epic impact on our heroes' personal lives:
"It's both epic, and personal. This is what you're always looking for in a series finale – the way the big, universe-threatening story impacts on the personal lives of your characters. And categorically that's what's happening in this episode."
● Chibnall also warns that there won't be an "emotional bookending" to the series – things will not end the way they began:
"In Spyfall Part One [the Doctor and her companions are] buoyant and they're having fun. Where we leave them at the end of episode 10 is an entirely different place."
But Chibnall wants to make something clear: this is not a finale you want to have spoiled for you: "Watch this episode live, or as soon as you can…"
"Doctor Who" series 12, episode 7 "Can You Hear Me?": From ancient Syria to present day Sheffield, and out into the wilds of space, something is stalking the Doctor and her friends. As Graham, Yaz and Ryan return home to see friends and family, they find themselves haunted by very different experiences. Who is the figure calling from beyond the stars for help, and why? And what are the fearsome Chagaskas terrorising Aleppo in 1380? To find the answers, Team Tardis embark on a mission that forces them to face their darkest fears.
Even as we move past the halfway mark for Series 12, Whittaker is making one thing crystal clear: her Doctor's not going anywhere anytime soon. Speaking with EW, Whittaker confirmed that she is returning for Series 13:
"Yes, I'm doing another season. That might be a massive exclusive that I'm not supposed to say, but it's unhelpful for me to say [I don't know] because it would be a massive lie! [Laughs] I absolutely adore it. At some point, these shoes are going to be handed on, but it's not yet. I'm clinging on tight!"
And to those who've been throwing shade at the show since Whittaker and Team TARDIS forst debuted, please know that Whittaker's proud of the work they've done and are doing… sooo… yeah…
But she loves fan artwork…
"I've seen loads of fan art, which I always love. But it's never been that great for me to immerse myself in noise that you can't control, good or bad. I think both are a rabbit hole that you shouldn't necessarily go down. We know that we work really hard for the show to be the best it can be in this moment. Once it's out in the ether, how people feel, in a way, is kind of irrelevant."