Doctor Who: David Tennant Finally Confirms a Steven Moffat Theory
Late-night host and Doctor Who alum James Corden more than did his part this week to bring a little happiness into the lives of Doctor Who fans, and he has former Doctors Jodie Whittaker and David Tennant. to thank for making it happen. The pair appeared on CBS' The Late Late Show with James Corden, covering a wide range of Who and non-Who topics and even judging a makeshift cosplay competition (more on all of that in a minute). What made the cosplay competition extra special was Whittaker and Tennant breaking out their "Doctor duds" to get into the spirit of competition. Now for Whittaker, that simply meant grabbing the garb she's sporting on her current job, but for Tennant? Well, it would safe to say that it's been a while (and several very different roles) since he's had to go that suite route but he's still looking pretty good in a "could star in Educating Rita-kinda way.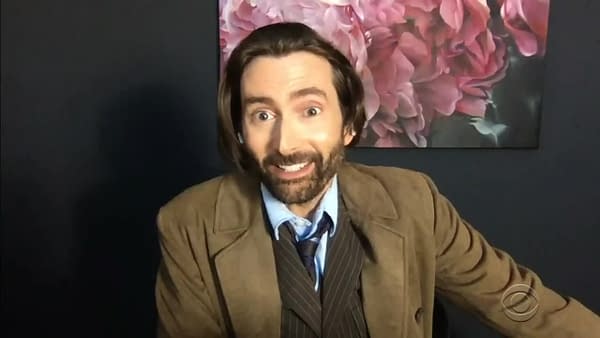 But we weren't the only ones who had some thoughts on Tennant's temporary time lord return. Georgia Tennant posted a behind-the-scenes look with a caption that revealed at least one silver lining out of all of this: "Well, I mean at least he finally changed out of the hoodie. #drhoodie." For Steven Moffat, the move jokingly confirmed something he's always believed while still finding a way to surprise him, commenting: "Always wondered if ex-Doctors ever slipped the costume back on in a private moment. Of course I realised none of them would be shameless enough to go public with it …" Perhaps it's best to end with Russell T. Davies' purely pleasant and safe spin on the whole matter: "Oh there he is ♥️."
Also in the clips below, Whittaker and Tennant explained to Corden what the "quarantine lifestyle" has been like for each of them, as well as what playing the Doctor and being a part of the show's half-century legacy has meant to them. From there, bandleader Reggie Watts hit Whittaker and Tenant with a question that brought out "M&Ms" and "bottle of Prosecco" (Spoilers!) as answers. Then the fun really begins as the duo serves as online judges for an internet-based, made-at-home cosplay competition. The best parts? Those competing had no idea Whittaker and Tennant were taking part. Having Whittaker and Tennant appear in their "old work clothes" was the cream cheese frosting on the carrot cake. The one that still holds a special place in our hearts (and future nightmares)? The "Dalek" that looked like a murderous, melting snowman (bonus points for best and obvious use of a toilet plunger):