Doctor Who Lockdown Rewatch Lands Steven Moffat, Matt Lucas and More
The time has come. Nothing lasts forever. The final Doctor Who Lockdown Rewatch is upon us. Doctor Who Magazine writer and BBC Radio editor Emily Cook announced on Twitter that the final rewatch will be "The Ends of the Earth" and "The Doctor Falls", Peter Capaldi's final two regular episodes before he regenerated into Jodie Whittaker in the Christmas Special "Twice Upon a Time". This rewatch will blow out all the stops, with showrunner and writer Steven Moffat, Pearl Mackie (Bill Potts), Matt Lucas (Nardoe) and director Rachel Talalay joining the rewatch to livetweet. The rewatch will commence on Saturday June 6th at 6pm British Standard Time, which is 1pm US Eastern Time. The hashtag for the livetweet will be #BlackHolesAndRevelations.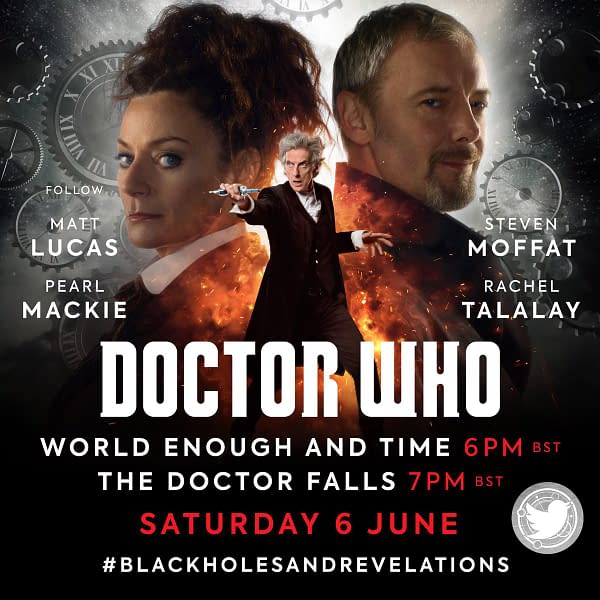 Since we're at the end, credit should go to James Barnett for his excellent work cutting together the new trailers for all the Lockdown Rewatch events.
A Great Choice That's The Start of Everyone's Swansong
What better choice to end the Doctor Who Lockdown Rewatches than with the final two regular episodes for not only Steven Moffat, Peter Capaldi, Pearl Mackie, Matt Lucas, Rachel Talalay and composer Murray Gold, not to mention the main producers and staff?
Moffat used his and Capaldi's final season as a last hurrah to make the show the most purely "Doctor Who" again for some time. No more soap operas like the show's awkward focus on Clara Oswald for more than two seasons, no more confusing, convoluted, continuity-heavy season-long arcs, just the Doctor and two companions getting into trouble through Space and Time. Oh, and Missy (Michelle Gomez), and the Master (John Simm). This was their swansong too.
It felt like Moffat was ticking off the last items on his Doctor Who bucket list for what he could still do for The Doctor, where he could push him and how far. There's the penultimate great speech for Capaldi to deliver, the one about doing the right thing out of kindness without witness or reward, before his final one at the end of "Twice Upon a Time". There was the redemption of Missy, who may or may not be the final incarnation of The Master. There was also something that's been hinted at and toyed with in the Virgin Novels of the 90s but never actually done – the Doctor dying in an epic battle before regeneration began. Moffat milked it all and gave Capaldi a grand death scene. Who knows if there will be a bonus? Moffat is the type who can't resist one more little magic trick. We can only find out next Saturday.