Doctor Who Lockdown: The Best of Days Set for Sunday or Monday Release
On Wednesday, Doctor Who Magazine writer and BBC Radio editor Emily Cook announced that Saturday's final "Doctor Who Lockdown" global rewatch was canceled out of respect for the protests taking place around the world against police brutality towards the Black community that was inflamed by the killing of George Floyd at the hands of Minneapolis, Minnesota, police officers. In her statement (which you can read in its entirety below), Cook explained that the decision was made "out of respect for the feelings of Doctor Who fans around the world" and that "it doesn't seem appropriate at this time."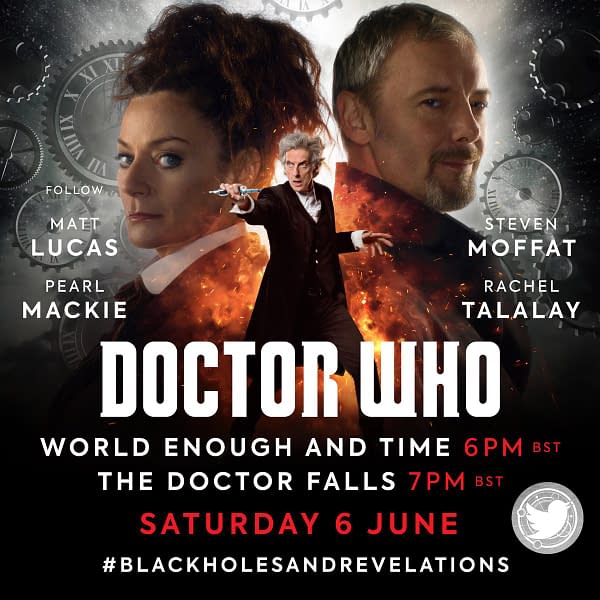 The final go-around was to focus on Peter Capaldi's final two regular episodes ("The Ends of the Earth" and "The Doctor Falls"), with showrunner and writer Steven Moffat, actors Pearl Mackie (Bill Potts) and Matt Lucas (Nardoe), and director Rachel Talalay set to live-tweet. But dedicated fans won't be disappointed: Moffat has written "The Best of Days," starring Mackie and Lucas. Now while we're not sure if it's a prequel, sequel, mid-story piece, or something else entirely, we are sure of one thing: it won't be out on Saturday. Cook took to Twitter to let fans who might be waiting for the drop know that it's still on its way, but they should be looking more at Sunday or Monday. But considering they're still hard at work on it, we have a feeling it will be worth the wait: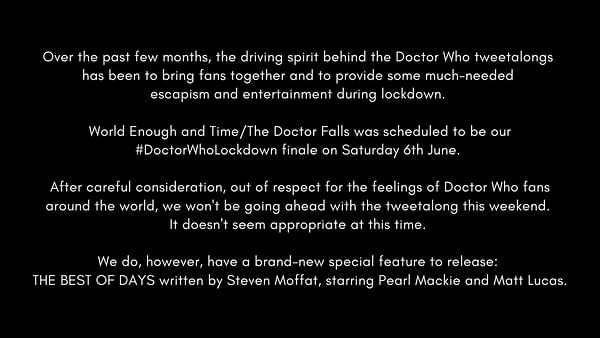 On Monday, May 25, George Floyd, an African-American Minneapolis man, was confronted by police officers over an accusation of using a counterfeit $20 bill at a local market. While details on what happened next are still being pieced together, what we do know is that Floyd was handcuffed and lying face down as police officer Derek Chauvin kept his knee on Floyd's neck for the previously mentioned 8 minutes and 46 seconds. Officers Tou Thao, J. Alexander Kueng, and Thomas K. Lane were the other three officers involved, with Kueng and Lane assisting Chauvin in holding Floyd to the ground and Thao looking on from nearby.