The entire premise behind pro wrestling is to work the crowd. So the Pandemic Era's restrictions on live crowds at wrestling events have turned the business upside down in a lot of different ways. WWE Champion Drew McIntyre was interviewed by the newspaper The New York Post, and he talked about the adjustments he's made that are unique to the Pandemic Era, and even how the situation enables certain storytelling that wouldn't be possible otherwise.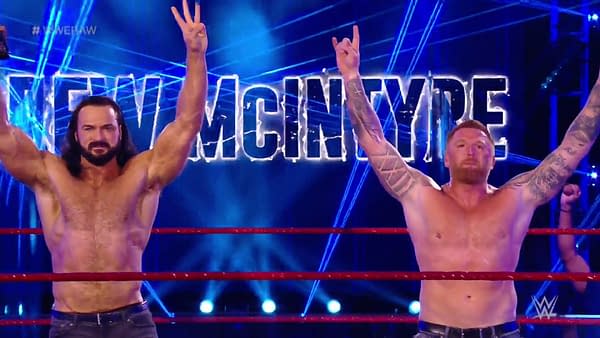 "We have this unique situation where we can tell more compelling stories with depth because it's almost being filmed like a TV show, the crowd not there dictating that a promo go in a different direction that it might normally go or being interactive and you feel the need to interact back with them. You can just kind of live in the moment," McIntyre explained.
"The Heath [Slater] promo for an example. I don't know if I would have been comfortable with that in an arena, just because of the content when he pointed out that I was a bad friend and Dolph [Ziggler] was exploiting that," he continued. "An arena would have turned on that, especially being real talking about his family. In that environment, I felt we could tell that story and show I'm not a perfect person all the time as the character. Human beings are flawed. With [John] Cena and Super Cena, Roman [Reigns] is bulletproof, and that worked for them as that's great. They're so successful. But for Drew McIntyre, Drew Galloway, I think it's OK to show that I'm flawed. I am human."
"In the end, as long as you get that happy ending where Heath and I came together when it was clear, Dolph manipulated the situation," McIntyre concluded. "I think we can create stories with more depth, characters with more depth. People can invest more, and when we are back in the arenas, they are going to be so much more invested in the characters if you are willing to take a chance."
That's certainly a glass-half-full way of looking at things. We'll find out just how good Drew McIntyre really is when he has to sell a match with Dolph Ziggler at the upcoming Extreme Rules PPV as meaningful.
Enjoyed this article? Share it!