True Detective Season 3 Adds Sarah Gadon and Emily Nelson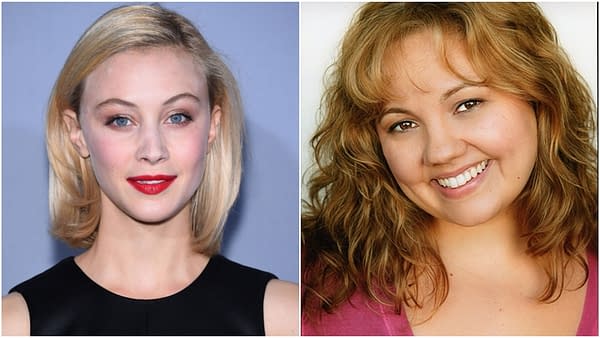 HBO continues to round out the third season of series creator Nic Pizzolatto's crime anthology series True Detective, announcing the additions of Alias Grace's Sarah Gadon and Emily Nelson (Code Black) to the cast.
Set to tell the story of a macabre crime in the heart of the Ozarks and a mystery that deepens over decades and plays out in three separate time periods, Gadon and Nelson will be joining previously-announced castmates Mahershala Ali (Moonlight), Carmen Ejogo (Selma), Stephen Dorff (Blade), Scoot McNairy (Godless), Mamie Gummer (Side Effects), Ray Fisher (Justice League), Michael Greyeyes (Fear the Walking Dead), Jon Tenney (The Closer) and Rhys Wakefield (The Purge).
Though very little information has been given out on True Detective Season 3's storyline and characters, we do know that Gadon will be playing Elisa Montgomery and Nelson will portray a character named Margaret. Ali will play the lead role of Wayne Hays, a state police detective from northwest Arkansas. Dorff will play Wayne's partner Roland West, an Arkansas State Investigator who, along with his partner, has his life and career influenced over three decades by a baffling crime. Ejogo will play Amelia Reardon, an Arkansas schoolteacher with a connection to two missing children in 1980. McNairy will play Tom, a father who suffers a terrible loss that ties his fate to that of two state police detectives over 10 years. Fisher will portray Freddy Burns, son of Wayne Hays.
Wakefield, Greyeyes, and Tenney are set for Henry Hays, Brett Woodard, and Alan Jones, respectively; but as was the case with Gadon and Nelson, no additional information was available.
Pizzolatto is listed as the sole writer for the third season of True Detective (minus one episode which is co-written with David Milch), as well as showrunner. He will also executive produce this season along with Jeremy Saulnier (who will be directing as well), and additional returning EPs Scott Stephens; Season 1 stars Matthew McConaughey and Woody Harrelson; Season 1 director Cary Joji Fukunaga; along with Scott Stephens, Steve Golin, Bard Dorros and Richard Brown.