There's a lot going on at C2E2 this weekend, but one event that pro wrestling fans won't want to miss is the first meeting between former WCW announcer Tony Schiavone and former WCW President Eric Bischoff since the end of WCW back in 2001. To promote the event, Schiavone decided to sneak attack his former colleague with a sidewalk slam, accusing Bischoff of screwing up the sale:
Arrived in Chicago and ready for @c2e2 this weekend. Me and @EBischoff meet for the first time on stage since he messed up the sale of WCW. Should be interesting. 🎫GET YOUR TICKETS NOW: https://t.co/AnB20YIQYO pic.twitter.com/jg93UEG0Wp

— Tony Schiavone (@tonyschiavone24) March 21, 2019
Well, Bischoff wasn't going to let that go without a response, so he decided to up the ante by claiming that security found "2 years of Jugs magazine" in Schiavone's desk while moving offices, and that this played a role in screwing up the sale of the company.
https://twitter.com/EBischoff/status/1108782374819692545
The most commonly accepted viewpoint on the demise of WCW is that, with the AOL/Time Warner merger, executives simply didn't want to own a wrasslin' company or even air wrasslin' on its television networks. That made the company effectively worthless to investors like the ones Bischoff had lined up in his bid to purchase the company, making it ripe for WWE's Vince McMahon to buy up the company and effectively put its competition out of business. Then it was basically all downhill from there for the next decade and a half.
Bischoff's revelation adds a whole new dimension to the story, so if you want to know more, you better score tickets to that event at C2E2 this weekend. Just… don't shake hands with Schiavone while you're there, just in case.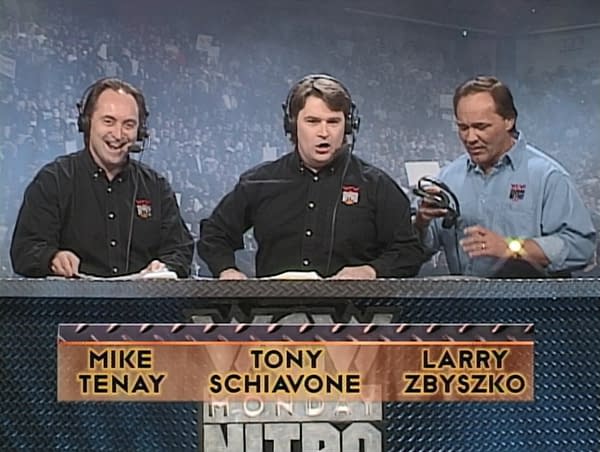 Enjoyed this article? Share it!