Fawlty Towers Sequel Series Taps John Cleese, Daughter Camilla Cleese
Legendary sitcom Fawlty Towers is getting a sequel written/starring John Cleese as Basil Fawlty, who tries running a hotel with his daughter.
---
John Cleese and his then-wife Connie Booth's classic British sitcom Fawlty Towers will return in a sequel series to be produced by Rob Reiner's company Castle Rock. You heard that right. Basil Fawlty is coming back, and Meathead is his new boss! It's like a Classic Sitcom Singularity! In case you're too young to get the reference, Reiner played "Meathead," Archie Bunker's liberal son-in-law in the classic 70s sitcom All in the Family. There, are you glad we got that bit over with?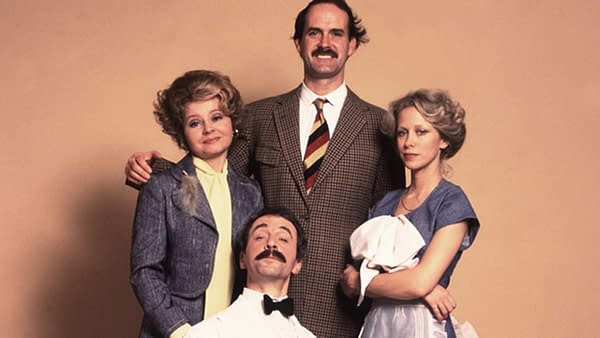 We Hope it's Called Shin Fawlty Towers
Anyway, Shin Fawlty Towers, as we like to call it for now ("shin" means "new" in Japanese), is set in the present, more than forty years after the end of the second and last season of the series on the BBC, will star Cleese and his daughter Camilla Cleese. Cleese will be writing the series as well. The new series will feature the eternally awful Basil Fawlty, who is almost certainly hating on the modern world more than ever. Smartphones and the internet will probably be the new and even bigger banes of his existence. But the bigger issue is his discovery that he has a daughter, and the two of them will have to team up to run a boutique hotel together. Because he did such a great job running the original Fawlty Towers forty years ago, yeah.
The Cleeses are developing Shin Fawlty Towers, with Reiner, Michele Reiner, Derrick Rossi, and Matthew George executive producing. Cleese praised George's "understanding of the 'creative process'" and described their first meeting as "one of the best creative sessions I can remember." "John Cleese is a comedy legend," said Reiner, but then who wouldn't? "Just the idea of working with him makes me laugh," while George described meeting John and Camilla Cleese as "one of the great thrills of my life."
Fawlty Towers Was a Legendary Sitcom
Fawlty Towers only ran for two six-episode seasons on the BBC, finishing in 1979 without a finale episode to bring things to a close. It has ranked number one on numerous best all-time British comedy lists. It is considered one of the greatest sitcoms ever written, with twelve episodes never wearing out their welcome or deteriorating in quality as many sitcoms do where they pass four seasons, and then everyone gets mawkish and sentimental and stops being funny. You can name just about every US sitcom for that. The series was written by Cleese and Connie Booth, about officious and hapless hotel manager Basil Fawlty and a cast of characters that included legendary Spanish waiter Manuel (Andrew Sachs), Basil's bossy wife Sybil (Prunella Scales) and their chambermaid Polly, played by Booth. It doesn't look like Scales will be back as Sybil as she has retired from acting due to ill health, and Booth left show business to become a psychotherapist.
The inspiration for Fawlty Towers came from Cleese's stay at a hotel in an English seaside town with an awful and rude manager while filming Monty Python. The show came to define the 'middle England' genre. It is not a compliment to be called a "middle Englander"; they tend to be considered petty-minded, racist, and Brexit voters. Basil Fawlty was always a satire about the failure of fascism, a bitter, order-obsessed man constantly undone by his own harebrained schemes to keep out of trouble but ends up digging himself deeper in the hole until it collapses on him. He never got away with it. Every week. And it was always hilarious.
Fawlty Towers currently airs on BBC Two and streams on BritBox.