Fear the Walking Dead Season 4.5 Gets August Return, Second-Half Synopsis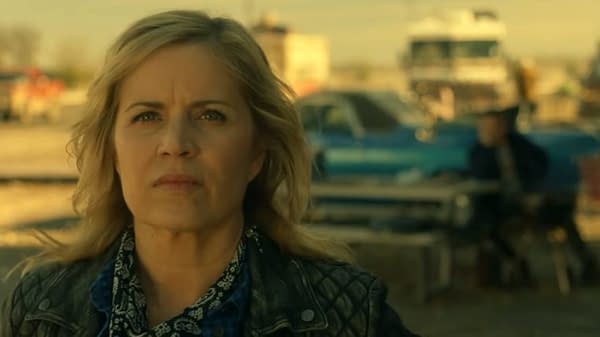 Not wasting any time after possibly (show us a body, people) killing off a major character during the mid-season finale of Fear the Walking Dead's season 4, AMC's Talking Dead announced the series' return on Sunday, August 12th at 9 p.m. ET/PT. The network also released the first synopsis for the eight-episode, second-half of the season; which is executive produced by Scott M. Gimple, showrunners Andrew Chambliss and Ian Goldberg, as well as Robert Kirkman, David Alpert, Gale Anne Hurd and Greg Nicotero.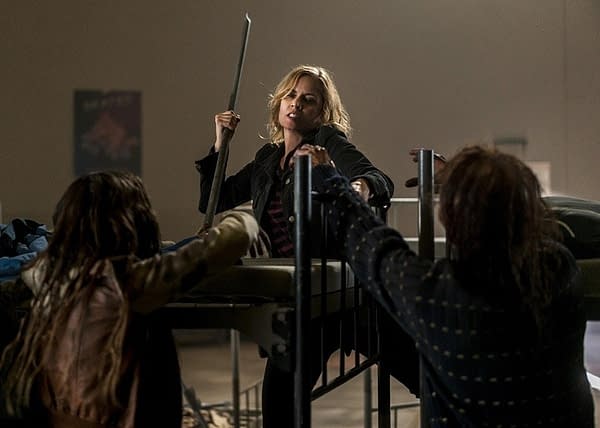 Take a look at the trailer, overview and essential scene from mid-season finale 'No One's Gone;' followed by the first official synopsis for the second-half of the AMC series' fourth season, which stars Lennie James, Alycia Debnam-Carey, Colman Domingo, Danay Garcia, Garret Dillahunt, Maggie Grace, and Jenna Elfman:
Fear the Walking Dead s04e08 'No One's Gone': Madison fights to preserve the life she worked so hard to build; Morgan tries to do the right thing.
The first half of season four began with one figure huddled around a campfire, and ended with nine. Characters who started their journeys in isolation collided with each other in unexpected ways and found themselves in one of the last places they ever expected to be…together. In the back half of the season they will explore who they are now – as individuals and as part of the greater group – and how they will forge ahead. They will find themselves pitted against new adversaries – human, walker, and even nature itself. Theirs will be a journey wrought with danger, love, heartbreak, loss, and ultimately, hope.

Here's a look back at the first-half of AMC's fourth season of Fear the Walking Dead:
In season 4, we will see the world of Madison Clark (Kim Dickens) and her family through new eyes — the eyes of Morgan Jones (Lennie James), who is joining the story from the world of The Walking Dead. The characters' immediate pasts mix with an uncertain present of struggle and discovery as they meet new friends, foes, and threats. They fight for each other, against each other and against a legion of the dead to somehow build an existence against the crushing pressure of lives coming apart. There will be darkness and light; terror and grace; and the heroic, mercenary and craven, all crashing together toward a new reality for Fear the Walking Dead.