"Fire Force" Season One, Episode One: Explosive Anime Action When "Shinra Kusakabe Enlists" (SPOILERS)
Fire Force just debuted on Crunchyroll, with a really kinetic blend of exciting action, a weirdly effective setting, and really fun characters. The anime is based off of the manga series by Atsushi Okubo, the creator of Soul Eater. The anime definitely has some of Soul Eater's DNA in it, with an offbeat, engaging group of characters on display. Here's the official Bleeding Cool review!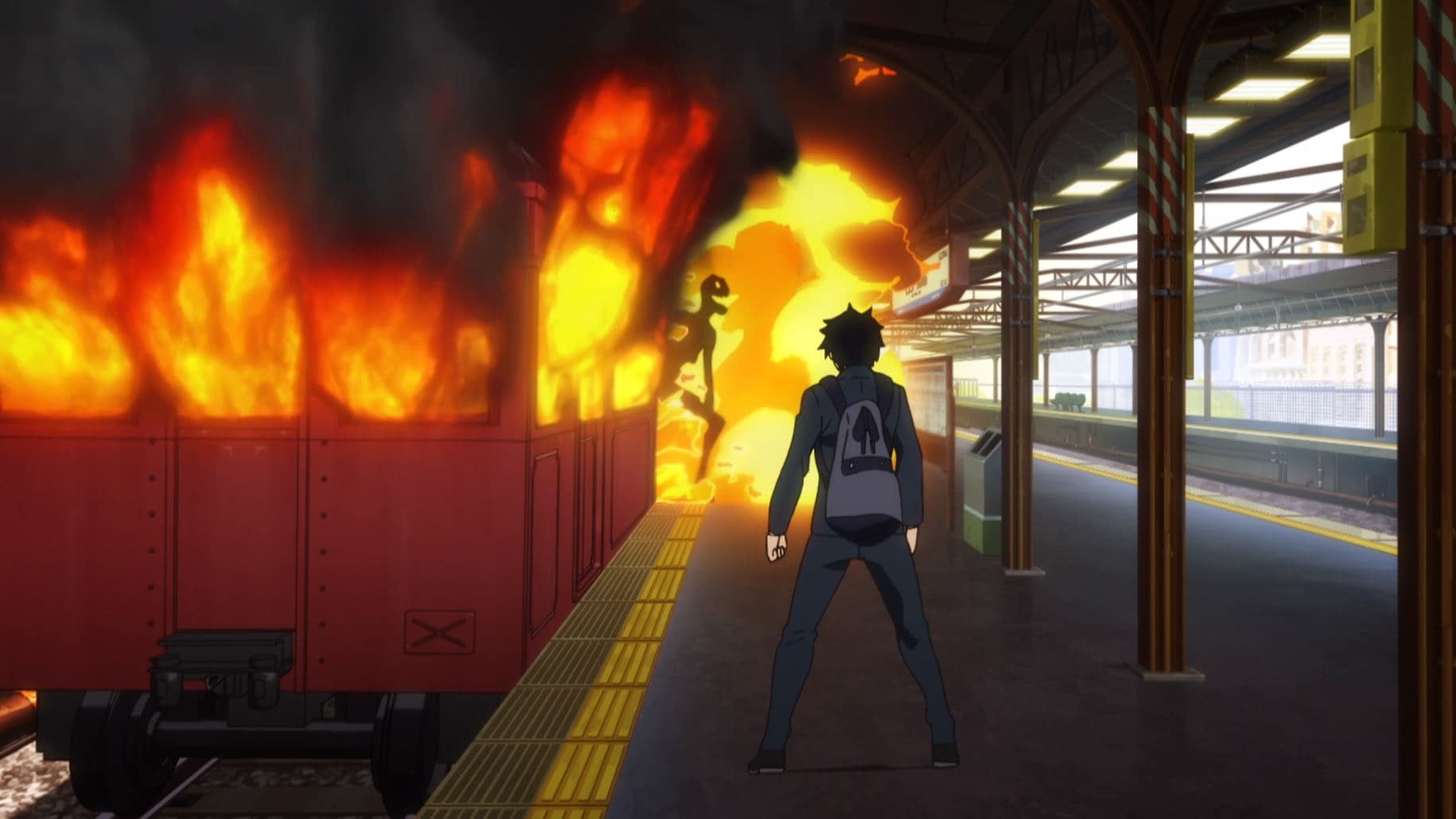 [rwp_box_recap id="0"]
Fire Force opens with a bunch of Tokyo citizens happily commuting on a train. A puff of smoke escapes a man's mouth, and the train rolls into the next station, completely ablaze. A monster, completely engulfed in fire, emerges from the train.
Shinra Kusakabe sees this all happen, and gets ready to fight the monster.
The special Tokyo Fire Force shows up, pushing the young man out of the way. They're here to fight the Infernal, and set his soul to rest. As the group settle down to pray over the soul of the defeated monster, a piece of equipment breaks free of the station ceiling, and looks like it's going to crush the group's nun.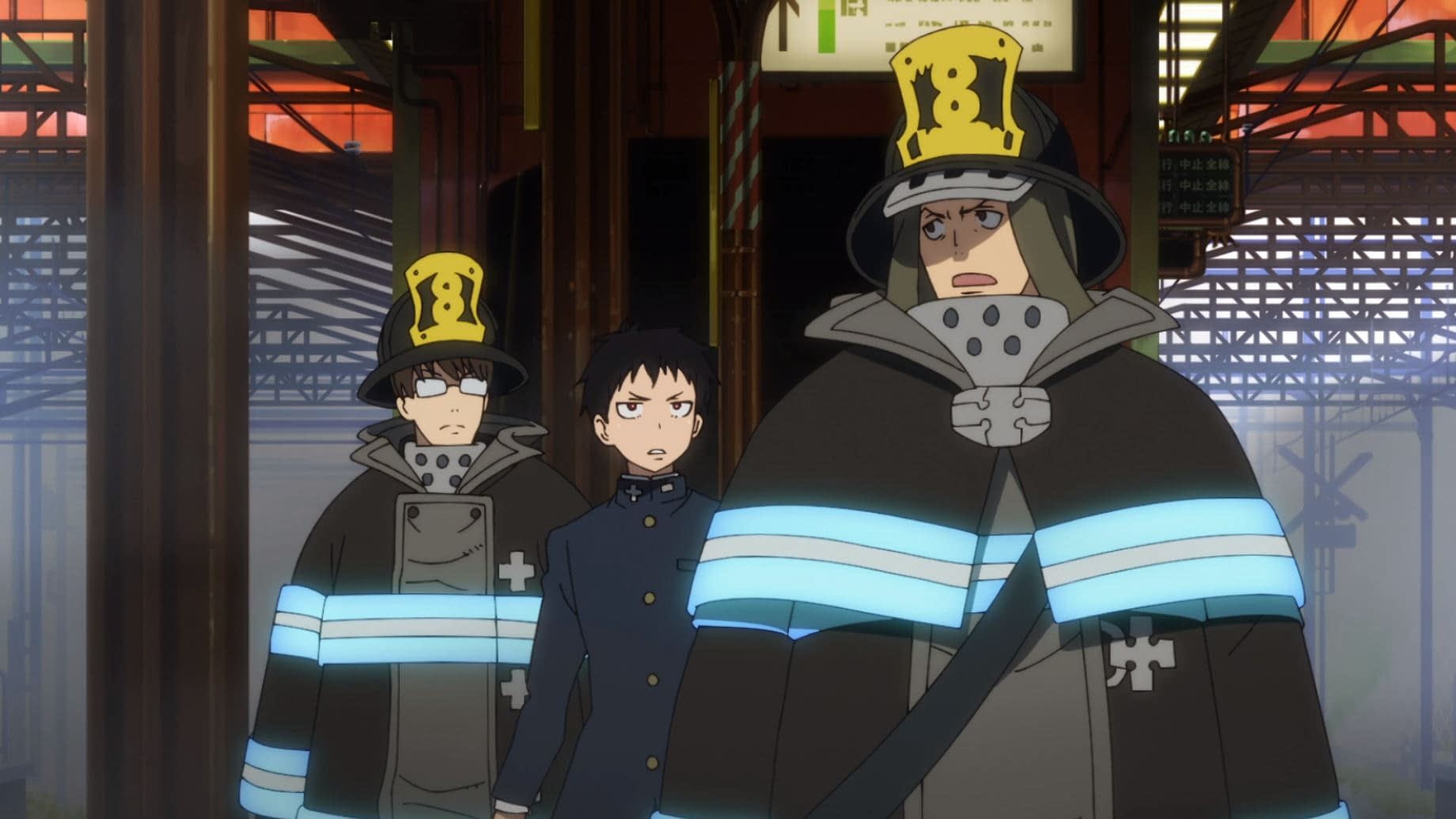 Yes, the special fire-fighters of Fire Force fight fire. Literally living, raging, monsters made out of fire. And they have a nun, because it's a holy duty. They also worship the sun, but I'll get back to that.
Shinra leaps into action, blasting towards the Sister with controlled bursts of flame from his feet. He rescues her, then introduces himself to the Fire Force as their newest member. The rescue was really cool and unique, with Shinra looking like he's having the time of his life.
That's not entirely it, though. Shinra smiles when he's nervous, a habit that caused his aunt to call him a devil when he was little.
So, here's the background on the crazy, kinetic world of Fire Force: close to 200 years before the events of the show, the human race became susceptable to a type of sponteneous combustion that turned the victims into raging, destructive fire monsters. It could happen to anyone, any time. Some people can harness a sort of Pyrokenesis, and those that feel the call join the Fire Force to bring peace to the Infernals.
Shinra always wanted to be a hero, but his mother and baby brother were killed by an Infernal when he was little. Seeing him smile, his only surviving relative decided that he must have been responsible.
Now, all Shinra wants to do is save people's lives and become a hero. He's a lot like Izuku Midoriya in My Hero Academia, completely focused on the need to be a hero. The world, however, is a lot more grim.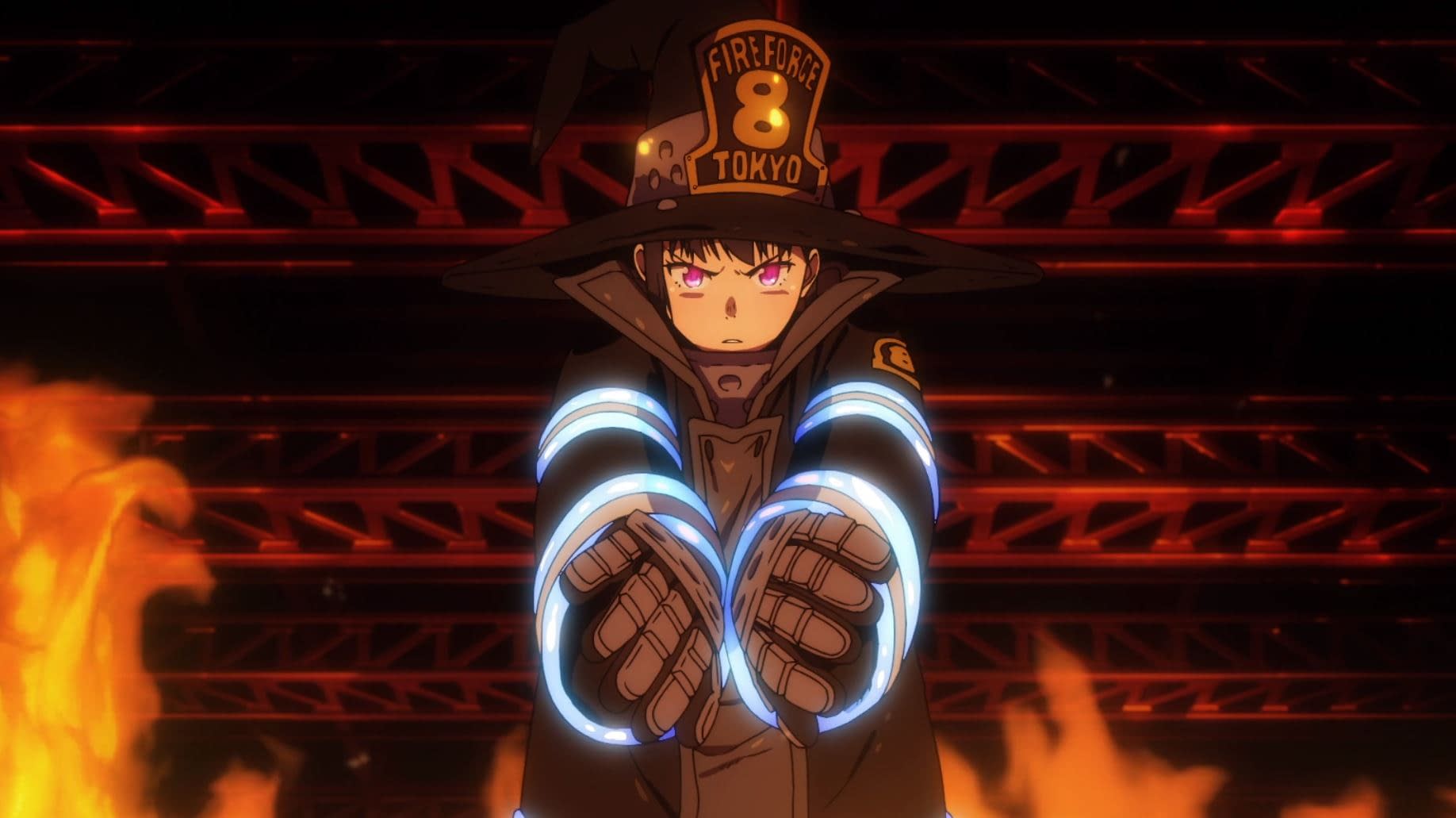 The rest of Fire Force Company 8 is made up of Commander Akitaru Obi, who likes to lift weights but doesn't have any powers; Iris, the Batallion Nun, also non-powered; Arthur, who is a third-generation Pyrokenetic; Maki, who wears a witch hat and is a second generation pyrokenetic; and Takehisa Hinawa, Obi's second in command, who is also a second-generation Pyrokenetic.
The characters are all very engaging, although Shinra gets most of the attention this time out. The action sequences are fantastic to watch, and while the story-line is as weird as they get (sun worshiping nuns, yo), it works beautifully.
Out of all the premieres that have hit this week on Crunchyroll, I can honestly say Fire Force has been my favorite. It's a very entertaining bit of animation, with an original premise and fun characters.
Fire Force simulcasts every Friday on Crunchyroll.
Tokyo is burning, and citizens are mysteriously suffering from spontaneous human combustion all throughout the city! Responsible for snuffing out this inferno is the Fire Force, and Shinra is ready to join their fight. Now, as part of Company 8, he'll use his devil's footprints to help keep the city from turning to ash! But his past and a burning secret behind the scenes could set everything ablaze.