This article contains spoilers for Altered Carbon episode seven – Nora Inu.
.
.
.
.
.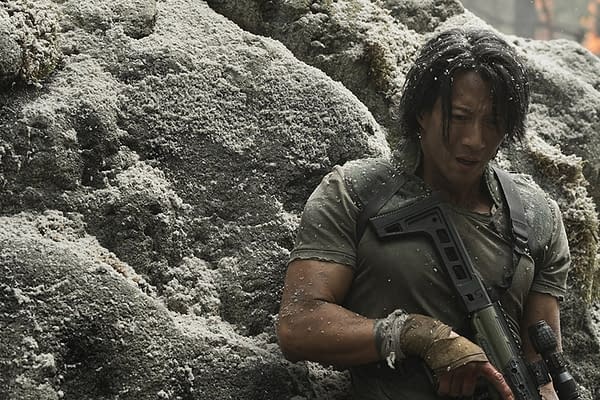 With the first six episodes, I did the recap, said a few words then talked about how the story has been diverging from the novel by Richard K. Morgan. I'm going to do something different here. Nothing in this episode takes place in the first novel. I haven't read the two after, so I don't know if they're pulling from later material… but the Envoy Corp seems more like a military group than what we get here. Reileen (Dichen Lachman) isn't Kovacs (Will Yun Lee) sister and Quell (Renee Elisa Golsberry) isn't linked to Kovacs romantically nor the person who created the stacks. In truth, we are so far off the book now that I almost forgot what Kovacs is supposed to be looking for.
The episode starts with Reileen trying to save Kovacs (Joel Kinnaman) and him insisting she save the sleeve. He then fades in and out and we get to see their history together. Their father killed their mother and then young Takeshi killed their father to protect Reileen. He is recruited into the Protectorate and told his sister would be given to a good family. He went off and studied to be a soldier and was a good one until a mission took them back to Harlan's World (their home planet). A squad goes in to take out the Yakuza, but he finds Reileen after all the years, identified by his mom's necklace. They turned on both their allies, killing Protectorate and Yakuza alike until they escaped. They tried to go on the run until they came across the Evoys and Quell. They're a rebel group trying to stop the Protectorate. It takes them a while, but Kovacs becomes one of them and Reileen stays because of her brother.
After a few years of fighting with the Envoys, Quell announces that stopping the Protectorate isn't enough, they need to end immortality. She has a program that once she gets the specs for the main computer system, she can then upload the program/virus which will infect everyone to only have 100 years to live. The raid goes pretty well, except Kovacs is captured and interrogated. But while he's being questioned, the Envoys come back for him and they escape. Just before they're ready to attack and upload the virus, Quell and Kovacs open up romantically. Reileen finds them just after and runs off. Kovacs chases after her. As this is happening, The Protectorate arrives and broadcasts a virus into the Envoy stronghold, causing everyone to fight and kill each other. By the time Kovacs figures out something is wrong and gets there, almost everyone is dead… and those that aren't die within minutes. Kovacs runs, telling Reileen and Quell to get to the shuttle bay. He tries to lead them away while the girls escape… but as they are taking off, their ship is blown out of the sky. Kovacs has lost everything.
Back in modern time, Reileen told Kovacs that an archeologist found her stack and some DNA, and brought her back to life. And that she didn't remember just how Quell died. But Kovacs' Envoy intuition keeps working and he wanders into a room at Reileen's house where he finds three extra sleeves. Hemingway, the little girl from the museum and the woman from Bancroft's party with the snake. He realizes the reason Reileen doesn't remember is because she was backed up before the attack. Reileen sold out the Envoys to the Protectorate. She tells Kovacs it was all for him. And fade to black.
All the changes to Reileen makes her a completely different person than she was in the novel, and I'm fine with that. This is a different medium and they're telling a different version for that medium. My first real problem with the series adaptation has to be the Envoys themselves. The book made it feel like they were super soldier / detectives. Like James Bond and Batman rolled into one and sent on the most dangerous and classified missions. This feels like a ragtag group of rebels and while Quell gives a good talk, I never believed she was teaching them something on the level that it was sold in the novel. I'm liking the series and I enjoyed this interlude into the past, the Envoy thing was definitely a speed bump in an otherwise smooth road.
Back to the binge.
Enjoyed this article? Share it!