Here are Five New Clips From Eli Roth's History of Horror From AMC!
Eli Roth's History of Horror debuts in a couple weeks, but ahead of that we have five, yes five new clips of him talking horror with some of the icons that will be appearing on the show. First Edgar Wright and Greg Nicotero discuss the comeback of the zombie film:
Next, Robert Englund (Freddy), Tony Todd (Candyman), and Tobin Bell (Jigsaw) talk about bringing some of our favorite maniacs to life on screen:
In the third clip, various people talk about the horror films that traumatized them when they were younger:
Another clip features a discussion about if horror is sexist or feminist:
Finally, the last clip is Quentin Tarantino discussing Abbot and Costello Meet Frankenstein:
Executive produced by award-winning horror film director, writer, producer and actor, Eli Roth ("Cabin Fever," "Hostel"), the documentary series brings together the masters of horror – the storytellers and stars who define the genre – to explore its biggest themes and reveal the inspirations and struggles behind its past and present.

Each one-hour episode will take viewers on a chilling exploration of how horror has evolved through the eras and impacted society, as well as why loyal fans remain addicted to fear. The series features A-list storytellers including Stephen King, Quentin Tarantino, Jordan Peele, Jason Blum, Robert Englund, Linda Blair, Tippi Hedren, Rob Zombie, Haley Joel Osment, Jack Black, John Landis, Jamie Lee Curtis, Elijah Wood, Slash, Catherine Hardwicke, Norman Reedus among many others.

"My wish list for this show came true, I knew these three, and all are incredible storytellers. Mick Garris got the horror directors together for dinners, called the Masters of Horror. As we were losing these guys, we were losing their stories. And I wanted to get these people together, but I also wanted a mix of a lot of different voices. I also want to hear their perspectives of other movies. The fun was Joe Dante talking about other people's movies."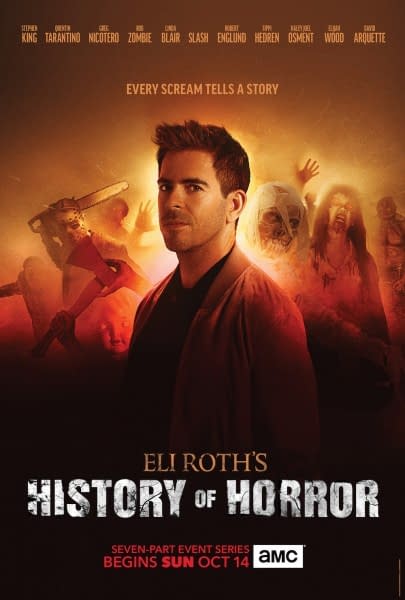 Eli Roth's History of Horror premieres Sunday, October 14th, part of AMC's Fear Fest.