The Flash Season 4: Box Set Details, Bonus Features, and Release Date
With The Flash season 4 having just wrapped up, it's time to start talking about the home release of the season… and Warner Bros. Home Entertainment has already sent out the press release for The Flash: The Complete Fourth Season set that is due out on Blu-ray and DVD August 28th. Here is what they have to say along with a list of episodes and bonus features.
In Season Four, the mission of Barry Allen, aka The Flash (Grant Gustin), is once more to protect Central City from metahuman threats. First, he'll have to escape the Speed Force. With Barry trapped, the job of protecting Central City falls to his family – Detective Joe West (Jesse L. Martin); his fiancée, Iris West (Candice Patton); and Wally West/Kid Flash (Keiynan Lonsdale) – and the team at S.T.A.R. Labs – Dr. Caitlin Snow/Killer Frost (Danielle Panabaker), Cisco Ramon/Vibe (Carlos Valdes) and brilliant scientist Harrison Wells (Tom Cavanagh). When a powerful villain threatens to level the city if The Flash doesn't appear, Cisco risks everything to break Barry out of the Speed Force. But this is only the first move of a life-or-death chess game with Clifford DeVoe aka The Thinker (Neil Sandilands), a mastermind who's always ten steps ahead of Barry, no matter how fast he's running. Shocking surprises come fast and furious in all 23 action-packed adventures featuring The Fastest Man Alive.

The Flash stars Grant Gustin (Arrow, Glee), Candice Patton (The Game), Danielle Panabaker (Justified, Necessary Roughness), Carlos Valdes (Arrow, Once), Keiynan Lonsdale (Insurgent), with Tom Cavanagh (Ed, The Following), and Jesse L. Martin (Law & Order). Based on the characters from DC, The Flash is produced by Bonanza Productions Inc. in association with Berlanti Productions and Warner Bros. Television, with executive producers Greg Berlanti (Arrow, Supergirl, DC's Legends of Tomorrow, Riverdale), Todd Helbing (Spartacus, Black Sails) and Sarah Schechter (Arrow, Riverdale, Black Lightning, Supergirl).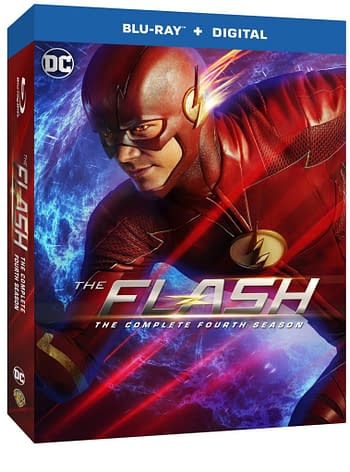 SPECIAL FEATURES
* The Best of DC TV's Comic-Con Panels San Diego 2017
* Inside the Crossover: Crisis on Earth-X
* The Elongated Man
* Flash Time on Amunet Black with Katee, Eric and Sterling
* The Fastest Mind Alive: The Thinker
23 ONE-HOUR EPISODES
1. "The Flash Reborn"
2. "Mixed Signals"
3. "Luck Be A Lady"
4. "Elongated Journey Into Night"
5. "Girls Night Out"
6. "When Harry Met Harry…"
7. "Therefore I Am"
8. "Crisis on Earth-X: Part 3"
9. "Don't Run"
10. "The Trial of the Flash"
11. "The Elongated Knight Rises"
12. "Honey, I Shrunk Team Flash"
13. "True Colors"
14. "Subject 9"
15. "Enter Flashtime"
16. "Run, Iris, Run"
17. "Null and Annoyed"
18. "Lose Yourself"
19. "Fury Rogue"
20. "Therefore She Is"
21. "Harry and the Harrisons"
22. "Think Fast"
23. "We Are The Flash"