The Flash Season 4: Inside the Episode 'Null and Annoyed'
After three Tuesdays of reruns we finally get a new episode of The Flash season 4 this evening called 'Null and Annoyed'. The last we saw the team Iris (Candice Patton) had temporarily become a speedster and Barry (Grant Gustin) had lost his powers thanks to thanks to a bus meta named Matthew (Leonardo Nam). aka Melting Point. It all get turned back at the end, and Matthew becomes an ally against The Thinker (whichever body he's in now). Harry (Tom Cavanagh) also came up with a thinking cap that allowed him to deduce who the final two bus metas are and we get to meet one of them tonight, Janet Petty (Bethany Brown), aka Null, a meta that can control gravity.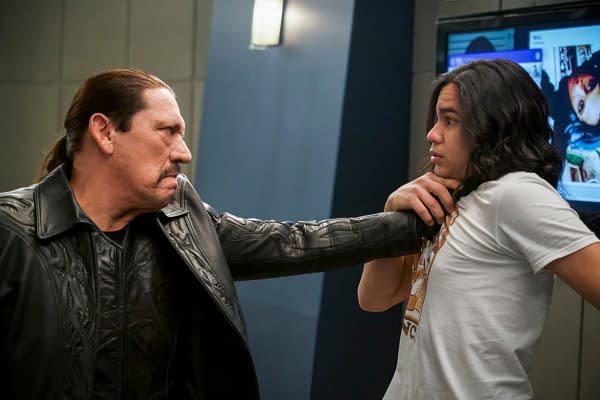 But the other big story of the week has to do with the return of Breacher (Danny Trejo) as he comes to ask for Cisco (Carlos Valdes) to help him figure out why he's having issues with his vibe blast. He hasn't really changed any — even comes across threatening when asking for help. And it seems his issue is because he's getting old… and of course Cisco is afraid to tell him that.
The episode is directed by Kevin Smith who cameos in it with Jason Mewes.
The Flash airs tonight at 8 p.m. ET on the CW.
https://youtu.be/gzAefDqQVgM