Flash Season 5 Poster Shows Nora Racing Barry in Costume
Flash fans have reason to be excited this afternoon as The CW show revealed a new poster this morning showing off Nora Allen, the future daughter of Barry and Iris, in costume racing with her dad. Nora was first shown during last years 'Crisis on Earth-X' crossover, and helped saved Barry's life in the finale of season 4. Check out the poster below!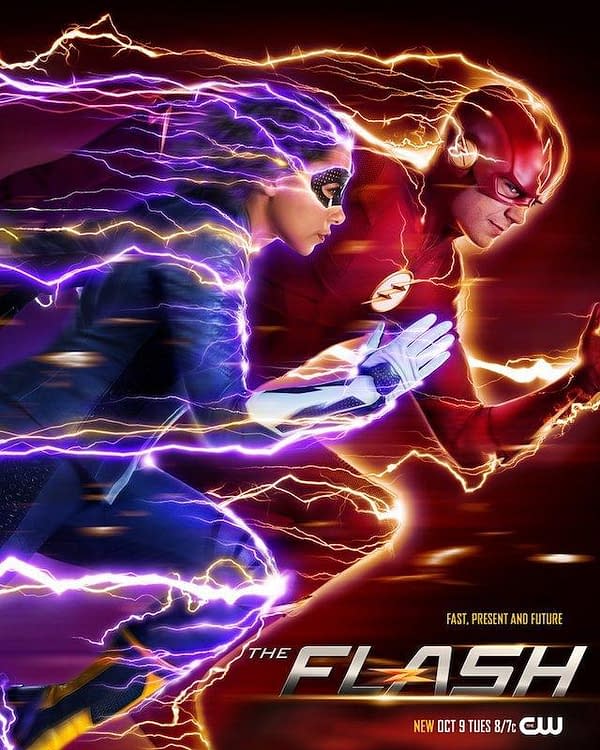 Nora will go by the codename XS on the show this year, and from the trailer for the upcoming season, we already know there is more than meets the eye with her. If you have not seen the trailer yet, you can do so below:
https://www.youtube.com/watch?v=AZ65JKBLoq8
Matching wits with The Thinker, who by season's end had harnessed the powers of all twelve bus metas he created, stretched Team Flash to their limits, but with the help of some new allies, Barry Allen (aka The Flash) and company were able to put a stop to the Enlightenment and save Central City once again.

However, with the arrival of Barry and Iris' speedster daughter, Nora, who arrived from the future admitting to having made a "big mistake", things are anything but status quo. Will parenthood be the challenge that finally slows The Flash down?
Between a new suit and Flash ring, the promise of "many deaths", this year's crossover with Arrow and Supergirl introducing Batwoman to the Arrowverse, and a non-speedster villain, this is shaping up to be one of the better seasons of the show so far, and has me more interested than the past couple, that's for sure. The big question now will be if Nora has any connection to the Legion of Super-Heroes, as her codename would suggest (XS is the nickname given to LSH member Jenni Ognats in the comics).
The fifth season of The Flash premieres on Tuesday, October 9th.