Fox Knocks Off Another, Cancelling The Exorcist After 2 Seasons
It may have wrapped up its second season back in December, but the Fox supernatural drama The Exorcist got its last rites today. The network has cancelled the series after two seasons.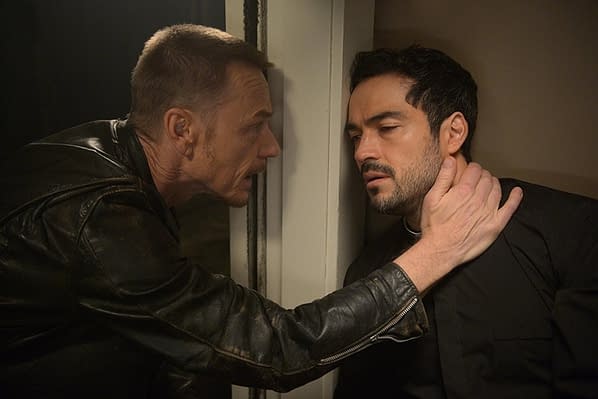 The series was created by Jeremy Slater and premiered in 2016 with stars Alfonso Herrera, Ben Daniels, and Kurt Egyiawan along with first season star Geena Davis. The second season moved on to a different family and brought in John Cho as a man running a group foster home being targeted by a powerful demon. The series was Fox's lowest-rated program, averaging a 0.41 demo rating and 1.32 million total viewers.
But low ratings may not have been the only factor. After the second season finale, Slater told EW.com that he wasn't sure about the future of the series because of the pending Disney/Fox buyout.
You know, I don't think anyone knows at this point. I think this Fox-Disney deal… it doesn't mean great things for 20th Century Fox as a studio and Fox as a network, but you also never know. Now, we're not necessarily on brand for Disney, but they're also going to need a lot of content to fill their streaming platforms and networks, so I don't know. I think there's a lot of options.

We definitely have passionate fans at the network and at the studio — we just don't have the audience — and so I don't know whether the option is to roll the dice and just keep producing the show because it's something they believe in, or maybe taking our very loyal fan base that would probably follow us anywhere we go. I think that would be hopefully an attractive prospect if you're a streaming service or something like that that wants to be competitive in the horror genre. I feel that we've made the best horror show on TV for two years running and the fans that have discovered us will follow us. I remain optimistic.
The series was also lauded for its portrayal of Ben Daniels's character as a bisexual man, a queer identity not often represented in mainstream media.
The series was based on the 1971 novel by William Peter Blatty that was turned into a film by William Freidkin in 1973.