'The Orville': "Blood of Patriots" Shows No Rest for the Weary [SPOILER REVIEW]
The Orville has shown us so much war that you start to wonder if there was ever a real time of peace. Season 2 episode 10 "Blood of Patriots" served as a reminder of this.
In media, we often see war portrayed in different angles from skewed "good guy" vs. "bad guy" trope many of us grow up with to "winning by any means necessary". Sometimes these become so far gone, there isn't any sign of pause, because the scars often run too deep.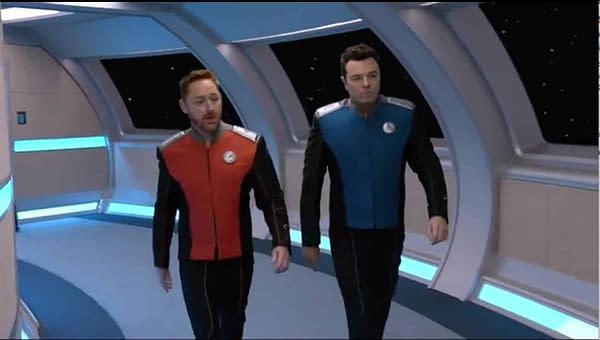 The episode begins following the medal coronation ceremony for Yaphit (Norm MacDonald), the green blob alien engineer, to commemorate to his efforts during the Kaylon invasion in "Identity". Admiral Perry (Ted Danson) calls the ship, tasks Capt. Ed Mercer (Seth MacFarlane) and the Orville to broker peace with the Krill.
Once the sworn enemy of the Planetary Union, the Krill became a valuable ally providing reinforcements to stop the Kaylon from reaching earth. Mercer reluctantly agrees after Perry reminds him of his previous experiences. Upon reaching the Krill ambassador's ship, a shuttle craft flees from dock and flies towards the Orville. While evading the Krill attack, Mercer grants temporary emergency asylum to the two humans on board, Orrin Channing (Mackenzie Astin, The Magicians), Lt. Gordon Malloy's (Scott Grimes) best friend from the academy once thought to been lost at a Krill prison camp and Channing's mute daughter, Leyna (Aily Kei).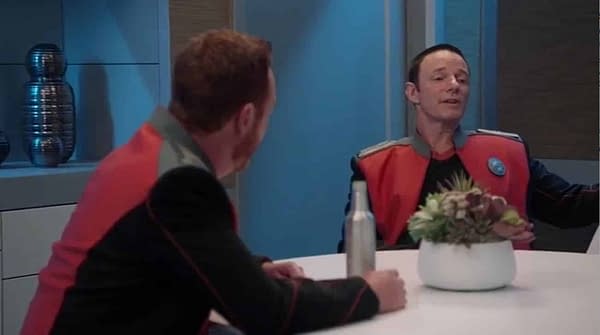 While Krill Ambassador K.T.Z. (John Fleck) demand Channing's extradition and issue an ultimatum, Mercer requests time for an investigation. Tensions brew high as the Krill claim Channing is a terrorist who killed hundreds blowing up multiple Krill ships. Malloy finds himself torn between loyalty to his best friend who saved him from a Krill invasion decades ago or preserve peace from a war where thousands of Krill and PU lives lost with a presumably bigger threat of the Kaylon looking to seek revenge.
Malloy's grown so much this season and he's become one of the most endearing characters of the show developing the kind of maturity I never thought possible in season one, but he's come a long way, especially in the last few episodes. Malloy shown the leadership skills I wish I saw him have in "Nothing Left on Earth Expecting Fishes" when Commander Kelly Grayson (Adrianne Palicki) exposed him of his true intentions.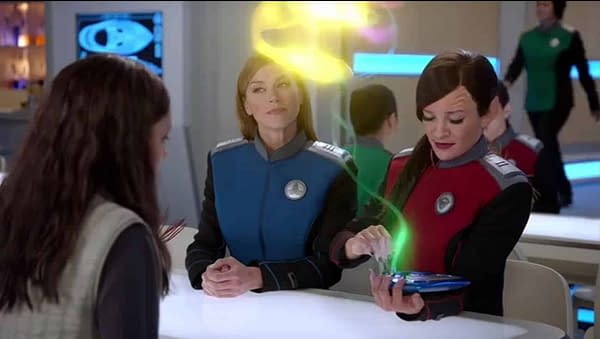 Near the end of the episode, we see the intricate role he plays on the ship and among the crew beyond the plucky frat boy and overconfident pilot we're conditioned to see him as. He has an empathy, which helps grounds Mercer.
"Blood of Patriots" was written by MacFarlane and directed by Rebecca Rodriguez, who's helped her brother Robert Rodriguez with the Spy Kids franchise and editing on the Machete franchise.
We're looking forward when she gets to direct her first Hollywood feature.
One lesson learned from the episode is real friends will always depend on you as you depend on them. They won't force your hand making you choose whose side you are on and they won't guilt trip by hang their deed over you. What do you think of this week's episode? Sound off.
https://youtu.be/4qb_tKyfzcA
The Orville airs on Thursdays on FOX.