Friends: The Reunion Streams in China Minus BTS, Lady Gaga & Bieber
So you live in China (where the serious is still very amazingly popular) and you've been a big fan of Friends for years- through DVD releases and other avenues- which means this week was a pretty big one for you. HBO Max's Friends: The Reunion was reuniting Mathew Perry, Courtney Cox, Jennifer Aniston, Lisa Kudrow, Matt LeBlanc, David Schwimmer, and series creators David Crane and Marta Kauffman, to reminisce about the still-popular sitcom. And they weren't alone- with big-league "friends" BTS, Lady Gaga, David Beckham, Justin Bieber, James Corden, Cindy Crawford, Cara Delevingne, Elliott Gould, Kit Harington, Larry Hankin, Mindy Kaling, Thomas Lennon, Christina Pickles, Tom Selleck, James Michael Tyler, Maggie Wheeler, Reese Witherspoon, and Malala Yousafzai showing up to pay their respects. But then you realize that something's missing- more specifically, there are guests who were advertised who didn't appear. Don't worry. You're not imagining things.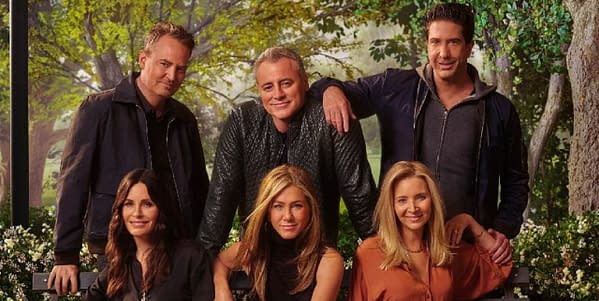 The New York Times is reporting that the reunion special was aired on three Chinese video platforms- with each streaming a version with sections of the event missing. Fans who were looking forward to seeing Lady Gaga, Bieber, and BTS were left high-and-dry- each a victim to censorship. As the NYT explains, "Each missing cameo involved a star or group that had been a past target of Beijing's ire, and fans suspected the show was stuck in censorship gear… Lady Gaga has been verboten in China since she met with the Dalai Lama, the exiled Tibetan spiritual leader, in 2016. Justin Bieber's troubles with China began in 2014, when he posted a photo from the Yasukuni Shrine in Tokyo, which honors Japan's war dead, including war criminals from World War II. And the South Korean music group BTS neglected last year to mention the sacrifice of China's troops when recalling the pain of the Korean War — even though the troops fought on the side of North Korea."
Our favorite friends are back on the set that started it all. Jennifer Aniston, Courteney Cox, Lisa Kudrow, Matt LeBlanc, Matthew Perry, David Schwimmer, and special guests reunite to discuss everything from their casting process to whether or not Ross and Rachel were really on a break. Witness the unbreakable bond of the group that perfectly captured the moment in life when your friends become your family.
And since you're here…
BCTV Daily Dispatch: For a look at what's going on across the television and streaming landscape, sign up for Bleeding Cool's daily email round-up of the news you need to know here.