Get Festive With This Garfield Christmas Special Production Cel
This holiday season, fans of Jim Davis's Garfield can celebrate their love of this lasagna-obsessed cartoon cat with a special item. Heritage Auctions features a production cel from 1987's A Garfield Christmas, the Emmy Award-nominated special that creator and writer Jim Davis cited as being based in part on his life. The Christmas special contains notable moments for Garfield, with his scene with Odie and his gift of a back-scratcher toward the end sticking out to me. Garfield was not often a cartoon that aimed for heartwarming moments, so this special sticks out quite a bit. Fans of the special can now bid to own this production cel.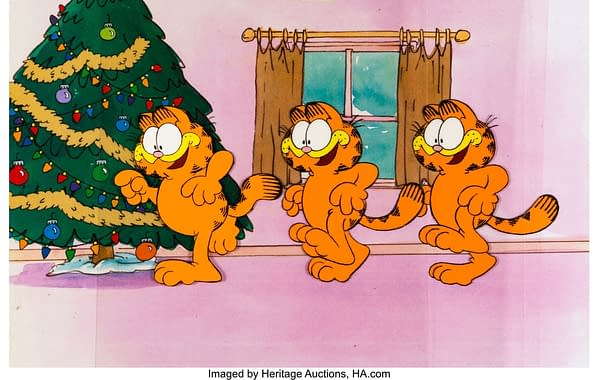 You can see a photograph of the production cel progression in the listing that gives a bit more context of how it will look in your artwork collection. Take a look right here.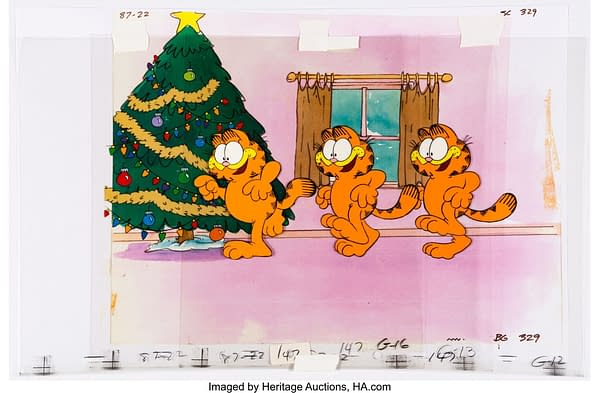 Here is the full information of this listing.
"Hello, what's this? Why, it's sausage gravy!" Garfield excitedly walks toward a pan of gravy in this great progression from the Emmy-nominated A Garfield Christmas Special. This progression is composed of 3 incredible original, hand-painted cels, all featuring fantastic, full-figure images of Garfield as he walks toward the gravy to taste it, a moment which can be found at about the 8:17 mark of the special. Garfield measures between 4" and 4.25" tall in all three images! These 12 field cels are labeled in their lower right corners with G-16, G-13, and G-12, and the cels have been placed atop a color print background from the special for presentation. The piece is in Very Good condition, with just minor handling and edge wear. From the Jim Davis Collection.
Best of luck to every fan bidding on this piece of holiday history from the Jim Davis collection, and you can head over to Heritage Auctions right now to stake your claim for this festive production cel.

Affiliates of Bleeding Cool buy from and/or consign to Heritage Auctions.