GLOW Season 2 Sets June Premiere Date, Goes 'Maniac' in New Teaser
Netflix continues its sleeper hold on announcements Wednesday morning, revealing that the ladies of GLOW would be returning for its 10-episode second season on Friday, June 29th. The series return was announced during the streaming service's See What's Next event in Rome; and with the women adjusting to their new lives as professional wrestlers, season 2 will focus on the struggles that come with putting together a television show out of their hard work and sacrifice.
As the following date announcement shows, the ladies are more than up for the challenge: nothing that Michael Sembello's 'Maniac' and a cool '80s montage can't take care of:
https://youtu.be/wwVOmTImfLA
As Ruth (Alison Brie) and Debbie (Betty Gilpin) settle into the day-to-day of making a season of TV together, they confront lingering issues at the heart of their friendship. Sam (Marc Maron) is still Sam, but now he has a teenage daughter living with him and twenty episodes to churn out. The wrestling is harder, the stakes are higher and the hair is even bigger.
Created by Liz Flahive and Carly Menschand executive produced by Jenji Kohan, GLOW stars Brie, Gilpin, Maron, Sydelle Noel and Britney Young. Annabella Sciorra (The Sopranos), Shakira Barrera (East Los High), and Wyatt Nash (Dear White People) are set to join the cast with the second season.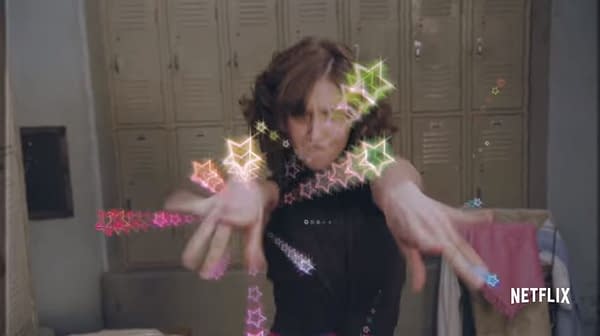 At the event, Brie explained why the show's theme of female empowerment resonates so strongly in 2018:
"The stories our show was going to tell would have been the same. MeToo and Times's Up are things people have been saying behind closed doors for a long time in our industry. It makes me very grateful as an actress to go to work every day. There are women behind and in front of the camera and at the top making decisions. It makes a big difference to feel really seen and heard on set and have ownershp of yourself."