Grant Gustin Talks About the 2 Cliffhangers in the Flash Season 4 Finale
As we are coming off the emotional roller coaster that was the Arrow season 6 finale, we have a little tease about The Flash season 4 finale, which airs next week. In a conversation with EW.com, series star Grant Gustin, who plays Barry Allen, aka The Flash, talks about the reported two cliffhangers that we'll be getting from the episode. He calls one of them, "one of the most exciting" that the show has done and the others he refers to as, "one of the most dark and confusing."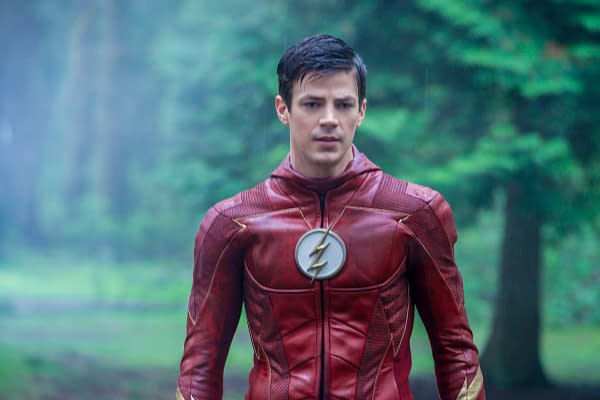 If those comments have left you a bit confused, Gustin tried to make it better:
When I say confusing, it's more like, in Flash world you just desperately want to know, 'What does this mean?' The first one gets you really excited about what's to come, then the second one probably is going to make your stomach hurt, and want the next season immediately.
Wanting the next season immediately is a good thing… I think. Isn't it? Maybe its more of in a frustrating way…
What we know about the finale is that one of the reveals is supposed to involve the Mystery Girl (Jessica Parker Kennedy) where we find out who she is… the main guesses are Dawn Allen (Barry and Iris's daughter), Jenny Ognats (Barry and Iris's granddaughter), the unnamed daughter of Cecile and Joe, a gender-flipped version of Bart Allen, or the same character she played on Black Sails, making it the strangest crossover ever… damn you, Flashpoint.
The other cliffhanger is supposed to be a hint at the season 5 big bad that is said to be somewhat obvious to comic readers. Some of the popular theories on that are Cobalt Blue, Cicada, a new version of the Reverse-Flash, or whoever the bad guy was on Black Sails for that weird crossover theory.
The Flash season 4 finale is set to air Tuesday, May 22nd at 8 p.m. ET on the CW.