Apparently John Cusack's Not a Huge Fan of Disney's High Fidelity Series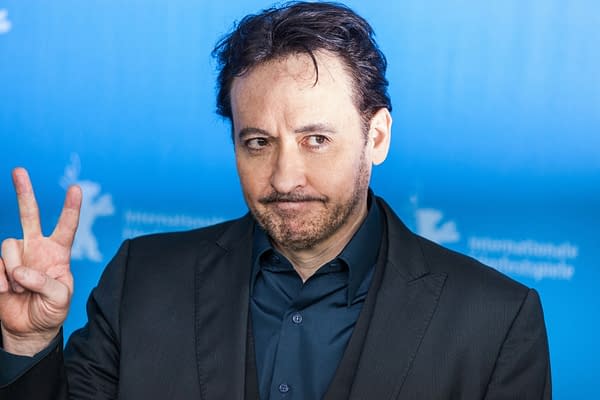 In another example of how an idea can be great for some (for example, the CW and Charmed) and a raging dumpster fire to others (for example, Holly Marie Combs and Charmed), actor John Cusack (Grosse Pointe Blank) is weighing in on Disney's planned romantic comedy series remake of Nick Hornby's 1995 novel and Cusack's 2000 film adaptation High Fidelity. Writers Veronica West and Sarah Kucserka's (Bull, Ugly Betty) gender-swapped series is using Hornby's novel as inspiration to craft a story that's meant to (as per the description) capture the romantic comedy and authentic spirit of the book/film with a friendly, optimistic tone.
A day later, Cusack decided to make his feelings known on the project through a series of tweet responses to questions/comments by fans; beginning with a line from the film to address the use of the phrase "upbeat" to describe the new project: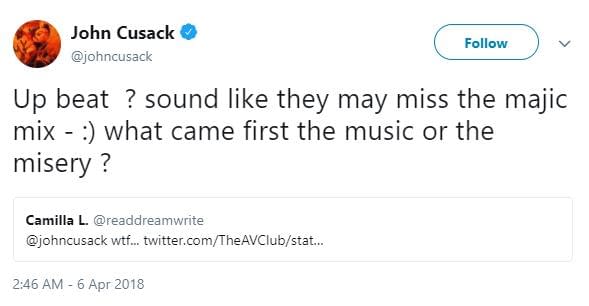 The 2000 film adaptation of Hornby's 2000 novel credits Cusack, D. V. DeVincentis, Steve Pink and Scott Rosenberg as co-screenwriters on the film, a fact Cusack appears to take issue with now that Rosenberg is involved in the Disney version: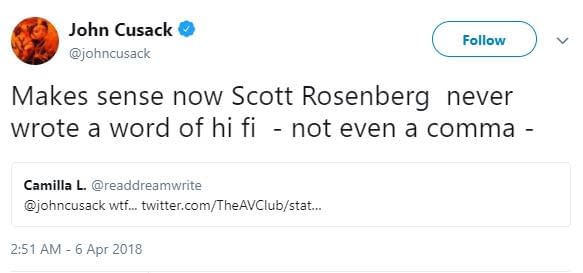 So why is Disney looking to bring back High Fidelity? For Cusack, the answer's simple: to ride the coattails of what came before – a move he's not so sure they'll be able to pull off: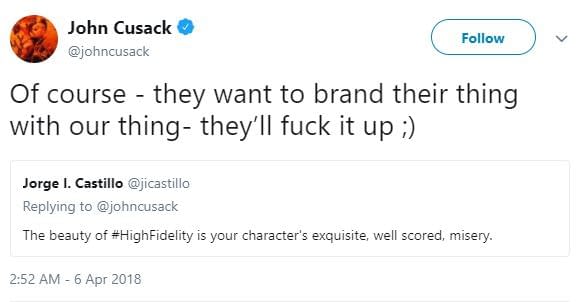 Before he continued, Cusack wanted it known (preemptively) that anyone eyeing up Grosse Pointe Blank would be making a huge mistake: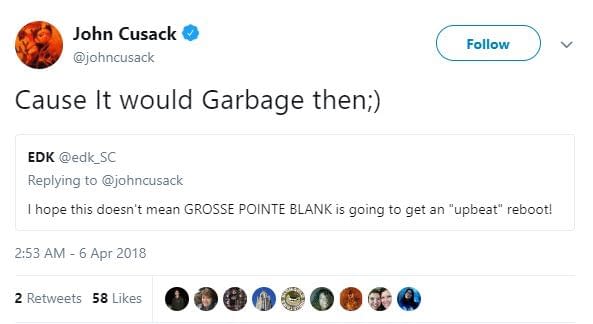 But before anyone thinks he's totally against the project, Cusack offers one caveat that would redeem it: get Hornby's blessing and involvment: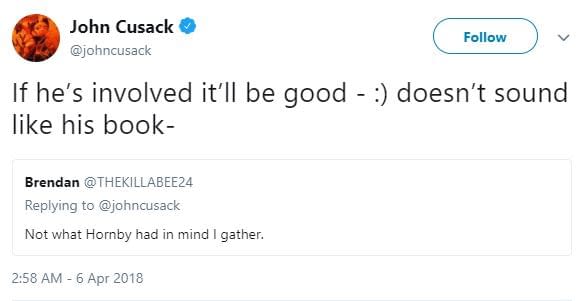 Having Hornby involved was a point he also made to Canada's Entertainment Tonight – and reaffirmed on April 8: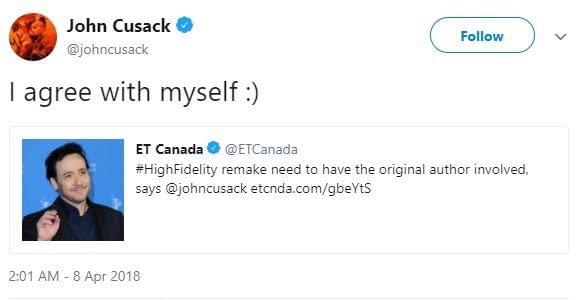 Directed by Stephen Frears and starring co-screenwriter Cusack, 2000's High Fidelity featured Cusack's Rob Gordon as a music store owner who can't seem to make his relationships last; so he decides to seek out some of his old flames with the hope of getting some answers. Jack Black, Lisa Bonet, Joelle Carter, Joan Cusack, Sara Gilbert, Iben Hjejle, Tim Robbins, Todd Louiso and Lili Taylor round out the cast.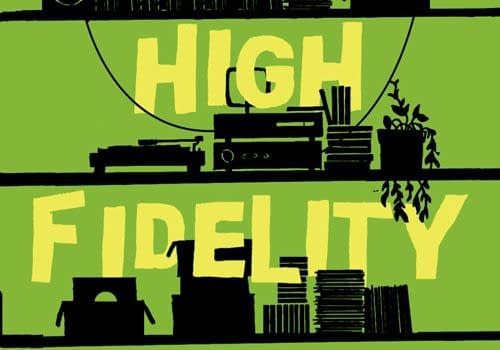 While the original 2000 film was rated R, Disney is looking for a much more lighthearted "mixtape/diary rom-com" series, with a PG-13 rating for family co-viewing. This would keep it consistent with Disney's plans for a family-friendly service that's free of R-rated movies or series. Rosenberg and Midnight Radio will produce the series alongside ABC Signature Studios (SMILF), the cable/streaming division of ABC Studios.
As Disney prepares to launch its new streaming service in Fall 2019, they continue looking to their library of properties — including Disney, Marvel, Pixar and Lucasfilm — for programming ideas. Disney has already announced Star Wars, Marvel and Monsters Inc. series; as well as a High School Musical reboot and possibly a new Muppets series from Muppet Studios. Disney's goal is to generate four to five original movies and five television series during its first year, with series budgets expected to cost between $25 million-$35 million for 10 episodes; and large, potential "tent pole" series being capped out at $100 million for a 10-episode season.