Amanda Gurall writes from New York Comic Con 2017:
Does knowing you are only one of millions of players who have beat a video game take away some of the excitement for you? How about being the only person on earth to beat the world's most impossible game? It may lead to to you being dragged into a real world dystopian future filled with violence, death, and skull trophies — but the upvotes and bragging rights would be worth it, right?
Probably not, but this is the basic premise of Hulu's new series Future Man, starring Josh Hutcherson (Hunger Games trilogy), Eliza Coupe (Happy Endings), and Derek Wilson (Preacher).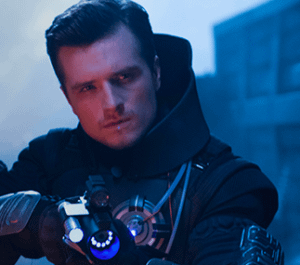 We watched the first episode at NYCC, followed by a panel with the main cast and joined by co-star Haley Joel Osment (Silicon Valley), co-director Evan Goldberg (Superbad, Sausage Party), and writers Kyle Hunter and Ariel Shaffir (Sausage Party, This is the End). The series is executive produced and co-directed by Seth Rogen (This is the End, Knocked Up).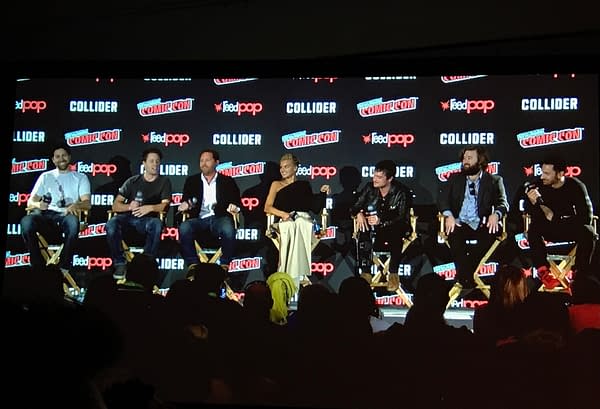 Josh Futterman (Hutcherson) is a young man who lives with his overprotective yet loving parents and works as a janitor at a research lab. He is fully obsessed with a game called The Biotic Wars and dreams of being the hero of the game, Future Man.
The show seems like a straight Sausage Party-type comedy, but the creators want us to know that they took the drama and action very seriously. While funny, it has more depth and complex ideas. The science-fiction and time travel elements were handled by a "writing staff of hardcore nerds" who made sure that they followed their own established time travel rules. This is probably a good way to approach the show, because without it we would be watching a bro comedy genre spoof, which might get old very fast for some viewers. The gaming influence is going to be a constant — Goldberg said the big action sequences could take up to 12 hours to shoot.
Osment will be playing four different characters, and is a nice addition to the cast. He and Hutcherson have good comedic timing and played well off each other, so I'm glad that we will be seeing them interact more. Hutcherson breaks from his Hunger Games past with an earnest hopefulness and a talent for raunchy comedy. The show is definitely rude, R-rated, fast-paced, and funny, which is a bit of a change for Hulu original programming.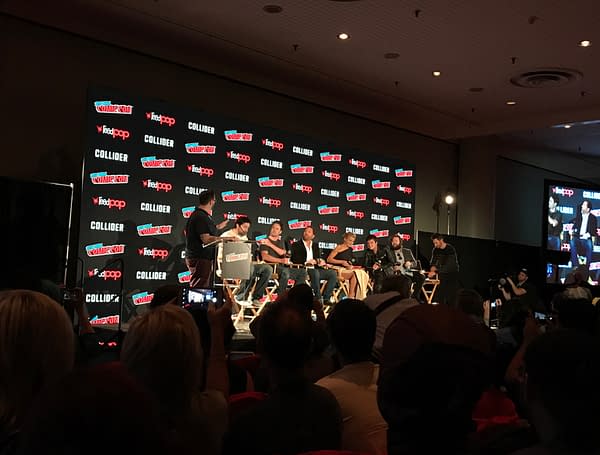 Coupe plays the leader of the dystopian rebels, Tiger. Her second, Wolf, is played by Wilson, and is a bit primal. The writers mentioned we will also see how going to the past affects these gaming caricatures. It's nice to see this in addition to the story arc of Hutcherson's main character, because there are only so many times we can watch him be shocked by his involvement in his own Biotic Wars.
The audience reacted very well to the episode, laughing and cheering. Gauging by this room, the show should be pretty successful — assuming they can sustain the levels of energy and action from the pilot. Future Man will be available to stream from Hulu on November 14th.
Enjoyed this article? Share it!