In Honor of Pride Month, "My Little Pony: Friendship Is Magic" Introduces Scootaloo's Lesbian Aunts
Just in time for June's Pride Month celebrations, Discovery Family's My Little Pony: Friendship Is Magic is introducing its first acknowledged LGBTQ characters. Lesbian couple Aunt Holiday (Jackie Blackmore) and Auntie Lofty (Saffron Henderson) will appear as the guardians of longtime My Little Pony main character, Scootaloo (Madeleine Peters). My Little Pony fans will not only get the satisfaction of seeing the show's first gay couple, they will also finally find out who is raising Scootaloo!
Get your confetti canons ready, because this weekend is going to be a big deal in Equestria.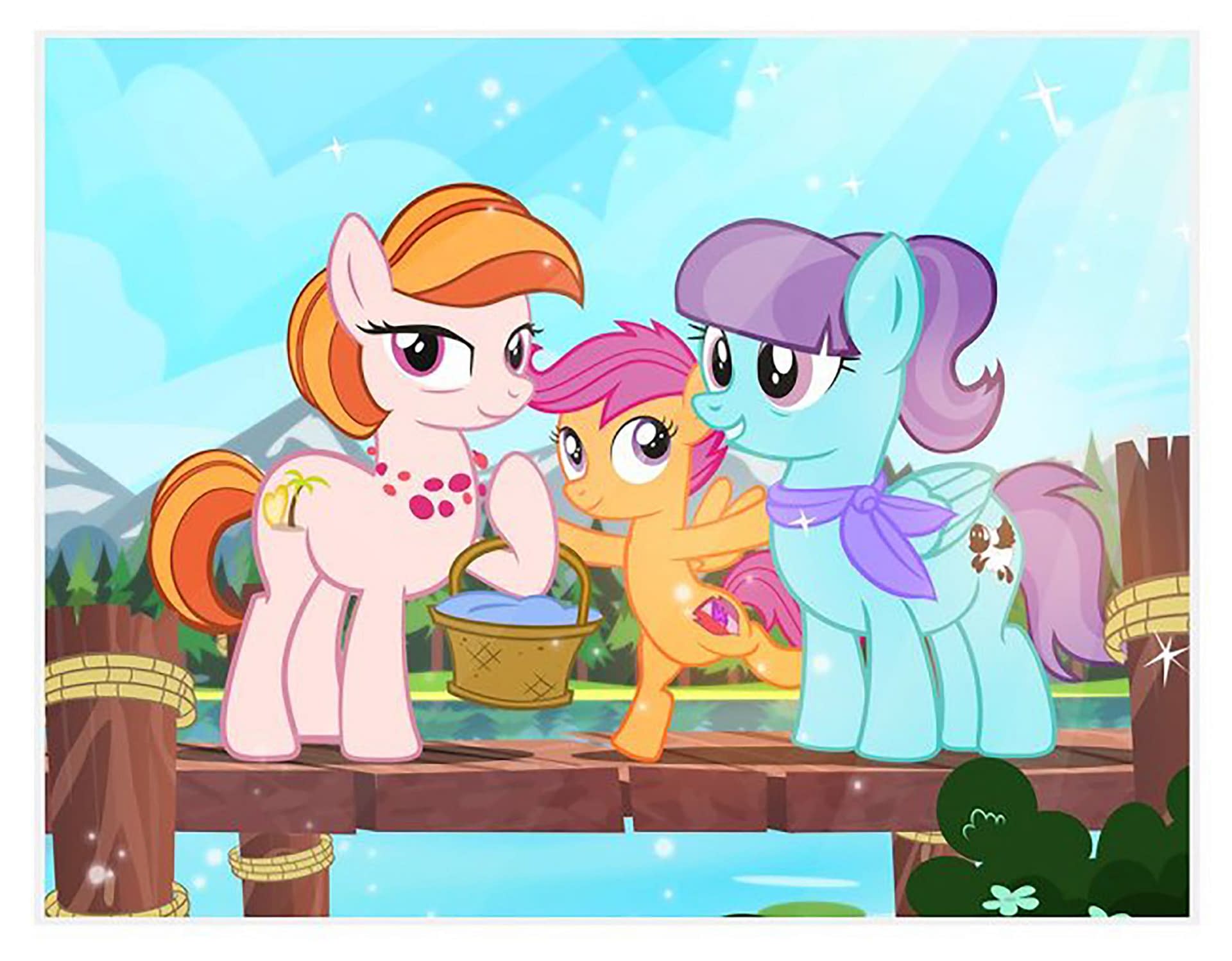 My Little Pony has spent most of its nine seasons promoting diversity, acceptance, friendship, and love. However, despite the inclusive message, no acknowledged LGBT characters have been featured on the show. While Aunt Holiday and Auntie Lofty previously appeared in the MLP book Ponyville Mysteries: Riddle of the Rusty Horseshoe, Saturday's episode "The Last Crusade" will be their animated debut.
In fact, despite Scootaloo's nine seasons on the show, the character has never once mentioned her parents, her Aunts, or any other family. The mystery of who exactly was raising Scootaloo was amplified by the fact that numerous other storylines centered around the family of Scootaloo's best friends, Apple Bloom (Michelle Creber) and Sweetie Belle (Claire Margaret Corlett). As a parent watching the show, I often wondered what Scootaloo's history was and who she lived with.
It is satisfying to know that not only will we meet Scootaloo's guardians, but we will get to see her as part of a loving LGBTQ family.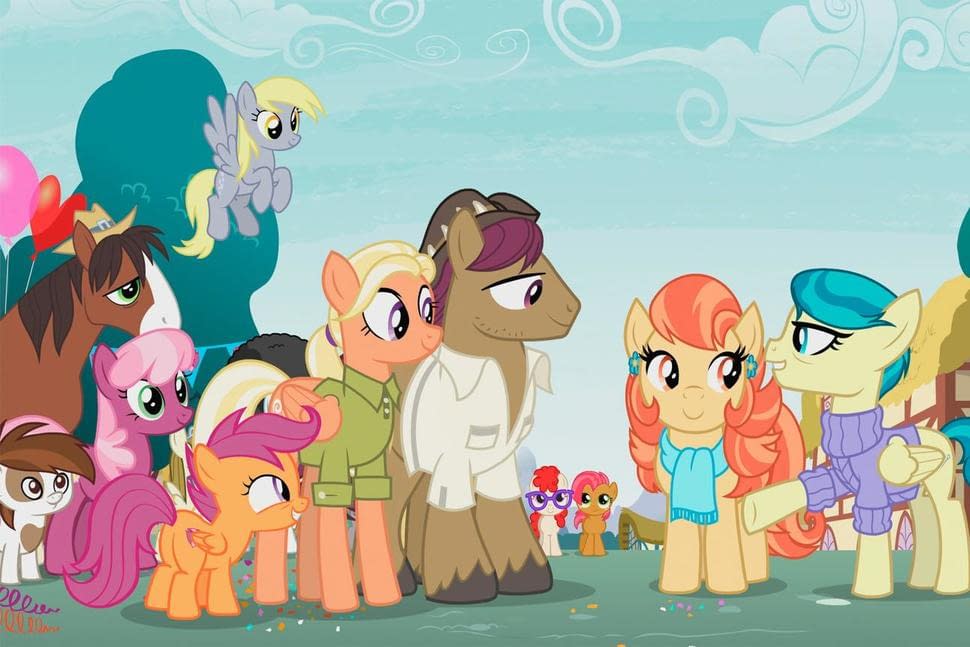 Co-showrunner Nicole Dubuc discussed the landmark episode with Buzzfeed News on Wednesday, saying
"I think it's fantastic that we can show that what truly defines a family is love — that, to me, is the core of My Little Pony."
Duboc's sentiments were echoed by writer and producer Michael Vogel:
"My Little Pony has always been about friendship and accepting people (or ponies) that are different from you. So it just felt like something important to do.

With [co-showrunner] Josh [Haber] and Nicole running the final season together, it was something we all wanted to do — bring this out couple into the final season and make them 'officially' a part of the MLP world."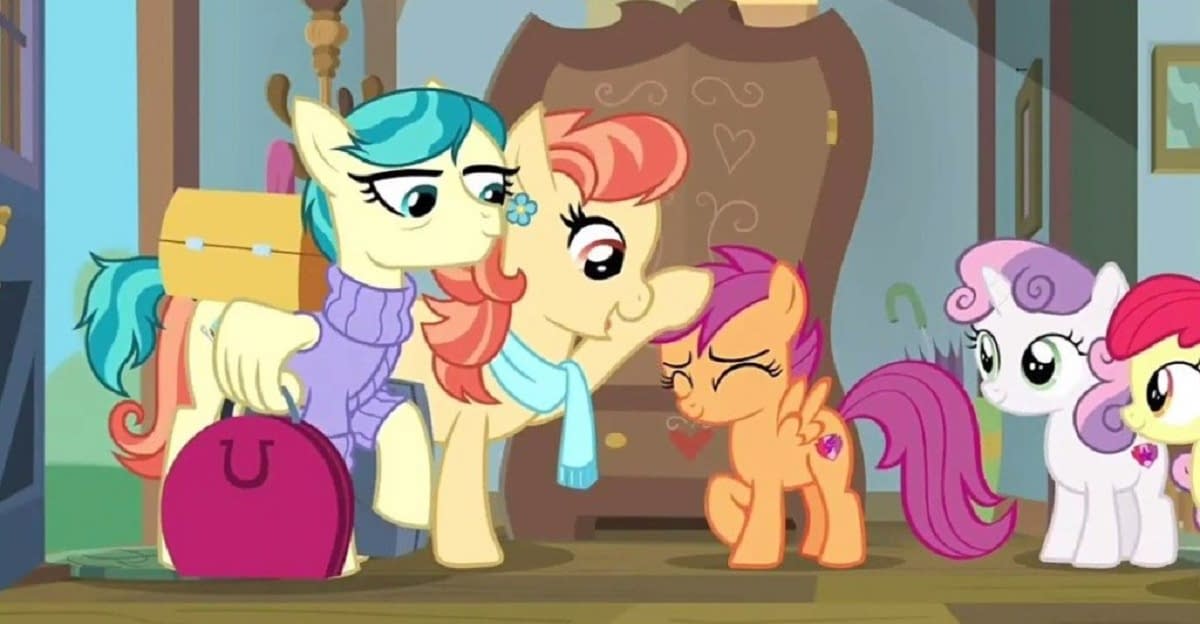 While I am very happy that Hasbro and the powers-that-be have agreed to feature a loving lesbian couple, I am honestly a bit disappointed that it took nine seasons for us to see it. For a show that was all about love – and rainbows – they really should have done this sooner. I mean, I have been waiting for Rainbow Dash (Ashleigh Ball) to come out since Season 1, Episode 1. However, I'm still excited to see Aunt Holiday and Auntie Lofty on screen.
My Little Pony: Friendship is Magic episode "The Last Crusade" will air Saturday, June 15 on Discovery Family.