We're coming up on another episode of AMC's Into the Badlands, and "Cobra Fang, Panther Claw" promises to be a pretty high stakes entry for the series.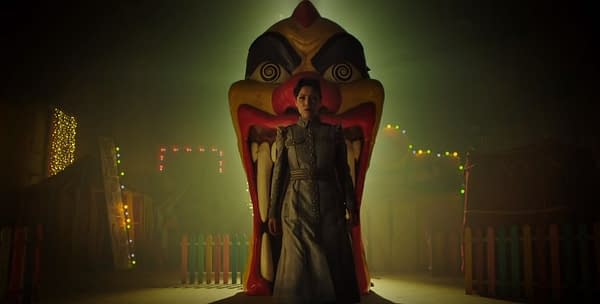 Sunny (Daniel Wu) and Nix (Ella-Rae Smith) teamed up to find Ankara (Clare Higgins), only to find the former Master badly wounded after an altercation with Black Lotus assassins.
Ankara offers to tell Sunny how to defeat Pilgrim (Babou Ceesay) before he can take over the badlands, but only if Sunny helps her escape. This escape is complicated by the Master (Chipo Chung), who has plans of her own with the old witch.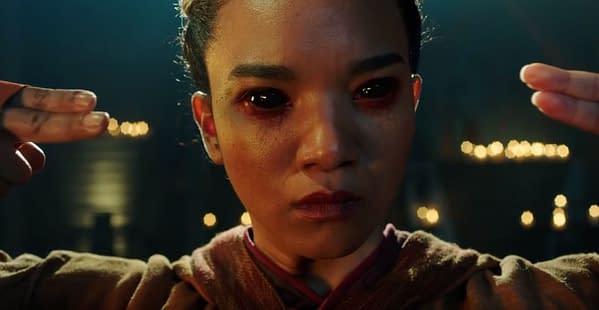 The Master dispatches Bajie (Nick Frost) and Minerva (Emily Beecham) to bring Ankara back to the monastery, not realizing that Pilgrim's forces have been led to the monastery by M.K. (Aramis Knight), seeking a super powered army to help with his schemes.
The Widow had a moment of reckoning, having to fight purely on the defensive against Sunny, who holds her responsible for the death of his wife. This lead to a pretty intense confrontation, but they managed to stop fighting long enough to realize that they have a common enemy!
"Cobra Fang, Panther Claw looks like it's going to be a real nail-biter, with Minerva going head to head against Baron Chau (Eleanor Matsuura) in a funhouse! This battle has been in the making for ages, since Chau has been trying to seize the Widow's territory for some time.
There's also going to be a throw-down between the Master and Pilgrim within the monastery walls, which should prove interesting. Master has the training to control her gift, while Pilgrim has the raw power and conviction to keep going despite his lack of training.
Here's a look at "Cobra Fang, Panther Claw", which airs Monday, April 8th on AMC:

From AMC Studios, Into the Badlands was created by executive producers, showrunners and writers Alfred Gough and Miles Millar (Smallville) and is executive produced by Oscar(R)-nominated producers Stacey Sher (Django Unchained) and Michael Shamberg (Contagion), along with David Dobkin (The Judge), Stephen Fung (Tai Chi Zero), Michael Taylor (TURN: Washington's Spies) and Wu.
Enjoyed this article? Share it!