"It's Always Sunny in Philadelphia" Season 14 "Paddy's Has a Jumper": More Half-Loaded [SPOILER REVIEW]
With season 14 currently underway (and running strong – check out our reviews below), FXX's It's Always Sunny in Philadelphia is now tied with ABC's The Adventures of Ozzie and Harriet as the longest-running live-action comedy series.
Now that's a title Mac (Rob McElhenney), Dennis (Glenn Howerton), Charlie (Charlie Day), Dee (Kaitlin Olson), and Frank (Danny DeVito) would be more than happy to hang behind the bar – and one they're expected to hold on their very own very soon.
Safe to say things are pretty good for The Gang from Paddy's Pub – and from the sounds of FX CEO John Landgraf, the network would like things to keep going "pretty good" for two more seasons (at least).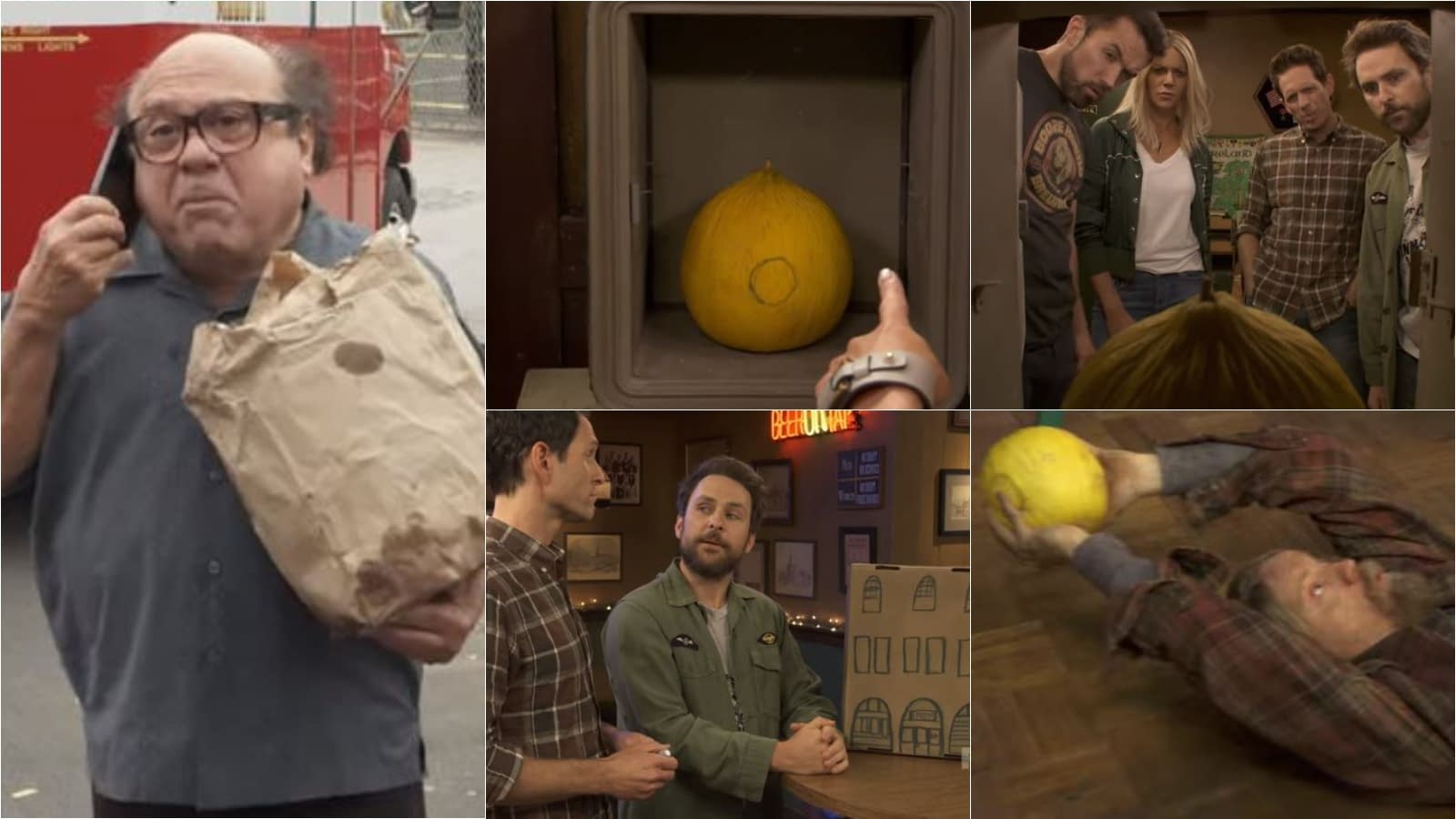 After a failed attempt at finding love (at least for some of them) and a successful (if not "scorched earth"-like) effort to "save" the Thunder Gun franchise, Dennis, Mac, Charlie, and Frank didn't want to waste time getting back to the scheming. Unfortunately for them (but big props to Dee), they ran face-first into the brick wall that was "Dee Day".
From there, The Gang had to deal with "sh*tting the bed" in a righteously bad way, just when Frank needed them most. But all was forgiven as The Gang headed out to the zoo. *cricket sounds*
Moving quickly on from there… the season got back on track as we travelled into Charlie's twistedly bizarre mind as he looks to crack the case of who "diarrhea-poisoned" Frank. Then "The Gang Solves Global Warming"… only to find a way to leave things wonderfully worse than they were before.
Which brings us to this week's "Paddy's Has a Jumper", and with a title like that, you can pretty much assume what the hot topic of conversation is going to be… but was Frank's Casaba worth getting our hands on?
MAJOR SPOILERS below…
"It's Always Sunny in Philadelphia" season 14, episode 8 "Paddy's Has a Jumper": Trapped inside Paddy's with a suicide jumper on the roof, the Gang wonders if they should bother intervening with an algorithm of their own – Could he, would he, should we? Directed by Kimberly McCullough, and written by Dannah Phirman and Danielle Schneider.
So this week, we have a case of "less is more": an episode whose main storyline was more than enough to carry the day, but was shoehorned with a little-too-slapsticky-for-its-own-good secondary storyline involving Frank and that Casaba.
Yup, turns out that the Frank/Casaba storyline was the part that didn't work for. I'm as surprised as anyone.
But let me start with what worked: Dennis' Netflix-to-an-oh-so-wrong-degree (seriously, Gainsborough Gardens?) take on algorithms and personal data mining. One of the things that's made this show work for 14 seasons is the way it takes social issues and amplifies them to an absurd level – but with a point and purpose.
For The Gang, a man threatening to jump from the roof of Paddy's gives Dennis, Charlie, Mac, and Dee the opportunity to apply Dennis' "Could He? / Would he? / Should we?" theory to decide on how they should react.
Instead of just staying where they are like the police asked. Because it's always about them.
As they debate and discuss, we see how each of them ebbs and flow from position to position – with Dennis not nearly the "Svengali" he thinks he is, but still more so than we're comfortable with. Now for Dennis, it's all about the fantasy of making a logic-driven, emotion-free decision – which is about as impossible with this group as it would be teaching Charlie how to read… or spell… or not sniff paint out of a dirty sock.
So this "meeting of the minds" turns from what's the best course of action to take to what's the best course of action to take that will benefit them. Not exactly shocking for Always Sunny, but when it involves sending Cricket (David Hornsby) upstairs to "help the jumper along" with a broomstick? There's clearly a message being sent: even the Paddy's crew figured out how easy it is to go from having personal data on individuals to using that personal data for personal gain – regardless the cost.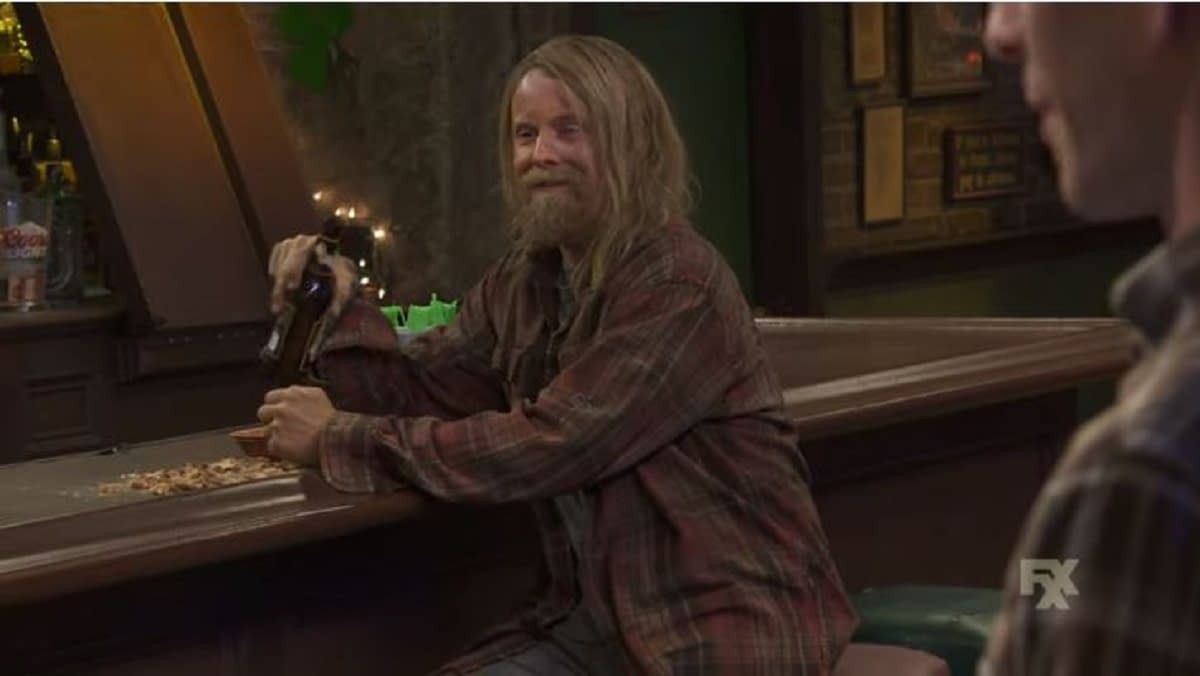 So we breathe a sigh of relief when the jumper ends up coming down from the roof and The Gang's plans end up all for naught – with Charlie reading our mind with this line: "I think this is for the best. We were goin' down a road I was not totally comfortable with."
Did they learn something? Yes. Yes, they did.
Gainsborough Gardens sucks.
As for the Frank storyline, with the Casaba melon and how his interactions with the police and returning anchorwoman Jackie Denardo (Jessica Collins) led to the jumper not jumping? I found it forced and pretty pointless, and what bothered me the most about it was that Frank would've been better served being in the bar and in the middle of the "experiment". This is the second or third time this season viewers have been given a Frank that came across more like a broad caricature version of Frank. In this episode, I didn't see the Frank I saw at the end of last season, and several times this season.
Also, I'm not saying that the use of supporting characters like Denardo, Cricket, and The Waiter have felt a bit forced this season, but it's edging dangerously close.
Referring back to my "less is more" from earlier – "Paddy's Has a Jumper" could use a little off the sides.
● Not sure how comfortable I am with the way suicide and Dee's past was handled. Felt dark, twisted, and sad – still deciding if it was in a good way or not.
● What the hell was with that egg?!?
● Probability of Dennis being a serial killer moves up to 63% with this episode – or at least Batman or Sherlock Holmes with the way he breaks down Mac, Dee, and Charlie's own "special ways" of getting to know others.
● "Cosmo-fall-itan"" Pure genius, Mac. Pure genius.
● So Frank f***s the melon and keeps his weed in it? Don't the bags get… sticky? Yup, I'm out.