iZombie Season 4, Episode 9 'Mac-Liv-Moore' Review: Insane in the Mem-Brain
https://www.youtube.com/watch?v=GGhxOBXOgf8
iZombie s04e09 'Mac-Liv-Moore': There's a zombie serial killer on the loose and new Seattle is on lockdown. Liv (Rose McIver) is trapped in the morgue on white rapper brain and Clive (Malcolm Goodwin) and Ravi (Rahul Kohli) are playing Dungeons & Dragons. Meanwhile, Blaine (David Anders) concocts his most sinister plan to date. Lastly, Major (Robert Buckley) is on the hunt for the killer.
I found 'Mac-Liv-Moore' — The CW's iZombie season 4, episode 9 — to be an especially dark and quite brilliant surprise with its direction. I was even more impressed that the episode addressed so many issues, which was a pet peeve of mine with this season: lack of consistency and dangling major topics. Not even know where to begin, but two things jump out: I was ecstatic to see Chase (Jason Dohring) step up his game — and apparently some of his paranoia; and Liv (Rose Mclver) taking on an underground rapper persona was comical, but not overly done like last week's medieval nonsense.
Blaine (David Anders) is really turning into a brilliant businessman, and I'm really captivated by his relationship with his chief #1 Don E (Bryce Hodgson). This episode also had impressive romantic undertones, deftly and casually examining the dynamics of three couples: Clive (Malcolm Goodwin) and Hunter (Christie Lang); Major (Robert Buckley) and Liv; and Ravi (Rahul Kohli) and Peyton (Aly Michalka).
https://youtu.be/naehGmf8W3Y
"New Seattle" is in lockdown mode because a notorious zombie-hating serial killer has escaped. On the comical side, Ravi, Clive, and Hunter are spending time playing Dungeons and Dragons. It appears that lust is in the air between Clive and the rookie — dare I say we were privy to a makeout session outside the interrogation room? Liv is down in the morgue rapping her heart away in a pink velour sweatsuit — all the while debating what to do with Isobel (Izabela Vidovic), our young terminally ill patient who is immune to the zombie virus.
On the other side of town, Graves has found himself in a pickle (always wanted to use that phrase; has more to do with my love for pickles than I care to admit): held at gunpoint by (you guessed it) the serial killer who is pretty keen on taking out the reason for zombie existence. I was worried that Graves would come out unscathed given that he is a major character of the series, but found myself pleasantly surprised and full of glee when both of his knees were blown out with a shotgun. Ouch. Ever the hero saving the day, Major comes to the rescue and puts down the unwelcome visitor before he finishes off Graves. Major is ordered to scratch said serial killer: it's time for a guillotine execution, to be held in days to come (popcorn time!).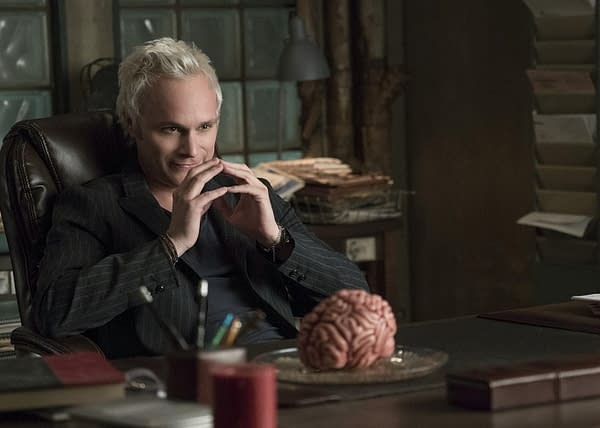 "We are going to auction off ten zombie cures to the highest bitter on the web" – Blaine
Some serious applause goes to Blaine and Don E this episode, with Blaine coming up with a business idea to purchase land in "New Seattle" (which is currently dirt cheap due to who the hell wants to live next door to zombies?) and then flipping the land when the zombie/human "thing" is no longer an issue for millions. Fantastic business idea… with only one not-so-small problem: where to get the start-up capital.
Ahhh… and here is where my enjoyment of the episode went up to the max: why not sell the 10 vials of cure currently in their possession to the highest bidder on the dark web? By feeding Don E the brain of a computer/hacker genius, the entire operation could go through untraced. While work is under way, Don E brings up a good point: offering buyers a guarantee that the cure works. Solution: change a well-known zombie into a human… and kill him on camera (five stars on this scene). Bye-bye, Mayor Baracus (Kurt Evans)! Hello, fortune! The episode ends with Baracus's body turning up on a bench in a public park — and as for Blaine? Ten million and counting!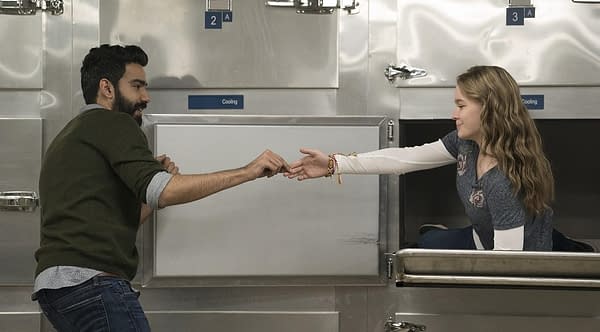 "We need to study her, figure out what makes her immune" – Ravi
As predicted, Ravi now knows that Liv has taken over Mama Leone's operation, with his focus on studying Isobel in hopes of perfecting the cure. Isobel hopes that will serve as her purpose in life; and I saw a parallel between her and the first episode of the series, when Liv felt she had no reason to live until she sought salvation in solving murders by eating the victims' brains. If I had to predict the series finale, I'd say the world will be cured of the zombie virus, but I'm not sure how many main characters we might lose to get there — just hope that Blaine survives (forgive my selfish indulgence).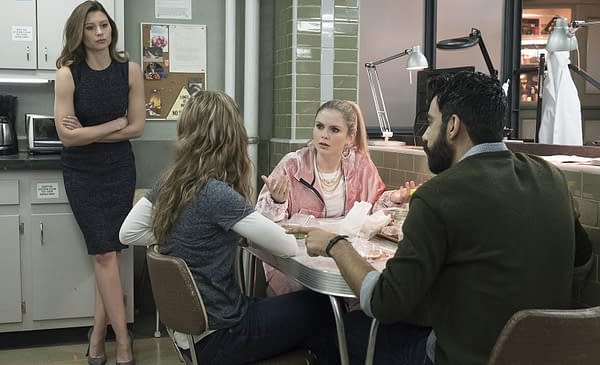 Some additional highlights from the episode:
• Liv and Major have a lover's quarrel. Liv is clearly still harboring frustration over Major's nonchalant behavior towards Mama Leone's execution. Peyton points out that they both "love each other" (awwwww).
• Props to Don E for playing an excellent virgin hacker.
• Liv's real hair is here to stay (I give up).
• The headline for this review was written out of love and respect for Cypress Hill.
• Once again, it's that time when I pay homage to Liv's episodic personality-inducing brain feasts! On this week's menu: "Rapper Liv" (brain tacos).
https://www.youtube.com/watch?v=ugLX5p_yYd0
iZombie s04e010 'Yipee Ki Brain, Motherscratcher!': When Liv (Rose McIver) consumes the brain of a vice detective who doesn't play by the rules, her newfound recklessness gets her into trouble. Meanwhile, Major (Robert Buckley) is coming really close to discovering Liv's secret.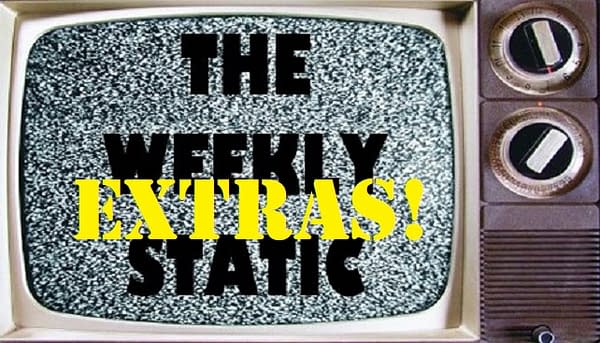 Margo Staten is a Ukrainian born, raised in Brooklyn organically driven, coffee loving, twice divorced mother of one baby Einstein. Has a passion for books, yoga in the park and all things 80's and New Orleans.