'iZombie' Season 5, Episode 5 "Death Moves Pretty Fast" Definitely Not Worth Missing [SPOILER REVIEW]
This week's episode of CW's iZombie "Death Moves Pretty Fast" not only held parodies to Ferris Bueller's Day Off when Liv (Rose McIver) consumed the brain of a 19-year-old carefree wealthy DJ named Harris (Philip Bolden), but spiraled out of control with its plots. Seeing the trailer for this upcoming episode, I truly believed all we would get is comedic relief and a light slow-paced investigation. Boy was I wrong… and happily so! This episode rocked!
https://www.youtube.com/watch?v=vhT50HSGZZQ
iZombie season 5, episode 5 "Death Moves Pretty Fast": BUELLER, BUELLER, BUELLER? — While investigating the death of independently wealthy, 19-year-old, Harris Miller, Liv (Rose McIver), on brain à la Ferris Bueller, attempts to cheer up Ravi (Rahul Kohli) who has been spiraling after learning some unfortunate news. Meanwhile, after a nasty fall at the crime scene, Clive (Malcolm Goodwin) is forced to continue his part of the investigation via FaceTime. Lastly, things are suddenly going from bad to worse for Blaine (David Anders). Robert Buckley, Aly Michalka and Bryce Hodgson also star. Linda-Lisa Hayter directed the episode written by Bob Dearden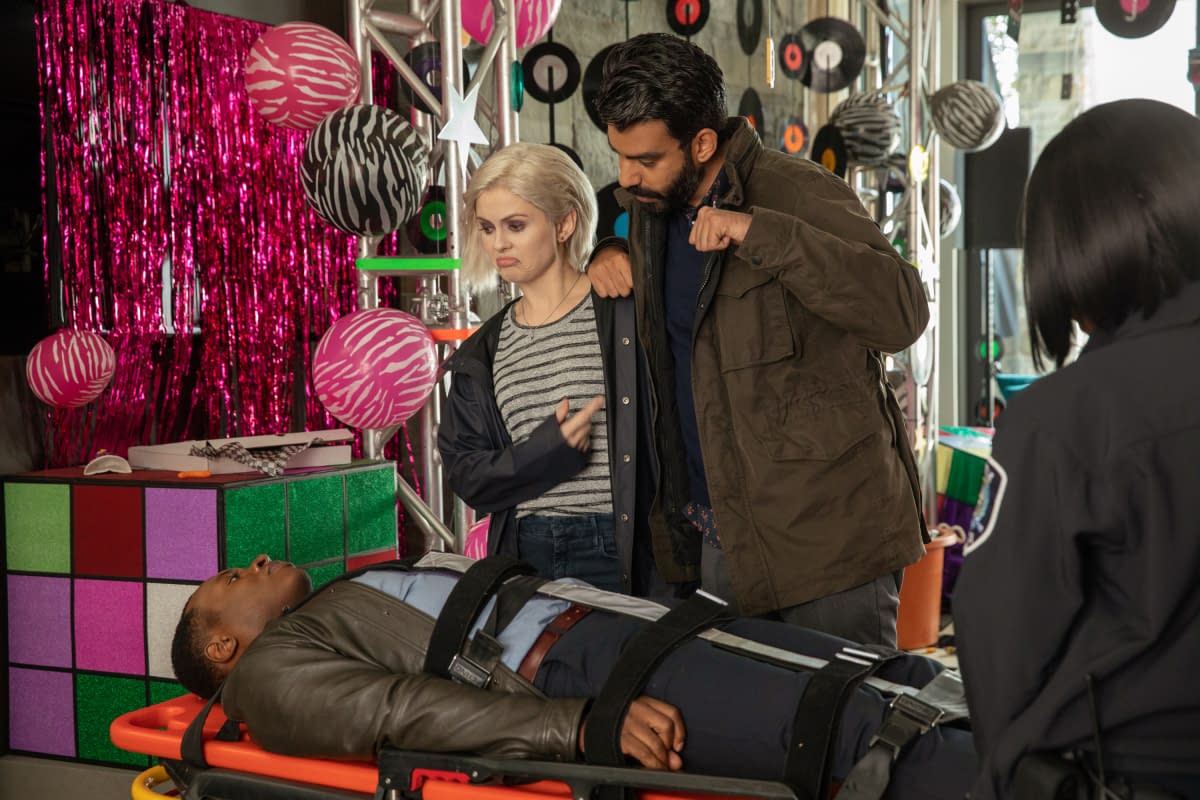 Liv and Ravi (Rahul Kohli) investigate Harris's murder after he was locked into a sauna of his own house and cooked to death. Clive (Malcolm Goodwin) unfortunately injures his back at a crime scene and spends the entire episode on his back and high as a kite via video call. Blaine (David Anders) has an altercation with Harris the night before who happens to be his next-door neighbor and knocks on his door to ask him to move a car blocking his driveway. Harris refuses and slams the door in his face, Blaine responds in typical Blaine fashion and threatens to kill him. Lucky for Blaine, Al Bronson (Gage Golightly) is forced to spend the night at his house and acts as his alibi.
"Now I'm needed, appreciated!"
Blaine continues to be smitten by Al, who is doing a story on him – and is out for blood and his destruction. After finding the mask featured in the video from last season (in which the Mayor is turned human and shot by Blaine), Al's running on an investigative high. Determined to get answers, Al comes down to the morgue to question Ravi and Liv about Blaine's past, a topic which Liv quickly shuts down as false accusations. Al consumes a piece of Harris's brain carelessly left out by Liv in the form of Dim sum.
Peyton (Aly Michalka) takes a trip to Washington to persuade them to not nuke Seattle. I'm curious as to why Washington hasn't come up with a way to execute the 10,000 zombies. It seems unreasonable to continue to allow them to live when at any minute the zombie virus can be spread outside of the walls. Being the final season of iZombie, it will be interesting to see how that is addressed – or will a cure be reproduced now that word is out that the answer lies in children with Freylich syndrome.
Frenchy is out for blood and feels that he should be king of Fillmore-Graves. Not only is he in cahoots with the creepy villain from last week's episode, raising an army of zombies to destroy…. not sure what or who exactly. He has now taken matters into his own hands, initiating a retaliation against human protesters outside the brain tube dispensary.
The 'Dead Enders' are getting more and more aggressive, replacing normal brain tubes with brains of Alzheimer's patients. I'd like to know who is funding this mission, just seems like they have a lot of connections and are growing rapidly – or did they raid a nursing home and kill off the elderly population? The tubes are mass distributed and the zombie's start experiencing memory loss and confusion, including commander and chief of Fillmore-Graves. Lucky for Major (Robert Buckley), Liv and Ravi upon finding him lost in his own house feed him some alterative brains to snap him the hell out of it.
First order of bussiness for Major? Put Frenchy on ice. Finally, although selfishly I would have preferred a good old-fashioned standoff, but Major is against violence and just wants to keep the peace. Seriously though, for how long? Again, this has been my complaint all season, when will he take action instead of watching caterpillars turn into moths instead of butterflies? Humans courtesy off Dolly Durkins (Jennifer Irwin) are poisoning the zombie food supply, preventing them from getting brains, what do Dolly and the 'Dead Enders' expect will happen if zombies are left hungry? Yes, zombies will be shown as frenzied and aggressive, but they will also feast on the human population. I'd love to watch Dolly turn zombie, although I think she would most likely kill herself.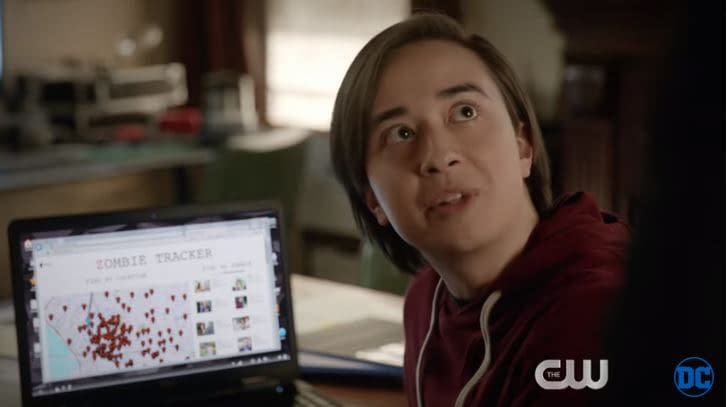 "I want to touch your monkey"
Liv comes up with a creative plan to catch Harris's killer, a tactic she doesn't exactly run by Clive – who is not too pleased. With the help of a vampire hacker, Liv pretends that Harris is still alive. Using Dracula as bait, he is shot by Ham, Harris's best friend who – like hypochondriac Cameron – has been coerced by Harris to do a number of stupid things which held great consequences for him. Clearly unable to say 'No' to Harris, Ham felt that killing him was his way to freedom – or rather killing him twice. I'll say this much… he's determined.
"The Devil in Disguise"
Things seriously go south for Blaine when Al publishes her article exposing him for the devil he is. On Harris's brain, Al gets a vision of Don E delivering a vile of the cure – which clearly points fingers at Blaine for being the one who stole it, made the mayor human, and had him bite the bullet.
The story includes past murders and Blaine's responsibility in killing the Mayor, and goes on to link Peyton to Blaine romantically – something Peyton doesn't deny! Ummm… why? She's a politician! Lie, lie, and lie some more! Considering that Peyton is negotiating with Washington to keep New Seattle on the map, they will not be too pleased when news hits that Blaine may have killed the Mayor as a "love token" for Peyton.
Clearly Al doesn't care that Blaine is the sole reason that zombie's get fed and that with this story, brain delivery will stop – and so it does. Mr. Boss cancels the next shipment. Anyone catch that? I've been wondering where Mr. Boss disappeared to – welcome back.
So now that the cure is public, who will hunt the kids for their brains? Who will protect them? Will Blaine finally be put on ice or will he bounce back and reinvent himself once more? I would really like to see him take vengeance on Al in the same fashion he sought it out against his father before they made peace. What will Major do about the 17 missing frozen soldiers – if anything – or will he assume that the thermostat just broke and they wandered off on their own? How long before Mr. Boss resumes smuggling brains into New Seattle? Will Peyton be relived of her position?
So many intriguing questions heading into next week…

About Next Week's 'iZombie' Episode "The Scratchmaker"…
iZombie season 5, episode 6 "The Scratchmaker": MALCOLM GOODWIN DIRECTS THE EPISODE — After consuming the brain of the ultimate matchmaker, Liv (Rose McIver) is determined to find the perfect match for Major (Robert Buckley). Meanwhile, Blaine (David Anders) will stoop to any level to protect himself. Lastly, Don E (Bryce Hodgson) contemplates an interesting offer. Malcolm Goodwin, Rahul Kohli and Aly Michalka also star. Malcolm Goodwin directed the episode written by Joshua Levy & Prathi Srinivasan.
CW's iZombie stars Rose McIver as Olivia "Liv" Moore, Malcolm Goodwin as Clive Babineaux, Rahul Kohli as Dr. Ravi Chakrabarti, Robert Buckley as Major Lilywhite, David Anders as Blaine DeBeers, Aly Michalka as Peyton Charles, and Bryce Hodgson as Don E. Filmed in Vancouver, British Columbia, Rob Thomas, Diane Ruggiero-Wright, Danielle Stokdyk, and Dan Etheridge serve as executive producers. Production is handled by Bonanza Productions Inc., in association with Spondoolie Productions and Warner Bros. Television.
iZombie airs Thursday nights at 8 p.m. ET/PT on the CW.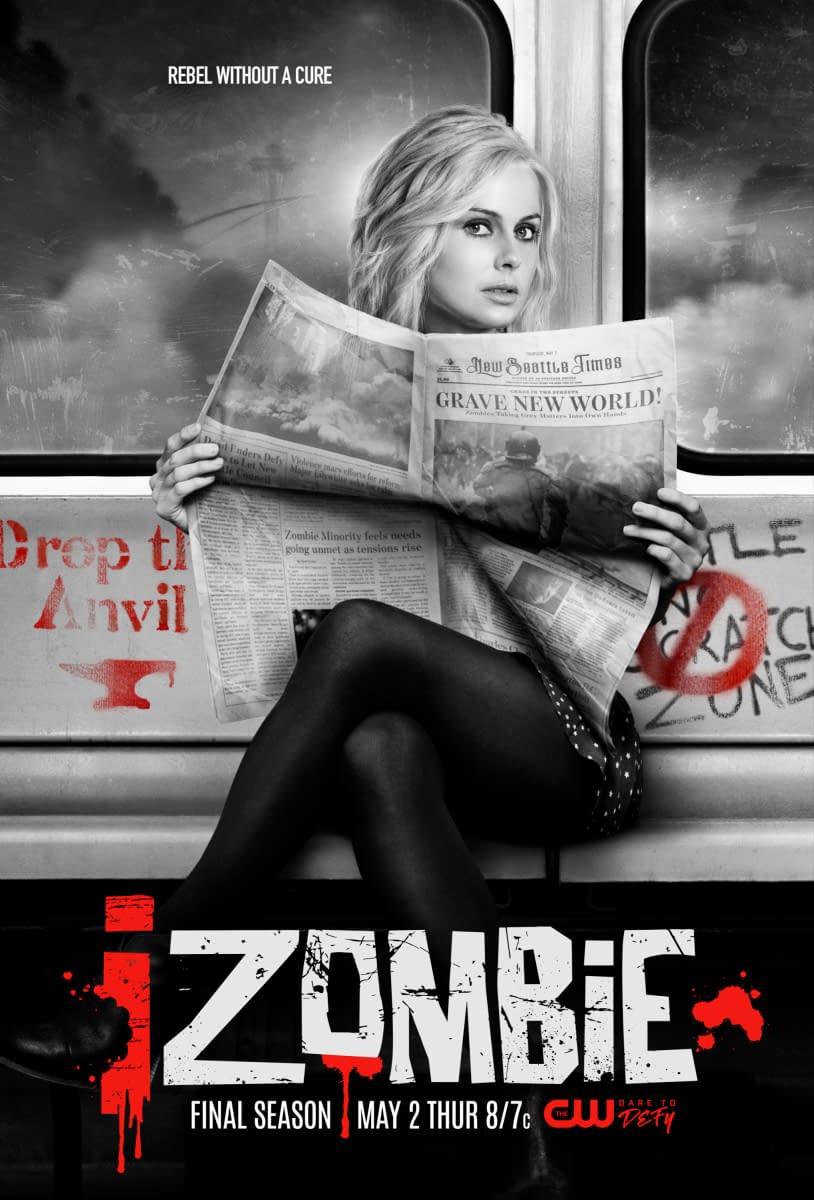 Margo Staten is a Ukrainian born, raised in Brooklyn, organically driven, coffee loving, twice-divorced mother of one baby Einstein. Has a passion for books, yoga in the park and all things 80's and New Orleans.