The second season of Amazon Prime's Homecoming finds Janelle Monáe (Harriet, Hidden Figures) stepping into the lead role to join Stephan James' Walter Cruz as the mysteries revealed during the first season continue to grow. Created by Eli Horowitz and Micah Bloomberg, Kyle Patrick Alvarez (13 Reasons Why, The Stanford Prison Experiment) is taking over the director's chair from Sam Esmail (Mr. Robot) this season as well as executive producing. Chris Cooper (American Beauty), Joan Cusack (Grosse Pointe Blank), Mary Holland (Veep), and Hong Chau (Watchmen) also star, with Bobby Cannavale and Shea Whigham rumored to appear this season. Homecoming is co-produced by Amazon Studios and UCP. Alvarez, Julia Roberts' production company Red Om Films, Esmail's Esmail Corp, and Anonymous Content's Chad Hamilton. Horowitz, Bloomberg, and Chris Giliberti, Alex Blumberg, and Matt Lieber of Gimlet Media also serve as executive producers.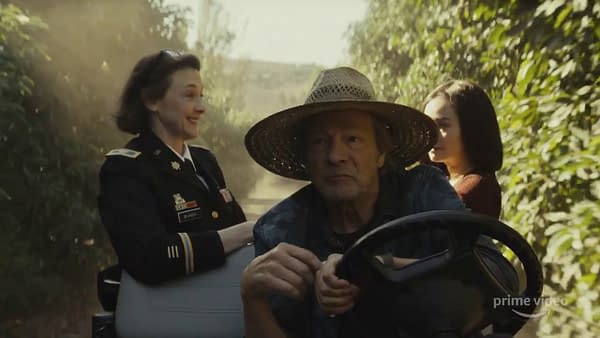 Moving beyond the source material and introducing new characters and a broader scope, fans were treated to a teaser trailer earlier this month that begins with Monáe's Jackie waking up in the middle of a rowboat with a major bout of amnesia. What follows is a build-up of some purposefully confusing and deadly dangerous visuals from Jackie's trip down the Homecoming Initiative and parent company Geist Group's rabbit hole. Make sure to keep an eye out for returners Walter and Audrey (Chau), as well as new faces CEO Leonard Geist (Cooper) and Cusack's mysterious military official. Following the teaser, make sure to check out the mini-teasers Monáe's released via social media this week that add to the mystery, and has us (and Jackie) questioning everyone and everything – and we mean everyone.
View this post on Instagram
View this post on Instagram
Enjoyed this article? Share it!