We're not saying that the sharing of a Guinness is cause to believe a previously dead character from Game of Thrones is returning for the final season of the HBO show — but what if it does?!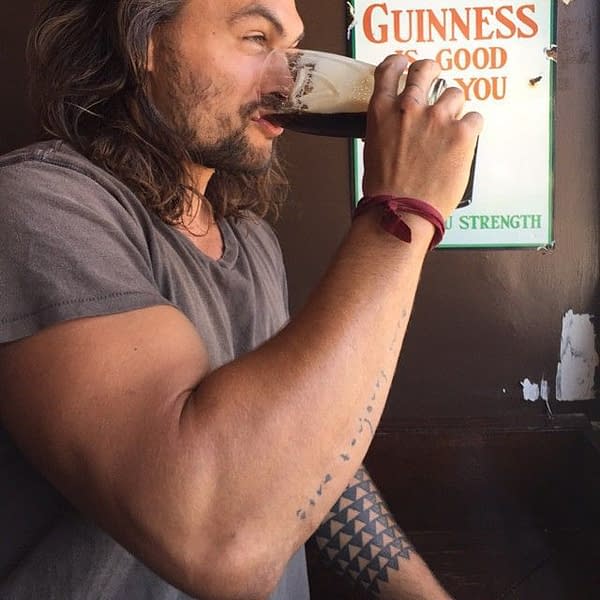 Jason Momoa loves his Guinness. This comes as zero shock to anyone who follows his social media posts or has seen any number of gifs featuring the tattooed actor with a Guinness mustache. This love also led to probably one of the best photo ops with him I've personally seen.
It just so happens that the most recent pair of companions he shared a round with in a bar were none other than the heads of HBO's Game of Thrones.
In a post on Jason Momoa's Instagram, he shares a pint (or three, hard to tell) with David Benioff and DB Weiss, the two showrunners, head producers, and writers on Game of Thrones, on which Momoa appeared during the first season of the series as Khal Drogo. The Khal was the undefeated leader (WHERE'S MY BELLS, DAMNIT) of a large Dothraki khalessar, who was married to Daenerys Targaryen (Emilia Clarke) to seal an alliance with her older brother Viserys (Harry Lloyd).
If you'll recall, in the book series which the show is based on, Drogo lay dying only to be brought back to life by a magi. It of course didn't go as planned, and instead of robust health Drogo was pretty much a zombie. Dany made the choice to send him riding through the great grass seas of the afterlife and turned her wrath upon the magi, who called down a curse:
"When the sun rises in the west and sets in the east," said Mirri Maz Duur, "When the seas go dry and the mountains blow in the wind like leaves. When your womb quickens again, and you bear a living child. Then he will return, and not before."
Obviously, the finale of season 7 opened a whole new set of doors for the possibility of the curse being lifted for Dany, as the episode ended with her in Jon Snow née Stark née Targaryen's (Kit Harington) arms, literally the song of Ice and Fire. Could that one scene maybe mean the wheels are in motion for the lifting of the curse? If so, it would make sense that maybe we'd see Drogo one last time in the final season.
This wouldn't be the first time he's returned to the series after being dead, as in the finale of season 2, Dany has a vision where she sees Drogo alive again and holding her child.
But, all that said, Jason Momoa's caption sort-of-kind-of explains why Benioff and Weiss are hanging out with him. Kind of.
Enjoyed this article? Share it!