Jessica Szohr Joins the Orville Crew for Season 2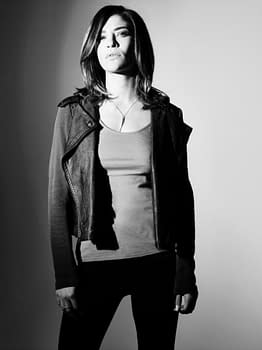 Jessica Szohr (Shameless) has been cast as a new series regular on Seth MacFarlane's The Orville. She will join the Fox series in their upcoming second season to play a new crewmember on the Orville.
Szohr recently finished a season-long arc on Showtime's comedy Shameless. She was also on Gossip Girl, Twin Peaks, and Complications.
MacFarlane spoke about the second season at the Television Critics Association Press Tour and told reporters that the second season would be bigger than the first. The new season is planned for 14 seasons, less than the standard 22 most series do, but more than the 12 of season one. Also, the series won't be ready when fans are hoping. According to MacFarlane, there is a lot to do on the special effects-heavy show, meaning that it won't be ready for a September premiere as season one had. However, he says it will be back later this year.
The Orville is created and written by MacFarlane, who also stars and executive produces with Brannon Braga, David A. Goodman, Jason Clark and Jon Cassar. The series also stars Adrianne Palicki, Penny Johnson Jerald, Scott Grimes, Peter Macon, Halston Sage, J. Lee and Mark Jackson.