Jon Moxley Talks CM Punk Post, Contract Status, AEW "Drama" & More
Jon Moxley talks CM Punk post, not being thrilled with AEW "drama," his 2022 contract status & more during The Sessions with Renee Paquette.
---
It's been a little less than a week since CM Punk called out Jon Moxley, Chris Jericho, AEW head Tony Khan, and pro-wrestling reporter Dave Meltzer on Instagram Stories (a post that's since been deleted) over a number of issues regarding his AEW run, offering his behind-the-scenes perspectives (a full rundown is waiting for you below). Now, Moxley is offering his perspective on the matter, courtesy of Renee Paquette's The Sessions with Renee Paquette podcast. Here's a look at Moxley's interview (episode embedded below), with some amazing transcribing work from the fine folks over at Fightful (check them out here and support Fightful Select here). In the following highlights, Moxley offers some insight into his contract status at the time that things went, as well as how that influenced his perspective when discussing the Moxley/Punk storyline. In addition, Moxley gets brutally honest when discussing the "bullshit drama" he sees going on behind the scenes at AEW and its negative impact.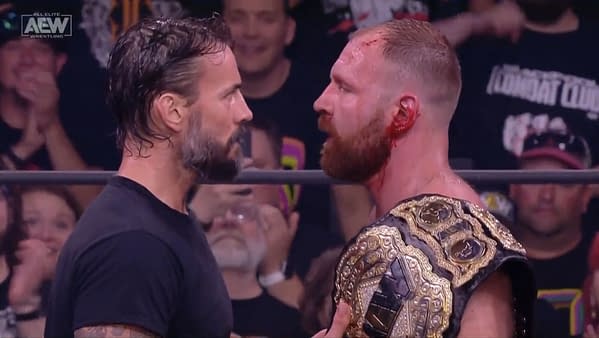 Does Moxley Want to Address CM Punk's Post Directly? "No. There is nothing that has unfolded. It's fucking annoying. Just because somebody said some stupid shit on social media, that's not news, but it is, and it ends up being a thing. I don't want to get dragged into this dumb shit. I could fucking unload on a lot of fucking people right now. When I start getting dragged into this shit, it tempts me to do that, but I'm not going to fucking sink to that level."
Moxley on Working Without a Contract, Waiting to Sign a Long-Term Contract: "I will say this, I'm going to give you a tidbit of information from my point of view. The entire summer, I was not under contract, no contract. Free agent. I was at 'SummerSlam' weekend wrestling El Desperado and shit. I could have walked into 'SummerSlam' that night with the AEW belt had I been so inclined. Nobody knew that because I don't put my shit out there in the world and let everybody know everything about my business. I was not under contract. The reason being, if you're curious because I got out of rehab, my contract was coming up, [and] they extended it for the time that I missed, cool. I'm glad they did because I didn't want to feel like I owed them anything. They extended it, it was coming up, [and] they were talking to me about it.
The last thing I wanted to do when I first got out of rehab because all they were telling me was, logic would tell you, don't go back to wrestling because you're going to fall into the same ol' habits. I wanted to ease back into it and see what life was like on the other side. The last thing I wanted to do was hurry up and sign a big long-term commitment. What if shit started going off the rails? I was like, 'actually, being sober is awesome; I'm having so much fun.' I was working with my friends, Blackpool Combat Club, me and Bryan [Danielson], [William] Regal. They're talking to me about signing a new [contract]. If everything stays exactly like it is right now, I'll be here forever. You can pay me in cash in an envelope at the end of the night, I don't give a fuck, but I can't tell you what I'm going to feel like in six months. Especially not in three or five years. Once I make a commitment, then I will push through injuries and push myself too hard, and I will do all these things that add up and lead you down that road. I was not in a hurry to make any kind of grand commitments at first."
Moxley's Perspective on Tony Khan/CM Punk Storyline Pitch: "That being said, during this time period, the night what's his dick [CM Punk] is talking about, in Minneapolis, the night he came back and was hopping around on one foot, bumping around [Jericho Appreciation Society] after me and [Chris] Jericho wrestled. We're talking later about stuff; keep in mind, at this time, this is my whole point; I basically don't work there, for all intents and purposes. Tony is not my boss. I don't have to be in this room. I don't have to do shit. Even me being in this room and offering and agreeing to a storyline that puts you over at the pay-per-view, if anything, I'm bending over backward for Tony [Khan] and for this dude and the company and everybody. I didn't have to. I didn't have to do shit. If anything, I was bending over backward. That's it. It's not even controversial."
Moxley on AEW's "Bullshit Drama" Problem: "I will say this, and I hate to say it because I don't think I've ever said anything even remotely negative about AEW, but I will say this, as an observer, I spent eight years in the Indies, a couple years in WWE developmental, eight years in WWE; I have never seen so much bullshit drama in one place in my entire fucking life. I hate to say that. I don't know if it's the age of social media; shit gets blown out of proportion. One person types one stupid drunk tweet, and all of a sudden, it's all anybody wants to talk about."
Moxley: Too Many People "Getting Sucked Down Into the Shit Like Everybody Else": "Let me be clear, the vast majority of people there don't cause any bullshit, but they're getting sucked down into the shit like everybody else, into the muck. There are plenty of people who just want to get better and perform and just do this job. I'm not an official coach, I don't ever want to be a producer, an official producer. I don't want to wear a headset and write stuff down. I like being a coach, but I'm not an official coach. I can coach people that I think are worth it. I'll give time to anybody."
A Look Back at CM Punk's Instagram Stories Post
"SIGH. I wasn't cleared to come back to wrestle yet. Then plan was to wrestle at the PPV," Punk began the message that was posted and then removed (transcribed as posted). "I sat and listened to moxleys Rocky three idea. I explained how I'd never seen a Rocky movie. I and thought the idea sucked but if the boss wanted to do it whatever. He said he wouldn't lose to me. I'd never experienced someone refusing to lose to me. I just laughed. I asked Tony [Khan] if this was what he wanted. He said yes. He's the boss so I said okay but I'd need to be cleared first. They kept saying it could just be a squash so I didn't need to be cleared. I scoffed at that. My health is more important. Dave Meltzer is a liar. [Chris] Jericho is a liar and a stooge. There were plans but plans always change but I'll never put a company above my health ever again," wrote Punk in his since-deleted IG Stories post.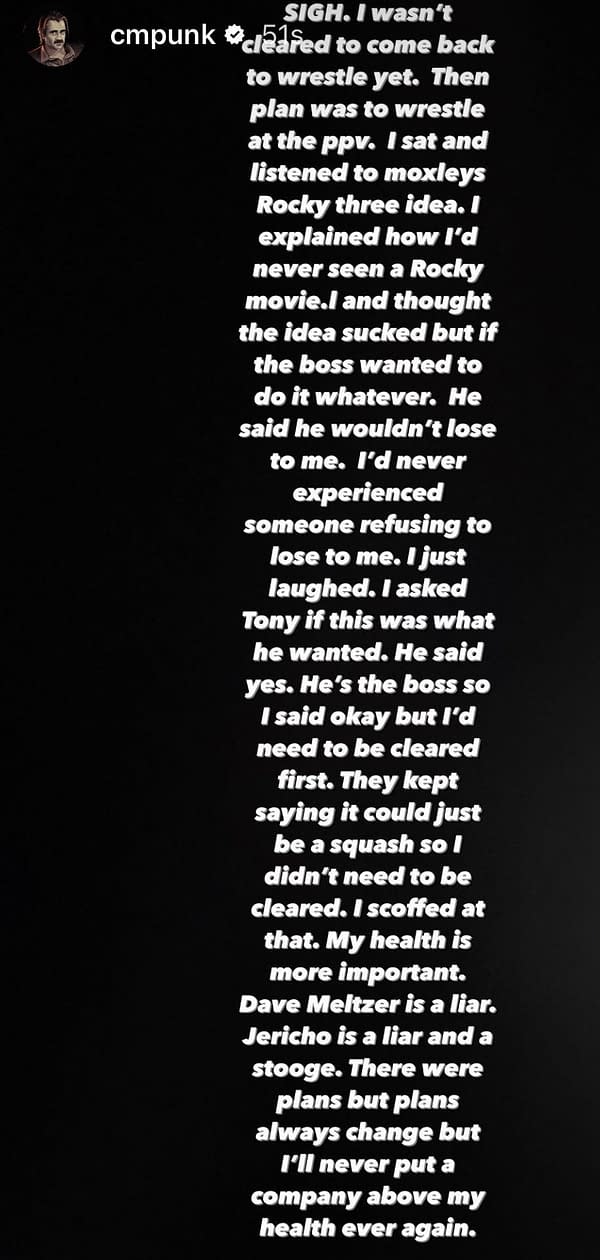 For some perspective on what Punk is most likely referencing, here are Meltzer'previous comments addressing the matter on the F4WOnline.com's message board at the time: "Do you know why they didn't advertise Punk vs. Moxley longer and why it had a short build? Because Punk agreed to it, then AEW got a legal letter saying he wasn't down with it and wasn't doing it and they didn't know if he'd come until Tony put his foot down. There are a lot of nice things I can say about him, and you can absolutely argue his position on Moxley was correct, but you can't argue he willingly did what he was asked in that scenario." As for Jericho, the veteran wrestler reportedly made his feeling on Punk knows after 2022 All Out PPV event, allegedly calling Punk a "cancer" to the AEW locker room & the company overall.
---
---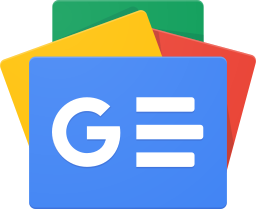 Stay up-to-date and support the site by following Bleeding Cool on Google News today!