Syfy has released the latest episode of Decrypting Krypton with the regular host Matt Hiscox and guest host Sean Davidson. Being that this episode ties into the most recent episode, House of Zod, they re-did the opening to replace the images of Superman with images of General Zod and replace the symbol of the House of El with that of the House of Zod. It's kind of cool they went to all that work for such a short video. Spoilers below.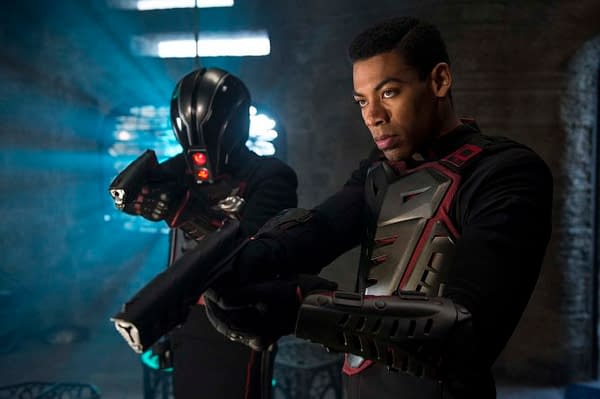 This is playing off the big reveal at the end of the fifth season that the Black Zero commander that captured Seg (Cameron Cuffe) is actually Dru-Zod (Colin Salmon), son of Lyta-Zod (Georgina Campbell) and Superman's greatest enemy (unless you're talking to Brainiac or Lex Luthor).
The reveal through me off for a minute because I think of General Zod as a contemporary of Kal-El, but he's not. He's a contemporary of Jor-El, who would be Seg-El's son, which means of course Dru-Zod is Lyta's son. Having him come back in time to save Kandor from being stolen by Brainiac and the reveal that it's Kandor's removal that weakens the planet causing it to explode in the future is a nice touch. Also to learn that Brainiac talking Kandor is part of the history that creates Superman… meaning that Adam Strange (Shaun Sipos) is on the completely wrong mission if he's trying to save Superman. He might need to prevent Zod from saving Kandor if he wants Superman to come to Earth. See how complicated this got?
The video includes art by Tony Akins and a brief interview with Campbell talking about playing a Zod and just what that means. How growing up that way is going to give anyone issues.
Krypton airs Wednesdays at 10 p.m. ET on Syfy.
Enjoyed this article? Share it!