Kurt Angle is retired from wrestling, and as we all know, retiring from wrestling is forever. Well, except when it isn't. Okay, it usually means nothing. But for WWE Hall-of-Famer Angle, he's totally done. Almost. In an interview with Sports Illustrated, Angle says so himself.
"I'm almost 100% I won't wrestle again, but if I did, that's the direction I would have went," Angle said. "I imagine WWE was going to go with me managing [Matt] Riddle and then, eventually, probably a match between the two of us." But that's not going to happen. Probably. "Right now, I can't," Angle continued. "Could my mind be changed? Yes, for two reasons. I'm working on my business, and I've been doing a lot of rehab on my body, trying to get myself back to where I'm able to live a healthy lifestyle. I'd been so banged up—my neck, my back, and my neck—but I'm making improvements."
But really, it's just a remote possibility. In all likelihood, Kurt Angle won't be back in the ring. Well, maybe not in all likelihood. Angle said, "If I get to the point where I feel I can do it, then I'll probably do it. But right now, I have to focus on my body."
Honestly though, Kurt Angle doesn't need to wrestle at all. He's quite happy working on his health food business, Physically Fit Nutrition. "It was almost a blessing in disguise that WWE released me," Angle said, nearly convincing himself. "The business started picking up orders, and we're at a point where I really need to be here. We have chicken snacks called Chxn Snx, and they will be a number one seller."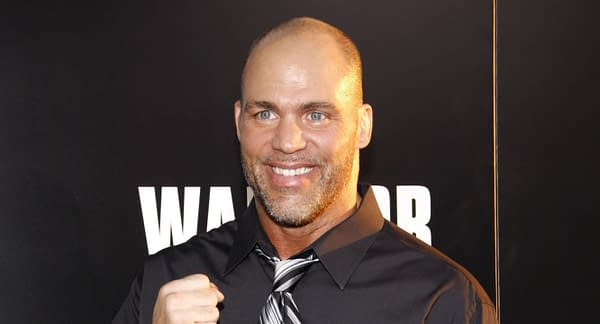 So don't expect to see Kurt Angle back in the wrestling ring anytime soon, folks. Well, except for that match he refereed. And then when he needs to promote his "chxn snx." And then… you know what, we expect a full-on Kurt Angle comeback by SummerSlam.
Enjoyed this article? Share it!