Legends of Tomorrow Season 3: Season Finale Synopsis Released
The CW has released the synopsis for the season finale of DC's Legends of Tomorrow and it has a few spoilers in it. So don't keep reading if you don't want to know.
.
.
.
.
.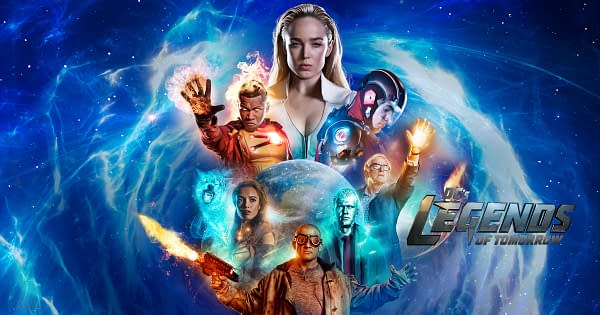 The season finale will be airing on April 9th and is titled, The Good, The Bad & The Cuddly. We knew that it involves Jonah Hex (Johnathon Schaech) and town of Salvation. We also knew that John Constantine (Matt Ryan) and Jefferson Jackson (Franz Drameh) will be back again. But the title, besides the reference to a Clint Eastwood film, gives the impression that maybe we'll see the return of Beebo who has been popping up a lot this season including on socks and even on The Flash. Maybe Mallus is a giant, scary version of Beebo.
Let's take a look at the synopsis and see what spoilers we can find.
SEASON FINALE — The Legends plan to vanquish Mallus by using the totems doesn't go as planned, forcing Rip (guest star Arthur Darvill) to improvise. The team finds itself regrouping in the Wild West where they run into their old pal Jonah Hex (guest star Johnathon Schaech). Sara (Caity Lotz) leaves Ray (Brandon Routh) in charge of watching Damien Darhk (Neal McDonaugh), while she comes up with a new plan. Meanwhile, Amaya (Maisie Richarson-Sellers) is determined to find a way to use the totems to destroy Mallus. Dominic Purcell, Tala Ashe, Keiynan Lonsdale, Nick Zano and Franz Drameh also star. Dermott Downs directed the episode written by Marc Guggenheim & Phil Klemmer (#318). Original airdate 4/9/2018.
Well, it looks like the Legends live up to the way Ray (Brandon Routh) described them to Nora (Courtney Ford) and screw up the first attempt. Rip (Arthur Darvill) improvises which make sense he goes back to Salvation as he called that home for a while. Ray is supposed to watch Damien Darhk (Neal McDonough), so either they capture him or they convince him to help them to save his daughter from Mallus. I think the second one. They've set up his love for his daughter all season. And it seems like things aren't going well if Rip, Sara (Caity Lotz) and Amaya (Maisie Richardson-Sellers) are all trying to come up with plans on their own.
Only three episodes left in the season. DC's Legends of Tomorrow airs Mondays at 8 PM on the CW.