Legends of Tomorrow Season 3, Episode 13 Recap: No Country for Old Dads
This article contains spoilers for the DC's Legends of Tomorrow season 3 episode 'No Country for Old Dads'.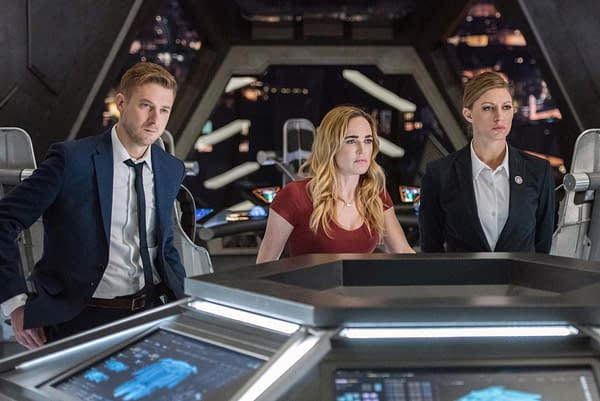 This was a very interesting episode in that a bunch of stuff happened, the final third of the season locked into place, and we got a cool episode that focused primarily on Ray Palmer (Brandon Routh), Damien Darhk (Neal McDonough), and Nora Darhk (Courtney Ford). I like when they give Ray his due as more than a bumbling idealist. And it was nice to see real-life married couple Routh and Ford get so much screen time together.
The main story focuses on things in Damien's possession… that would be the spirit and fire totems and Ray. Nora puts on Amaya's totem and it doesn't work. Kuasa (Tracy Ifeachor) explains she needs a selfless reason to want the power before she can take control away from Amaya (Maisie Richardson-Sellers). She also explains that they will need someone brilliant to fix the fire totem… and they turn to Ray. He figures out that they need to go back to the big bang to get enough energy to fix the totem since cold-fusion was never created. Darhk reveals that it was, but back when he was younger he was hired to kill the scientist who discovered it. To prevent Damien from seeing his younger self, Nora and Ray go back in time to save Dr. Vogal (Adrian Hough). Like with any Legends plan, things go completely wrong, and they have to scramble to keep the Doctor alive from the younger Damien.
While this is happening, we get to see a bit more into Nora and that she is doing all of this for her father's approval. Older Damien joins them in the past and has to try and kick his own ass to save Nora in a rooftop showdown. Younger D kicks Nora off the roof and Older D uses his magic to save her, but is then pummelled by Younger D until finally Nora tells her father to let her go and save himself. As she falls, the totem kicks in for her and she comes back. They work together to stop the Younger D. Ray tries to save Dr. Vogal, discovers that the secret to cold-fusion is in the doll the man had said was for his daughter… and then Old D killed the doctor to save his younger's reputation. We'll come back to how this scene ends in a minute…
Meanwhile on the Waverider: Sara (Caity Lotz) and Ava (Jes Macallan) are in the kitchen after their night together and they realize there were dirty dishes — something Ray always cleans up. Then Gary (Adam Tsekhman) calls and plays a message from Ray saying that he was captured by Darhk but he's okay, and something about the Grateful Dead. The message was of course to get the Legends to not look for him and made under duress. The Grateful Dead reference was to send them on the wrong path if they did come looking.
As they began to look, Rip Hunter (Arthur Darvill) and Wally West (Keiynan Lonsdale) appear on the ship. Rip tries to make amends and they share information. Amaya decides, with Zari (Tala Ashe) to be the anchor, to go into the spirit realm and try to locate her totem. While there she talks to her ancestor, who tells her about Mallus and how they are using the anachronisms to break open his time cage. When Ray uses his suit's energy pulse to blast a hole in the Berlin Wall, it lets the Legends know where he is and they jump time… sending Wally out to get Ray, right out of the clutches of the Darhks. Ray has the doll with the cold-fusion formula and Wally happens to pick-pocket Damien of the Fire Totem.
Ava tries to report to Director Bennett (Hiro Kanagawa), but he is killed by Gorilla Grodd while they are watching. This puts Ava in charge of the Time Bureau, and she reinstates Rip. They are about to head back to the Bureau when Sara invites Wally to stay. He's worried that everyone hates him, but Sara explains that all of them made bad first impressions — he was going to fit in fine. He decides to stay, something Rip was hoping for. After Ava steps through the portal and Rip is alone, Rip tells Gideon to delete a certain file and that Sara can never know the truth about Ava.
It was a fun episode to see Ray and Damien get a bit of a spotlight. I think Wally will bring a new energy to the ship, which will change things up quite a bit. I hope we got a lot of Rip over the rest of the season. He has been missed.
What good time-traveling show doesn't eventually get around to Elvis Presley? Next week the team meets "The King", as they try to stop Damien and Nora from using the music as a weapon. The Legends are drawn to 1954 Memphis, Tennessee after getting a report that a tragedy destroyed the town. Obviously another anachronism to help break Mallus free. This is the start of the final five episodes of the season.
https://youtu.be/G1yFhF_eu1A