Yesterday we reported that Franz Drameh was returning as Jefferson Jackson in the season three finale of DC's Legends of Tomorrow. That goes with already confirmed guest star Johnathon Schaech reprising his role as old-west bounty hunter Jonah Hex, and there were rumors that Matt Ryan might pop up again as demonologist John Constantine. Go ahead and set a chair for the chain-smoking Brit, as EW.com has confirmed not one but two more upcoming appearances of Constantine.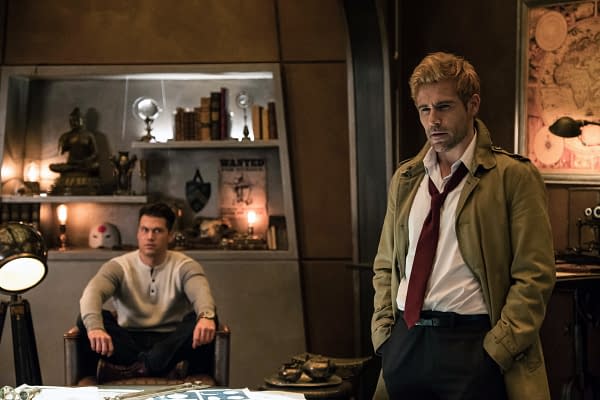 Ryan first donned the brown trench coat and skinny tie for 13-episodes of the NBC series Constantine then reprised the role on a season four episode of Arrow, where he helped save the soul of Sara Lance (Caity Lotz). He would lend his voice to the character in a Justice League Dark animated movie and is doing so again in a CW Seed animates series that ties into the Arrowverse in the same way as the Vixen and Freedom Fighters: The Ray series have. Ryan appeared at the very end of episode 9 of this season of Legends of Tomorrow prior to the show going on winter hiatus and then appeared in the 10th episode when the show returned, working with the team to try and exercise the time demon Mallus out of young Nora Darhk (Madeleine Arthur).
He is now confirmed to appear in both the 15th and 18th episodes of the season. The 15th being called Necromancing the Stone and dealing with the final and mysterious Death Totem. The 18th episode remains untitled but is the season finale.
Warner Bros. Animation will be showing the first episode of the Constantine animated series at Wondercon in March, meaning we shouldn't be too far away from that debuting as well.
DC's Legends of Tomorrow airs Mondays at 8 p.m. ET on The CW.
Enjoyed this article? Share it!