DC's Legends of Tomorrow has a new episode this evening called, 'No Country for Old Dads', which I assumed the title will make sense later. A new clip for the episode shows Nora Darhk (Courtney Ford) trying on the Spirit/Anansi Totem with no results. Kuasa (Tracy Ifeachor) explains that she needs a selfless reason to trigger the power or Amaya (Maisie Richardson-Sellers) will continue to control it from a distance. Damien Darhk (Neal McDonough) brings out the fire totem and we find out that they need someone brilliant to fix it after it being smashed. And of course, that's when hostage Ray Palmer (Brandon Routh) speaks up for the first time in the scene.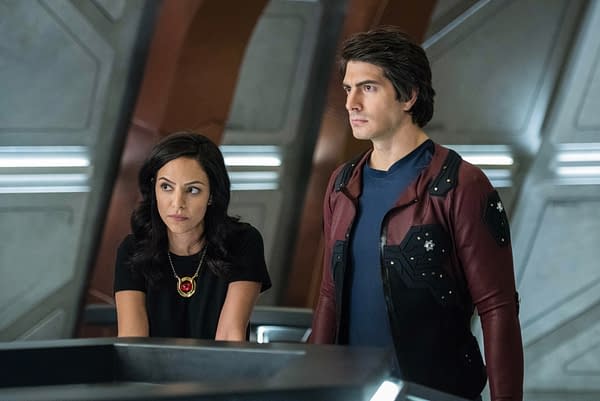 The synopsis for the episode reads:
After being taken hostage by the Dahrks, Ray teams with Nora to fix the Fire totem in 1960's East Germany and come face-to-face with a younger and deadlier version of Damien.
It will be interesting to see how Ray, a man of science, will be able to fix a magical totem. Also, the I'm thinking the image above released by The CW is kind of a spoiler in that the episode starts with Ray as a hostage — seeing him on the Waverider next to Zari (Tala Ashe) kind of tells us that they get him back tonight.
DC's Legends of Tomorrow airs tonight at 8 p.m. ET on the CW.
https://youtu.be/ErjF9XsPMQ8
Enjoyed this article? Share it!