"Worst Cooks in America" Episode 1 "Bottom's Up!": Started from the Bottom, Now We're… Still There? [SPOILER REVIEW]
Hosts Anne Burrell and Alton Brown welcome 16 new disaster chefs to the gauntlet of Food Network's Worst Cooks in America, and they are absolutely horrible; each one with their own food poisoning or kitchen burn down story to tell, these folks appear to be hopeless. This season the contestants will be guided by Burrell and Brown teams red and blue with the hopes of turning nauseating meals into chicken noodle soup extraordinaires for a chance to win $25,000.
Seemingly, this will be a very long journey as the teams are composed of a contestants who use hammers instead of knives, pantyhose as cheese nets, the microwave as the only means of cooking, and others always turn to the mantra of "What would Reba do?"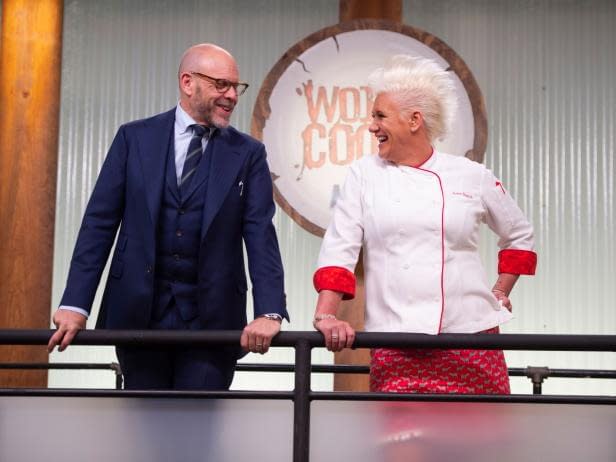 Starting off with a baseline challenge with the hosts wanting to get to know the contestants and pick their respective teams, competitors are asked to create their signature dish, and I've never been more repulsed. This really will be a cooking boot-camp – they need it.
Contestants tried to poison the judges with lasagna cheeseburger cake, rock hard enchiladas, repulsive looking roast pork sliders, burned chicken, some kind of road kill, beef Alfredo with chocolate (what is that?), meatloaf, steak and shrimp, an abysmal stuffed cabbage (vomit anyone) just to name a few.
One contestant cracked under pressure and had to sit out round one only to be eliminated in round two. After the completion of the completion of the baseline round and the red and blue teams divided based on the desperate and delusional according to Alton, the contestants move on to… The Main Dish Challenge.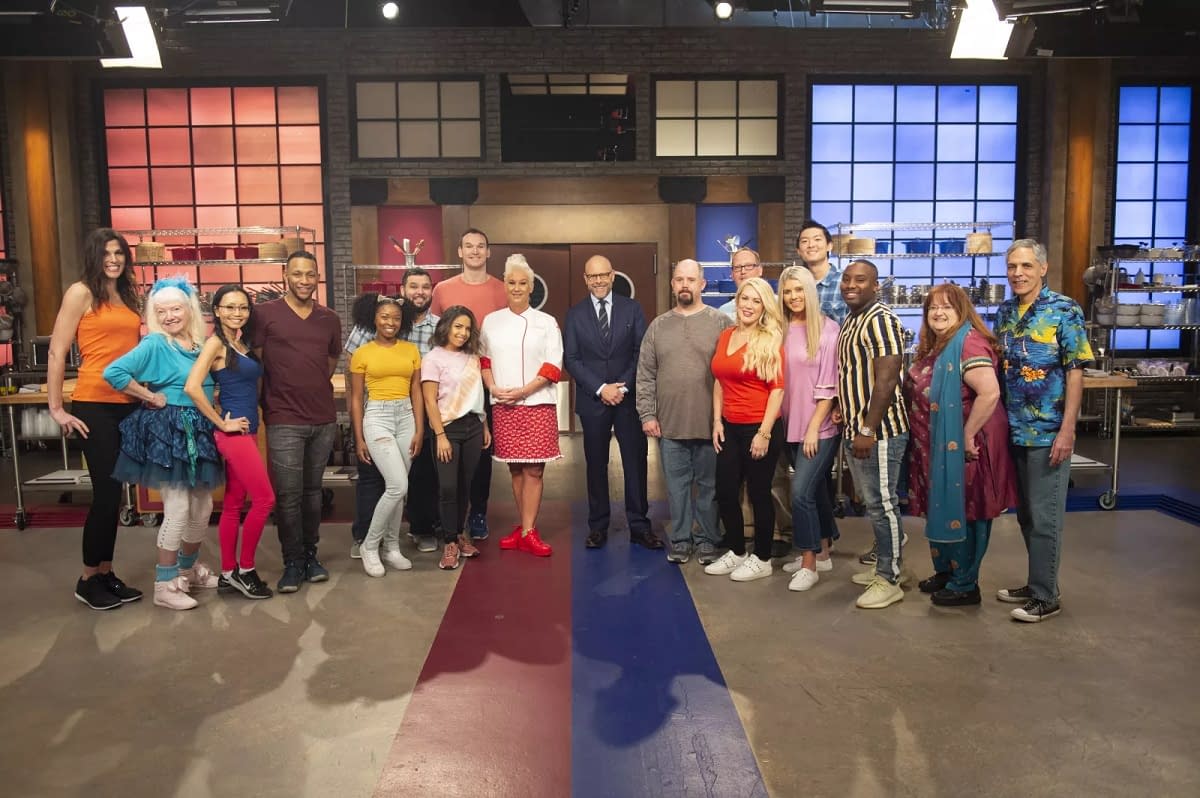 Main Dish Challenge: Competitors, inspired by a dancing chicken are taught by their team leaders to create a simple dish to then cook it on their own and present it for judging.
Each episode a losing contestant is eliminated from each team. The winner receives $25,000.
Here are some of highlights from episode 1:
● Main Dish "Chicken Soup & Sandwich": the blue team is guided to make chicken soup and a chicken skin sandwich, while the red team is demonstrated how to make a big fat chicken soup and a grilled cheese and bacon sandwich – yum. A very simple start, and interestingly enough, no judge had to throw up in the process.
● A contestant sets a pan on fire, while another thinks sandwiches are cooked without a flame burning.
● All contestants struggle, and appear hopeless with their knife skills
● It is amazing to watch Alton work a room, giving advice, and instilling fear in the competitors – quit the authoritative eye candy.
● One contestant begins to freak out uncontrollably, but manages to stomach through the round producing something not quite edible.
● During the judging portion, the blue team successfully produces meals that although either have too much or too little salt, are actually quite palatable. The sandwiches however, vary between being undercooked or burnt – might need to work on that a little more.
● The red team wannabee cooks also are not complete disasters, the broths are tasty, and the sandwiches look and taste ok.
● Brown grants Leo the win while sending Joe home
● Burrell gives the win to Leslie, and says goodbye to Bridget.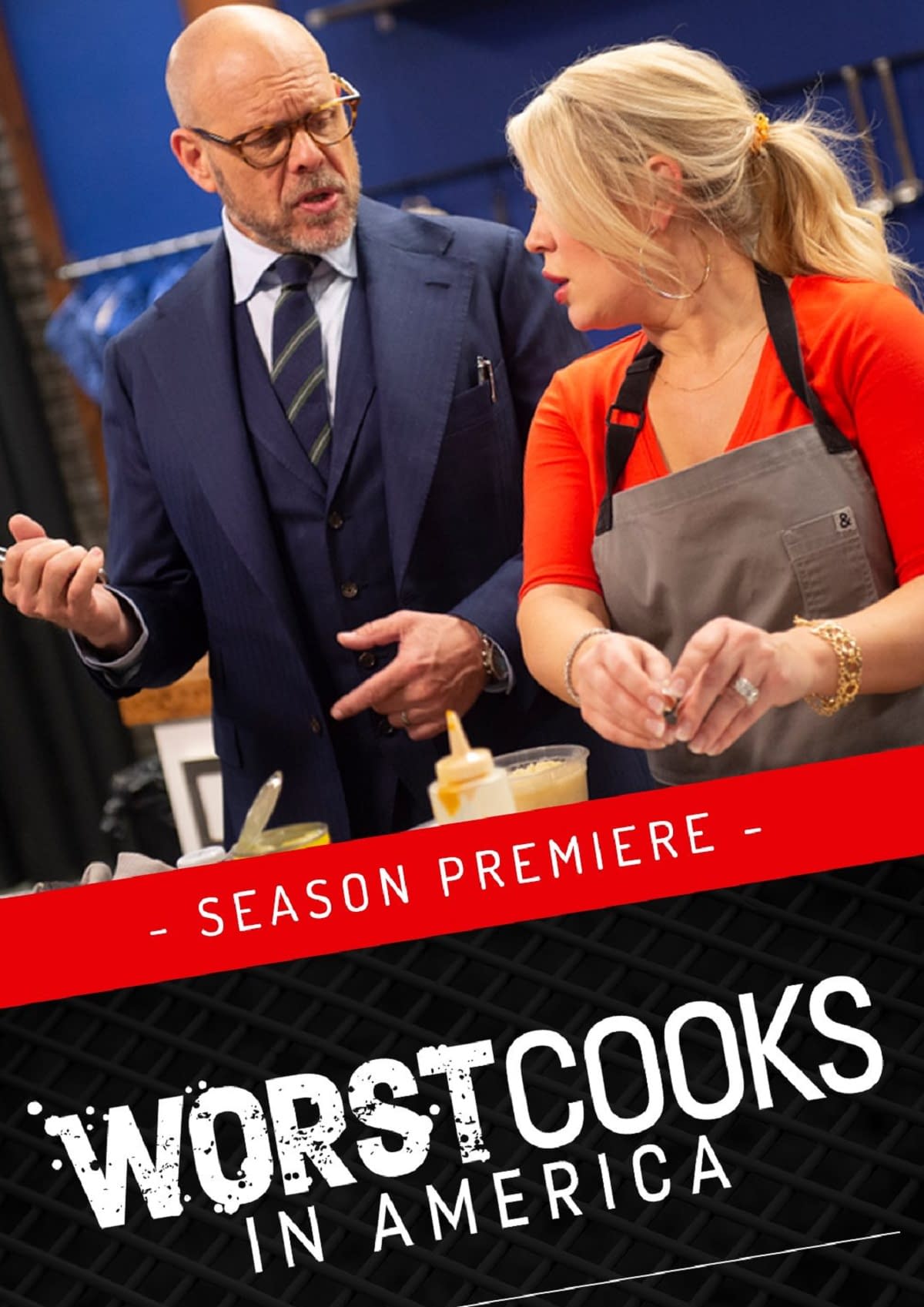 Burrell and Brown have a lot of work cut out for them during this season of Food Network's Worst Cooks in America, turning kitchen disaster cooks in to kitchen masters. With some competitors appearing to enter the kitchen for the first time, the one thing that can be said is that they all took notes and followed directions to the best of their ability so there is hope for them yet. Which contestant will come out with their spatula held high? Too early to tell, right now, note to self, don't eat for at least an hour before watching the show.