The 6th and final season of FX's Cold War era spy drama series The Americans continues with episode 7, "Harvest".
Last week, Elizabeth (Keri Russell) was sent on a mission to Chicago to protect an asset, code named Harvest. She couldn't do it alone, and Philip Jennings (Matthew Rhys) begrudgingly says he'll come and help her. Stan Beeman (Noah Emmerich) continues to try to get to the bottom of the Russian spies' plans.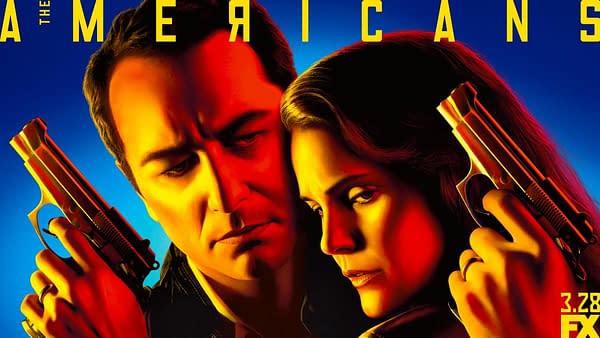 If you missed what happened last week, you can catch up here.
S6e7 is titled "Harvest", and the synopsis reads:
"Philip and Elizabeth come together for a perilous operation unlike any they have ever had before; Stan and henry spend a little quality time together."
Things that happened in s6e6:
The episode begins with a brief 'previously on'
Philip goes back over to Stan's, a direct continuation of last week's episode.
Philip tells Stan he's on the way to the airport, and asks if Stan can keep an eye on Henry
Stan senses something is up, and tells Philip "I know something's up, I can tell when somethings' wrong."
Maybe I laughed out loud, because it's been 6 years, Stan.
Philip arrives in Chicago, he and Elizabeth have a moment, her needing to tell him he didn't have to come, and him dismissing it as fine.
They go to share a meal, and crawl into bed together.
The next morning, Elizabeth walks Philip through the op, revealing she feels better about their success with him there.
Stan and Henry are spending time together, talking about family and how work can get into the way
Stan's asking a lot of questions about Henry's experience with his parents leaving all the time, if there is any family around, things like that
Elizabeth tells Philip about her trip to Mexico, and shows him the suicide tablet.
She tells him it's something big, but that she can't tell him what it is because of his quitting the job
He tells her to give him the tablet, that he'll flush it down the toilet, but she refuses.
"Why even tell me then?" "Because you asked me to tell you things."
While the Russians are attempting their op, we get shots of the FBI following Harvest too, several agents on both sides in multiple positions observing and running interference
Through a carefully orchestrated traffic stop, the Russians manage to get Harvest out of his car and away from the FBI guys.
Oh shit, the FBI knows they switched out the guy, and a rush to change vehicles happens
There's a shootout, Harvest gets a gut shot, and tells Philip some messages in case he doesn't make it.
They're words for his mother, the location of the schematics, his father.
Harvest doesn't make it
Philip grabs an axe from a parking garage and quickly takes the hands and head off their operative that didn't make it during the extraction. Theoretically to prevent identification of the the body
This scene with no dialog between the two, just again showing how good they are together as agents, and as actors.
They do a clothing quick change, and Philip lets Elizabeth see that he's taken Harvest's necklace
Back at the FBI, Aderholt tells Stan about the op going down shows him pictures of the guys they lost.
Aderholt tells the task force they're looking for a white guy a white lady and a black guy, and you start to see Stan's wheels turning.
"Broken Flag" by Patti Smith plays as Philip and Elizabeth drive silently
Stan goes to the Jennings' house, and starts to look around outside, finding Elizabeth's flowerpot of cigarette butts.
Stan breaks in, and is looking at family photos, remembering the former op who told him about the possible Russian agents. "Couple of kids, she's pretty, you'd never know."
Even though we know what the Jennings are and what Stan does, this feels like the worst kind of discovery.
He's going through their garage, looking in all the normal places, checking the fuse box and the car.
On the plane home, a disguised Elizabeth continues her drawing, and she tells Philip that "someone is making me learn."
it's the first they've spoken since the beginning of the op
As soon as they get home, Philip calls Henry to let him know they made it back home
Elizabeth is leaving again, to report back.
She takes a moment to put a hand on Philip's face, whether in thanks or in farewell, it's hard to say
She's back with her patient, showing off her drawings
"There's a moment when it's not you seeing it, but something comes through. You need to bring yourself to it."
Elizabeth tries to dose the patient with morphine, but she refuses to take it, saying she needed to work.
Elizabeth comes to visit Philip at the travel agency, saying she needed to check on him.
She goes to visit Paige, and fills her in on how the op went.
Elizabeth tells Paige she needs to make a commitment to the job, or to leave it.
Paige says she isn't afraid to die, but is afraid of being alone.
Elizabeth tells Paige it's time for her to apply for an internship at the State Department then
Philip is remembering his two weddings, the first back in Russia before he and Elizabeth were deployed, and the beautiful ceremony from last season.
The episode ends with him in reverie.
***
Some beautiful moments in this episode, especially if you've been keeping up with the series. I will continue to say I'm just not ready for this series to end.
The Americans airs on FX on Wednesdays, for three more episodes.
Enjoyed this article? Share it!