Marc Guggenheim has been one of the main architects of the Arrowverse, helping to build up a live-action universe of DC heroes that is more popular in a lot of ways than their big-screen counterparts. He has been the showrunner or co-showrunner on all six seasons of Arrow but will be stepping down at the end of the season and moving into a story consultant role going forward. Tonight this final finale will air on The CW, and he calls it very unconventional and emotional.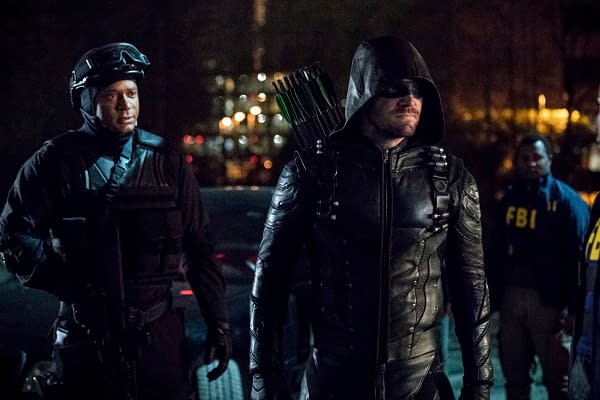 Talking to TVLine about the episode, Guggenheim tried to explain why it is different than the previous five:
By my count, there are four big surprises-slash-developments in the finale, which I want to say is the most we've ever had in a single finale. 'Life Sentence' as the episode is titled, is also unconventionally structured. It has a much longer resolution to it than our past finales have had. Usually the climax is in Act 5; in this one it happens in Act 4. We achieve an emotional denouement that is, I want to say pretty rare for a finale for us. Usually our finales are very bombastic and visceral and with a lot of fireworks — and there are plenty of fireworks here; James Bamford directed the episode! — but by the end of it you feel emotionally spent. I feel like it's the most emotionally affecting of the series finales we've had on the show.
He added:
People who have seen the finale have described it as being very exhausting, because it's so emotionally engaging. And I'm excited about that.
And he addressed the name drop that we saw in yesterdays sneek peak, Longbow Hunters:
I will say that the reference to the Longbow Hunters is us planting a flag, much the same way we referenced Damien Darhk in the Season 3 finale. We would be [not nice people] to name-drop the Longbow Hunters and not see them in Season 7.
Which makes that the first teaser for next season — we're getting the Longbow Hunters.
The Arrow season 6 finale airs tonight at 9 p.m. ET on The CW.
Enjoyed this article? Share it!