"Marvel's Agents Of S.H.I.E.L.D." Season 6 Episode 9 "Collision Course (Part II)" – Behold, The Women Of Earth! [SPOILER REVIEW]
On this week's episode of ABC's Marvel's Agents Of S.H.I.E.L.D., viewers finally get an answer to one of the burning questions of Season 6. Throughout the season, the Shrikes have threatened to destroy life on Earth. This week, in "Collision Course (Part II)" we finally learn why the Shrikes are so hell-bent on taking over the planet: our badass women. Forget natural resources, fossil fuels, alternative energy, and yummy human snacks. The women of Earth, with their bravery, power, and repeated saving of the planet, are our greatest resource. "Collision Course (Part II)" is a love letter to the women of S.H.I.E.L.D., and it shows them at their best. Women-power spoiliers ahead.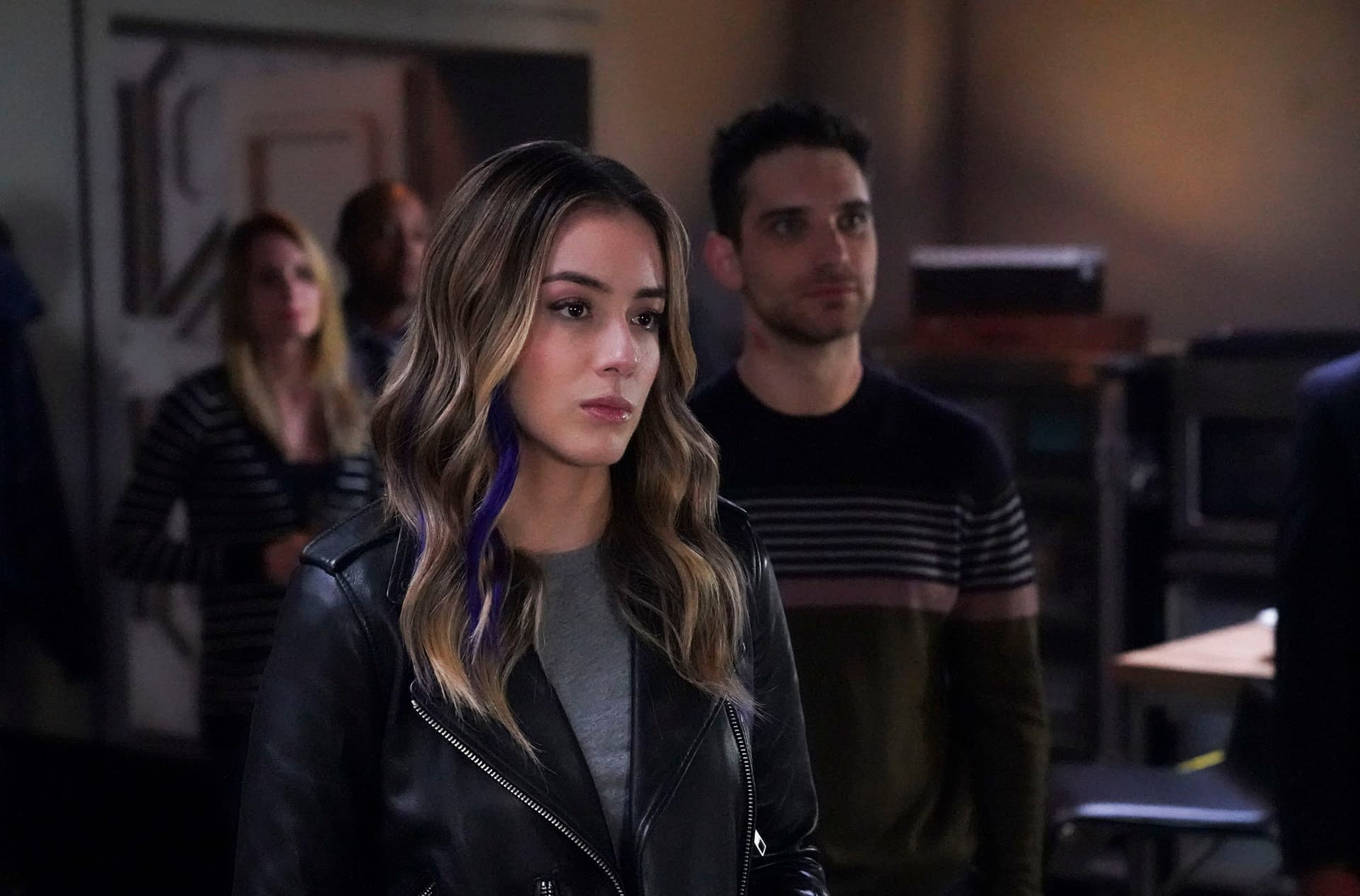 Daisy Saves The Day
Picking up directly where Part I left off, the most pressing concern for the S.H.I.E.L.D. agents is the armed atom bomb on Sarge's (Clark Gregg) truck. After Deke (Jeff Ward) tries, and fails, to defuse the bomb, Daisy (Chloe Bennet) steps in. Risking her life to save everyone else, she uses her her powers to protect the bomb from the truck's collision with the Shrike structure. The maneuver is a gamble on Daisy's part; she has to keep herself still regardless of any crash injuries she sustains. Seeing everyone else in the truck protecting themselves from the expected blast, and then Daisy placing herself between her team and danger, is a great visual. The scene serves as an excellent reminder of how far Daisy's character has come.
But wait, there's more. After Daisy saves the lives of everyone in a 200 mile radius, she has to step up to save herself and her team once again. The tower built by the Shrikes has been destroyed and they are pissed. With Sarge's Shrike repellent box broken, the Agents trapped on the truck are basically Shrike meals-on-wheels. Daisy refuses to cower and hide. Instead, she opens the door, invites the Shrikes in, and obliterates them with her powers. It is a fantastic scene, a great combination of tactical planning and superpowers. Once Daisy has single-handedly dealt with the threat, Snowflake (Brooke Williams) asks May (Ming-Na Wen) in an amazed voice "Are all the females on your planet this powerful?" An obviously impressed May replies, "they are." Welcome to Earth, Snowflake.
Yo-Yo Gets Directly To The Point
Yo-Yo (Natalia Cordova-Buckley) saves the S.H.I.E.L.D. team, and the world, repeatedly. When Mack (Henry Simmons) manages to lose control of the Zephyr, Yo-Yo not only gets it back for him, but managed to turn Jaco (Winston James Francis) against Sarge in the process. Then, it is Yo-Yo who rescues FitzSimmons (Iain De Caestecker, Elizabeth Henstridge) on the Lazy Comet. Throughout his tenure as Director of S.H.I.E.L.D., Mack makes poor decisions and Yo-Yo helps him clean up his mess. When Mack finally swallows his pride and attempts to apologize to Yo-Yo for dumping her, Yo-Yo must help him pull his foot from his mouth. At this point Mack should just make her co-Director, because he can't do anything without her help.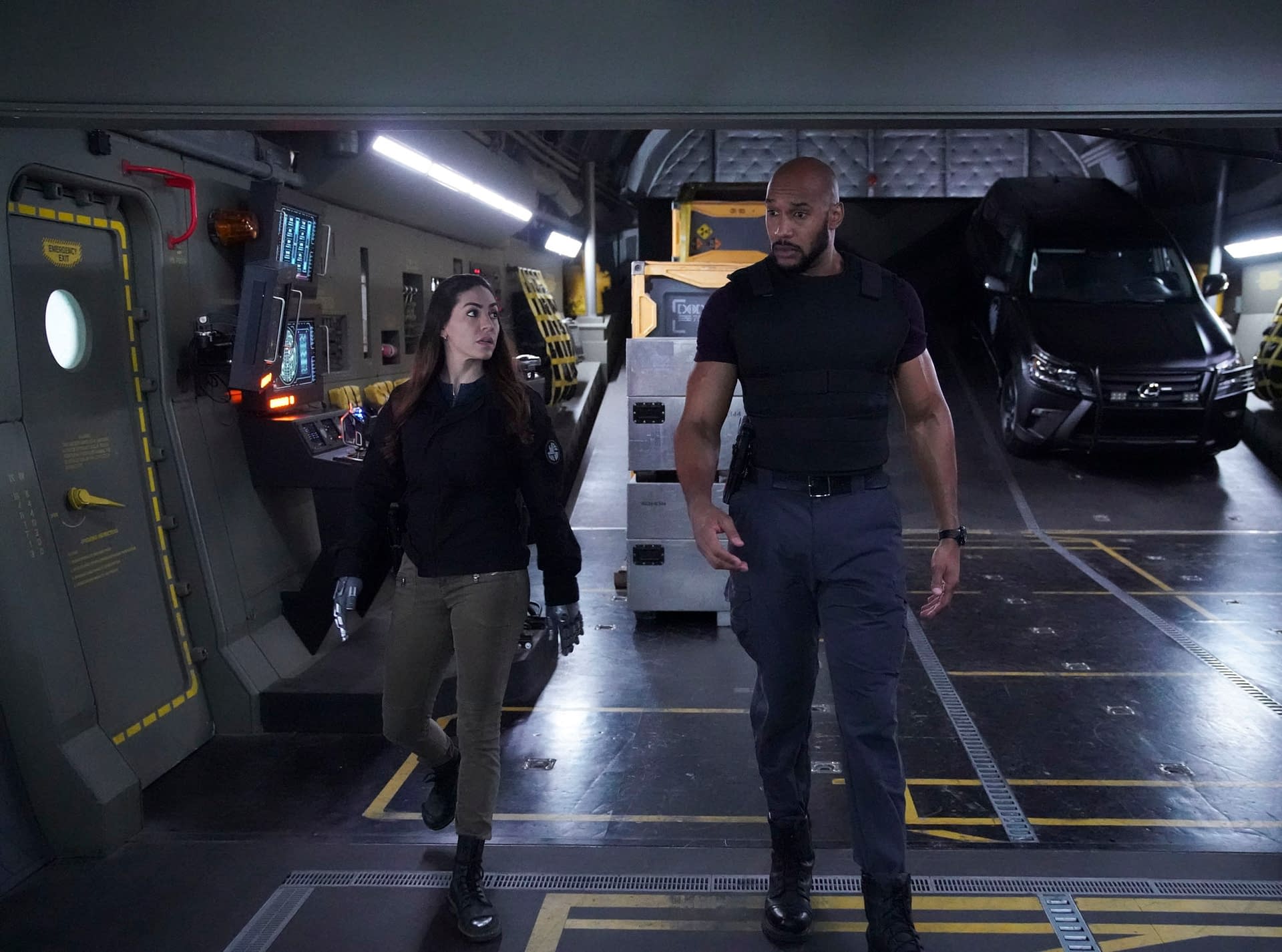 Mack Finally Attacks
Despite his administrative and tactical failings this season, Mack finally gets a chance to use his own specific skill set in "Collision Course (Part II)." After losing agent after agent and getting captured more than once, Mack is in need of an outlet for his aggression. He finds that outlet in Sarge's face. The fight scene between Sarge and Mack in the control room of the Zephyr is both glorious and vintage Marvel's Agents Of S.H.I.E.L.D.. Out of the office and into the action, we finally see the Mack we thought we were going to see as Director. Of course, the fight itself it made possible by Yo-Yo.
Thank You, Next!
S.H.I.E.L.D. won the day. The team survived, the Lazy Comet and Shrike tower were destroyed, and a crew of homicidal mercenaries are no longer roaming Earth. The battle is won, thanks to the badass women of S.H.I.E.L.D.. The war, however, is far from over. Izel (Karolina Wydra) likely got off the Lazy Comet before it was destroyed. Sarge and Izel still have some mysterious connection that no one understands. Davis (Maximilian Osinski) is pretty obviously Shriked. And Agent May has decided to finish the job she started in Tahiti.
Is Sarge a Shrike? A Chronicom?
Who else will Davis infect?
Will Deke and Snowflake stay together?
When will the Chronicoms try and mess with FitzSimmons' brains?
Will S.H.I.E.L.D. be strong enough to deal with what comes next?

The next episode of Marvel's Agents Of S.H.I.E.L.D. "Leap" airs Friday, July 19, at 8 p.m. on ABC.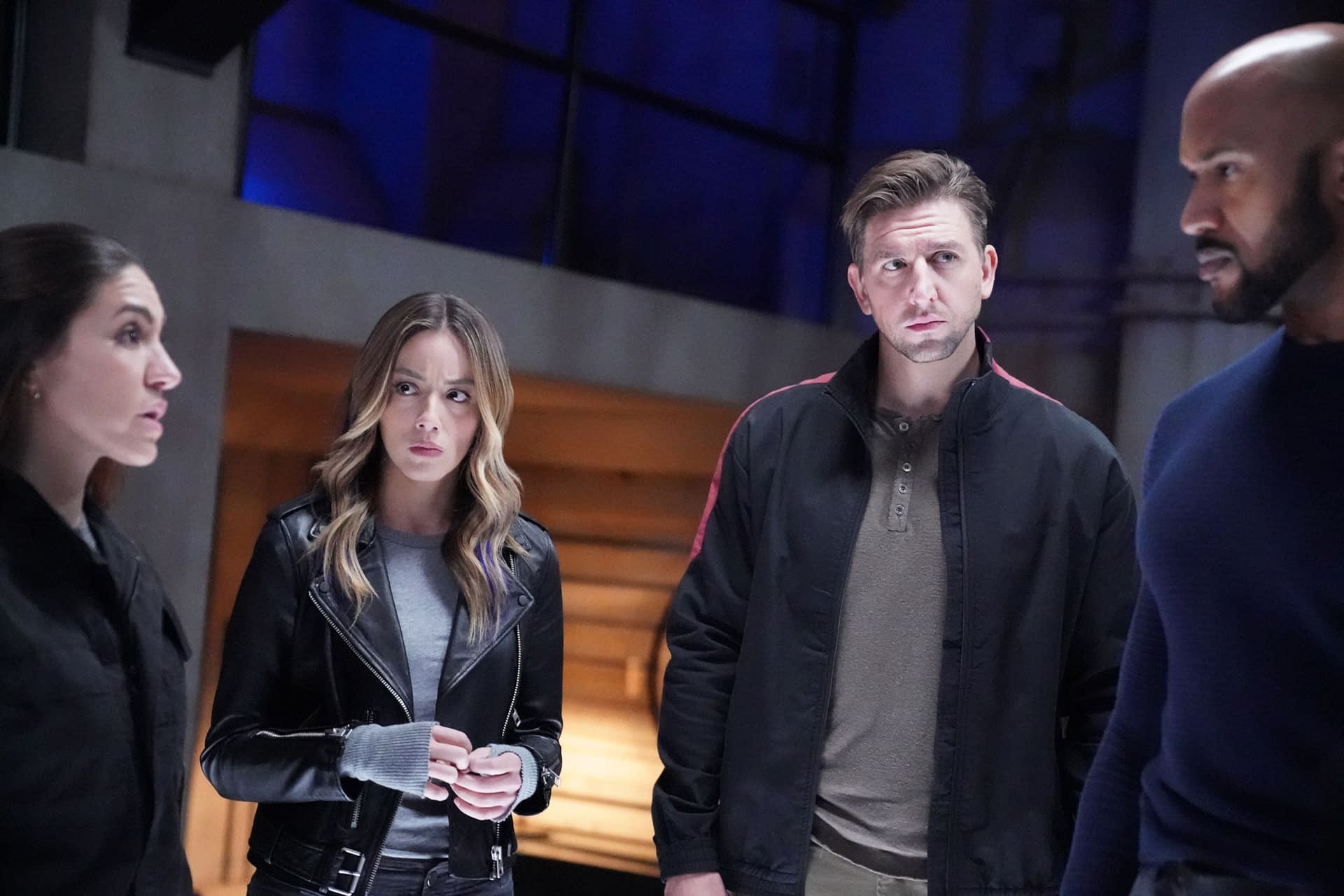 Marvel's Agents of S.H.I.E.L.D. season 6, episode 10 "Leap": The party's over, and now the team must trust each other in order to face impending doom and an enemy that's closer than they think.