Marvel's Cloak & Dagger Season 1: Tyrone Learns About Marie Laveau
Marvel's Cloak & Dagger episode three airs tomorrow night on Freeform and a second sneak peek has been released. In the comics Cloak & Dagger were in New York City and if this was a Netflix series, this would probably take place there as well. But the producers decided to put this in New Orleans and when you do that, there are certain things that people expect from a show based in New Orleans… Mardi Gras, jazz and at some point a reference to voodoo. The new clip shows us that they're already bringing up the voodoo aspect of the city.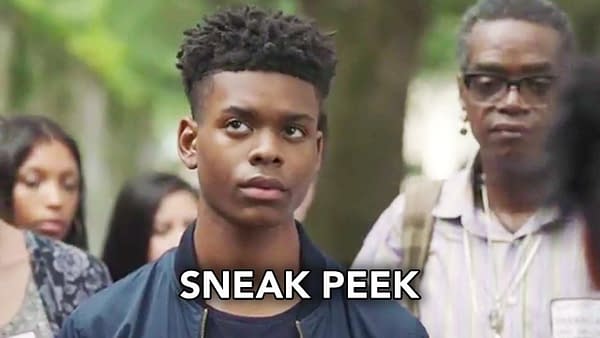 In the clip, Tyrone (Aubrey Joseph) is on a guided tour of St. Theresa's Church being given by his friend Evita (Noëlle Renée Bercy). She leads a group through while talking about the church being that of renowned voodoo practitioner Marie Laveau, who she points out was catholic. In the piece she says, "Voodoo is, at it's core, a diverse collection of religious and cultural traditions that can either stand alone or be added to your faith." She also says that it's believe that Laveau grants wishes from beyond the veil. She picks Ty out of the crowd as a volunteer, has him draw an 'X' on the tomb, turn around three times and make a wish, then take a deep breath and clap his hands once. He does so, and just as he claps the clip ends, leaving us to having to watch on Thursday to find out what happened if anything.
There is a real nice chemistry going on between Joseph and Bercy. It's subtle but you get the feeling their characters really like each other. It's a reminder that this is, at it's heart, a teen drama.
Marvel's Cloak & Dagger airs Thursdays at 8 PM on Freeform.